I'm learning more than I ever imagined from this challenge.

Lesson One: Try on your 30 pieces before committing. I thought it best to do laundry before the month started and shrunk my favorite oversized cardigan. Now it looks like a normal cardigan. I didn't realize this until I put it on for day 4. Sigh!

Lesson Two: Stock up on cute tights. I'm going to be bored with my two pairs pretty soon. The day before my shopping ban started, I intended to pick some up at Urban Outfitters but popped into a record store down the street instead and, well, I couldn't go home without Jay-Z and 'N Sync on vinyl (for the boy and I, respectively).

Lesson Three: It's really hard to take a picture of yourself everyday. Like, really really hard. I don't know how other bloggers do it on the regular. I work two jobs, work out and try to have a social life, so I'm out of the house 10-15 hours per day. This leaves little time and sunlight for a nice photoshoot, which is why I normally only do them once per week. I'm not complaining, though -- I love that I've been forced to truly concentrate on what I wear and make time to focus on my blog. It's great practice and I'm excited to look back on all of the outfits I'm creating!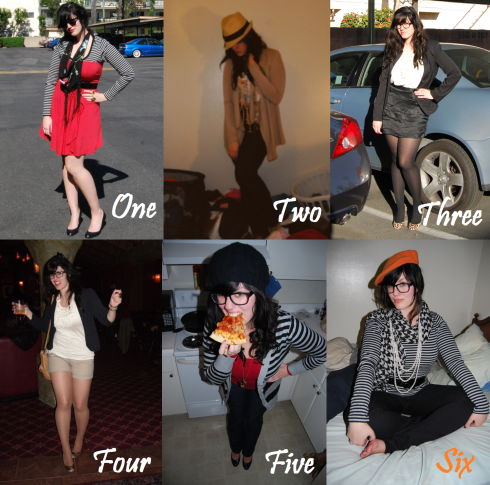 Items Worn:
(Everything from Ann Taylor unless otherwise stated)
Red dress = day 1
Striped tee = days 1 + 6 (Target)
Black pumps = days 1 + 5
Camel cardigan = day 2
Sleeveless cream top = days 2 + 4
Boot cut jeans = days 2 + 5
Silk skirt = day 3
Black boyfriend jacket = day 3 (Bebe)
Lace cream top = day 3 (Kohl's)
Leopard print pumps = day 3
Black cardigan = day 4
Camel shorts = day 4
Gold pumps = day 4
Striped cardigan = day 5 (Target)
Red tee = day 5 (Target)
Black ponte knit pants = day 6





PS: Head over to Life's Obsessions for a Valentine's Day post mentioning me!