As a writer, reading is extremely valuable to me. I believe it is a crucial element of a writer's life and something that we should all devote time to. That said, we're all busy and it's easy to ignore the stack of books we've been meaning to get to. It's easy to get caught up in working and socializing and blogging and "real life."

But sometimes, we need an escape. A movie works for ninety minutes or a couple hours, but our creative minds need to exercise for longer than that. They need to delve into another world, free of details and distractions of the everyday. And they need to know what it's like to be on the other side of words.

I encourage you to shut off your computer tonight with enough time to open a book before bed. Take the time to read something other than your blog and those of others. Explore a different type of reading, and let your imagination take flight.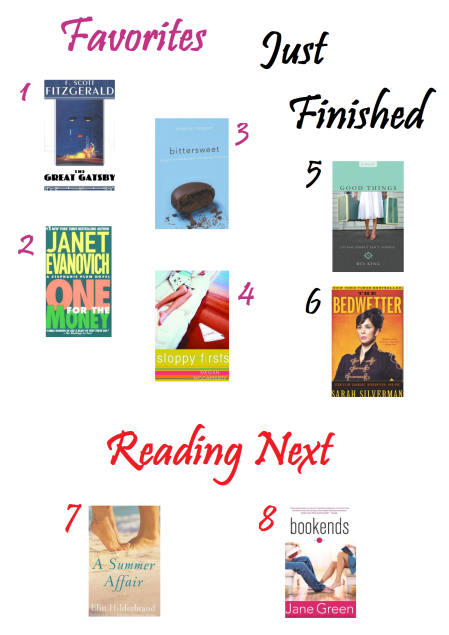 1) The Great Gatsby by F. Scott Fitzgerald
2) One for the Money by Janet Evanovich
3) Bittersweet by Shauna Niequist
4) Sloppy Firsts by Megan McCafferty
5) Good Things by Mia King
6) The Bedwetter by Sarah Silverman
7) A Summer Affair by Elin Hilderbrand
8) Bookends by Jane Green