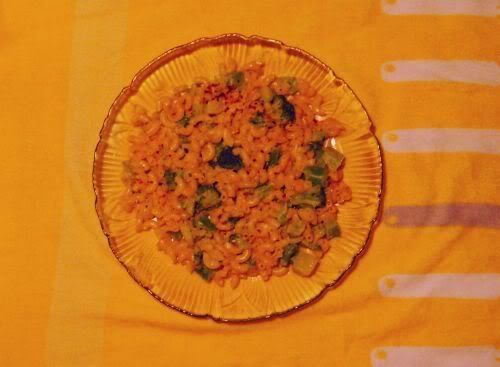 People who know me know that I love food. If I was one of those lucky girls with a crazy-high metabolism who could eat whatever she wanted, I would be a food addict. Literally. It's funny because up until high school, I was extremely picky. I primarily ate cereal, bagels and chocolate ice cream. Friends worried that I was anorexic, but I really just didn't like anything.

My, how that's changed. Nowadays, I'm the first to try something weird. Up until I went pescetarian in June 2010 (and vegetarian in January 2011) I'd eat anything as long as it wasn't wiggling -- or had chunks of coconut or onions (those are texture issues for me, though I like the flavor of both).

However, I don't cook. I don't have an interest in it. I wish I did, but I don't. I'm waiting for the Betty Crocker in me to reveal herself at some point. I love baking cakes for parties, primarily of the Funfetti variety, but besides that the oven goes un-used. The most complicated cooking I do involves stirring a pot of Campbell's Tomato Soup for five minutes while making a peanut butter sandwich.

When I came up with the following concoction, I was pretty pleased with myself.

As aforementioned, I don't eat meat. So when I visit Saddle Ranch Chop House in West Hollywood, I get their macaroni & cheese. You can choose to have it cooked with jalapenos or green beans; I made my own version of this dish with broccoli.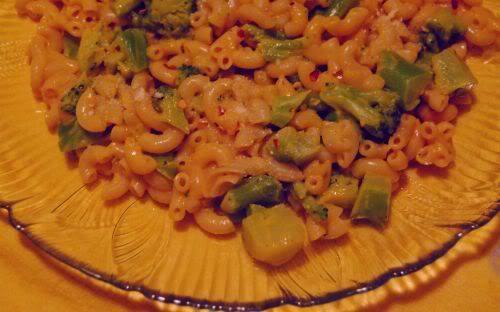 All you need is a 16oz package of frozen broccoli and a 14oz package of Kraft Deluxe Macaroni & Cheese Dinner. (It's not shaped like Sponge Bob, but the word deluxe is in the title, so you know it's good.) Cook each normally, then stir them together. Plop on a plate and top with grated Parmesan cheese and red pepper flakes.

This recipe makes four servings. I had two.