So far, I've showed you
these
three
areas
of my home. They were the smallest and probably easiest to complete!
Zach and I have lived in this apartment for two months now and the rest of the place is still in a state of disarray. You caught a peek of my living room in
this post
, but here is what it normally looks like...
The room includes two bookshelves, a TV stand, a coffee table, couch and futon. All of these pieces were free -- either found abandoned or given to us as gifts. I'll include more details in the "after" post.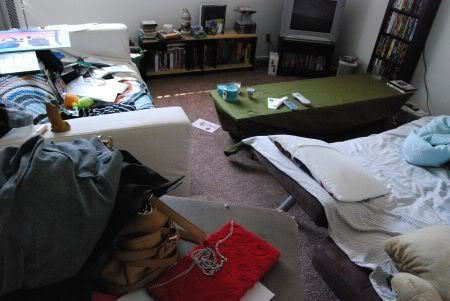 We also have a folding table (see foreground) that is normally used as a catch-all, piled high with jackets and bags. It really should be tucked away and only used for parties.
The futon has been folded down lately for sprawling out while watching movies. The coffee table is used as nothing more than a tray for eating upon. I attempted to decorate with beach-scented candles and plan to display cute picture books.
As you can see, the walls are bare; I have art yet to be hung. Also, we're in desperate need of a bigger bookshelf to hold our vast DVD collection.
The shorter bookshelf houses Zach's collection of reads, along with more movies. We've rested CDs and other things on top that don't have a place yet. Next to the shelf is a laundry basket full of more books and some games. Again, we really need more shelving! The apartment has plenty of cupboard space, but I don't like things being hidden.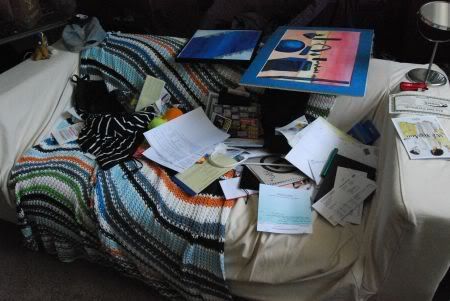 The couch is a sea of paper: unopened mail, receipts, bills. A dress and bra of mine are also in view. My clothes pretty much cover our entire apartment! A filing cabinet (and a bigger closet) could be useful for this mess. On top of the couch are two art pieces waiting to be hung.
Now that you've seen what it looks like
before
I hope the "after" looks even better. I hope to have this room done within the month!