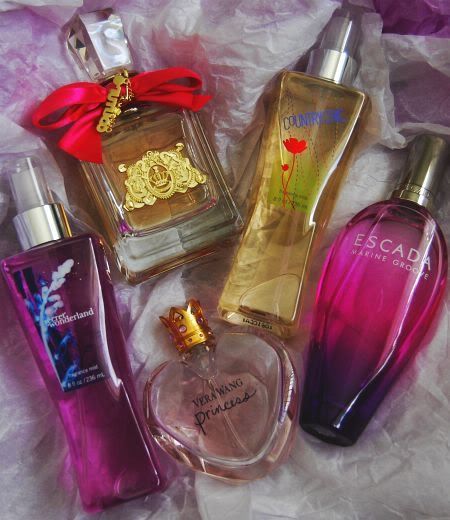 I typically purchase one fragrance for every season, but I'm on a budget these days. I recently picked up a couple body sprays from
Bath & Body Works
to add something new (yet affordable) to my summer scent collection. I tend to gravitate toward girly, sweet and floral perfumes.
I received
Vera Wang: Princess
from my Polish grandmother as part of a graduation gift in 2009. I've used almost all of it so I spray it sparingly now. It's a girly musk that reminds me of a special time in my life!
The website
calls it "a sheer, fruity floral -- rich with vanilla and brimming with exotic flowers and succulent fruits."
Next came
Escada: Marine Groove
. I love how fun and summery it is! The scent truly whisks me away to a private beach party. I gifted it to myself for my birthday in 2010. According to
the website
, it's "a sweet and piquant scent with a tropical fruit note and redcurrant twist."
Juicy Couture: Viva la Juicy
is the most recent Eau de Parfum I've acquired and my all-time favorite. I purchased it around
Black Friday
last year and it came in a beautiful boxed set with a plethora of free gifts!
The website
boasts the details of this sweet scent: "Top notes of wild berries and juicy mandarin gently tempered with honeysuckle, gardenia, and jasmine. Underlying it are warm tones of amber, caramel, vanilla, sandalwood, and praline."
Doesn't it sound like a dessert?
My two new B&B finds are
Secret Wonderland
and
Country Chic
. The website says
the former
is a "whimsical fragrance" whereas
the latter
is "an effortlessly sexy blend." I must admit that Country Chic is my favorite, but perhaps that's because it's "inspired by the fresh air and natural beauty of America's countryside" and I come from a
small town
. I've been layering this spray over Juicy on a daily basis and can't stop smelling myself!
I'd love to know what your favorite scent for summer is!