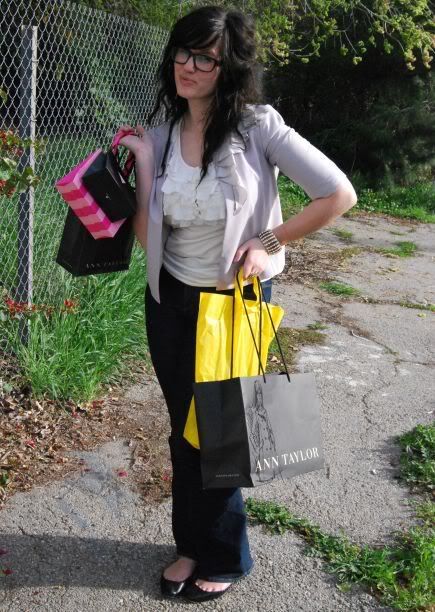 I'm currently on the management team at a local
Ann Taylor
store, and I absolutely love it! I get to help women shop all day -- could anything be better than that? Unfortunately, there are days when clients leave confused, disappointed or even angry. There are so many ways that you can prevent yourself from feeling that way the next time
you
hit the mall... After all, shopping is supposed to be fun!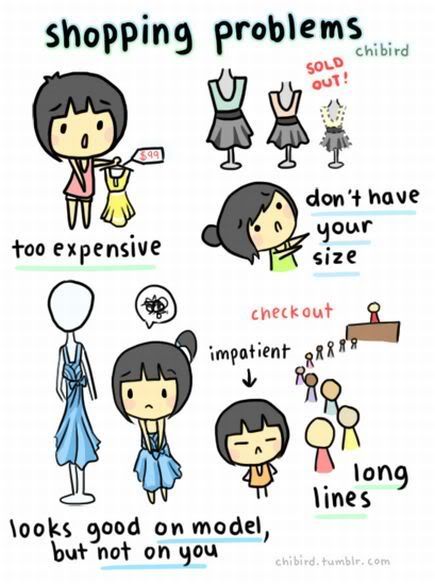 Introducing... my three-part guide to being a better shopper. We started with
RESEARCH
, now we're moving on to
IMPLEMENTATION
-- and we'll end with
FOLLOWING UP
. I'm thrilled that the first segment was so well-received and even chosen for IFB's Links à la Mode! Read the post
here
, join IFB
here
, see how to submit your posts
here
, and read the other posts chosen
here
. All caught up now? Good!
Let's begin part two...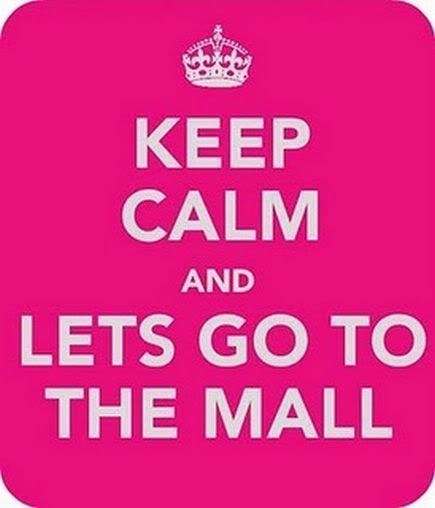 STEP ONE: Leave the kids at home.
In fact, don't bring
anyone
with you who doesn't want to shop as much or as little as you do. This includes friends and your significant other, too. Bring someone who has the same goals in mind for the day, or go alone. Your experience will be more fun and satisfying! You'll get more done and won't be distracted -- plus, whoever is with you won't have to sit around waiting while you try things on. Trust me, the cost of the babysitter will be worth the time and energy saved -- not to mention the gas money to go
back
to the mall because you bought the wrong size in a hurry.
STEP TWO: No question is a stupid question.
Once in the store, find a sales associate and
ask questions!
Describe the items you liked on-line or, better yet, give her exact style numbers. If you're looking for a tall, petite or plus-size section, ask about that. Ask about different fits and style names. Ask how the sizes run and what she thinks you'd wear. Ask about current promotions, sales and specials. Ask about different fabrics -- are you allergic to any? Associates are trained to answer these questions. They are there to help. They want you to leave the store happy so that you'll come back, and they'll do anything in their power to get you what you want!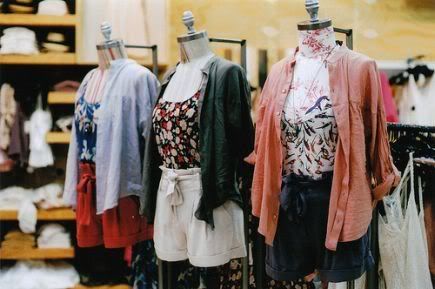 STEP THREE: Try it all.
Grab the items you already had in mind first -- then do a once-over of the entire store and see if there's anything else you're interested in. Think about meetings, events and parties you have planned for the next month... Do you have everything you need, or will you have to come back later? Keeping the future in mind will save you an extra trip. Then
try on
everything that you like. I wear a small at
Ann Taylor
and a large at
Forever 21
-- you never know!
STEP FOUR: Seek advice.
This is especially important if you're shopping alone -- or with a too-nice friend. Again, store employees are trained to help. This includes
being honest
about how you look! They don't want you to get home, put the dress on a second time and realize you look like crap, then never shop at that store again! Different bodies, skin tones and hair colors all look better in certain styles and not-as-good in others. They'll tell you if something doesn't look right and find something else that does!
Asking for an associate's opinion will help you in more ways than one -- you'll go home with something you truly look good in
and
you'll develop good rapport with a store employee that can help you with future purchases. (I have certain clients that I keep in touch with on a regular basis because we have such good experiences with each other, and they're the first I call when we're having a secret sale or special event!)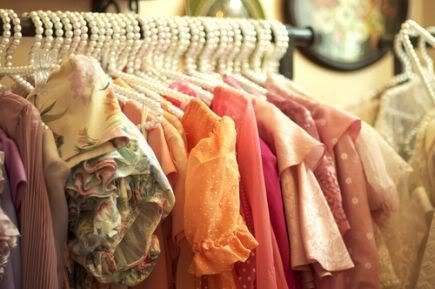 STEP FIVE: Check out.
You've filled your dressing room with items, tried them all on, and chosen what you want... you're ready to go! Don't put away what you decided against -- that's the associate's job! -- but
do
kindly hand the items to her or hang them on the "go-back" rack. (Again, you want to establish a good relationship with her!) Thank her for her help and head to the cash wrap. She may or may not be the person ringing you up, but be sure to tell whoever is that you had a good experience with who helped you. Whether or not the associate is on commission, everyone likes to hear positive feedback! (If you had a poor experience and would like to report it, calmly ask to speak with a manager or ask for the company-wide customer service number.) This is also the time for you to pull out those coupons you saved! Ask if anything can be used on what you're purchasing, and if not, don't push it. The more cooperative you are, the more she'll be inclined to compromise with you (now
and
in the future)!