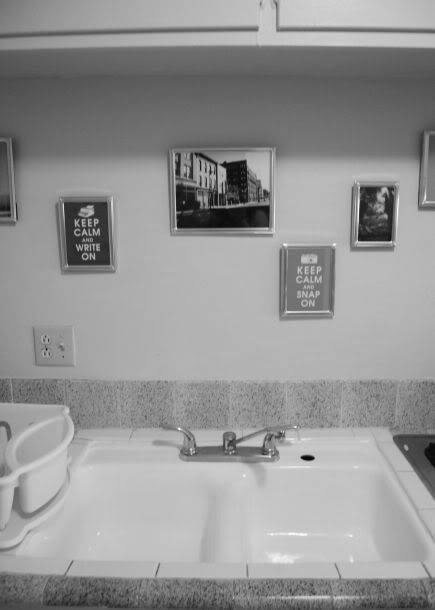 We've lived in this apartment for over three months now, and this is the first time there are no dishes in the sink. We have to wash dishes by hand here, which usually means that they pile up for days on end. It had gotten so bad this time around that I was snatching extra plastic forks from fast food businesses to use at home. Our kitchen was more embarrassingly messy than
the living room
, so though I contemplated taking a photo, I knew it would be too disturbing for sensitive eyes.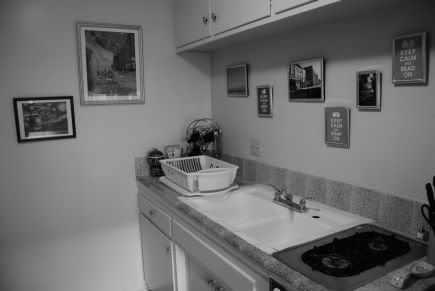 After toiling with two different cameras and their settings, then attempting to adjust the white balance on my computer -- I gave up and switched these to greyscale. I apologize for the lack of color, and I trust you'll use your imagination to create a hodge-podge of blue, green, yellow, brown and pink... but trust me, this version makes the room look much more organized! I plan to acquire more lamps and artificial light in the future, as our windows are blocked by the second half of our building.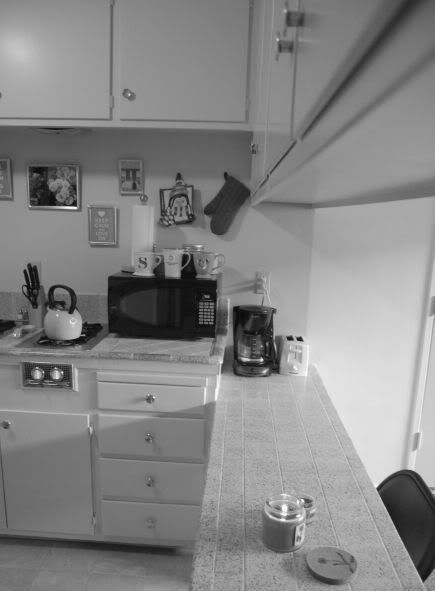 If you were to walk through our front door, the kitchen would be on your right. It has a short countertop that a friend of mine described as a "breakfast nook." This is usually where old magazines, used movie tickets, unopened mail and keys are dumped. The coffee maker was a gift from my mom, the toaster was purchased used, and the microwave is being borrowed from a friend indefinitely. The large candle is from
Target
, the small from
Bath & Body Works
, and the coasters from
Ikea
. The folding chairs are also from
Target
, though I hope to find some cute vintage seats in the future.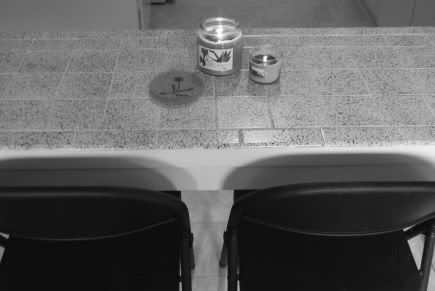 Our walls were bare and boring when we moved in, so we had no choice but to hang some pretty art! "Starry Night" was $3 at
Goodwill
and "The Cafe" was from my mother. We move frequently -- this is our third apartment in less than two years -- so we don't want to decorate with anything that will be a fuss to take down (or permanent!).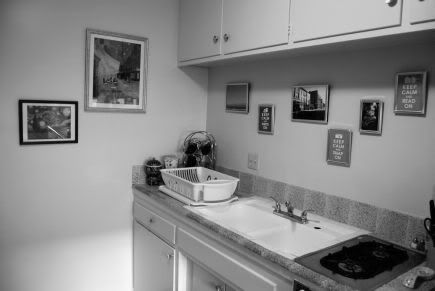 In this corner we have our wine rack (gift to me from a friend), a massive amount of chopsticks (also from a friend), and a memento from
the Paris hotel
in Vegas. We also have our dish drying rack (from
Target
) which isn't cute, but gets the job done!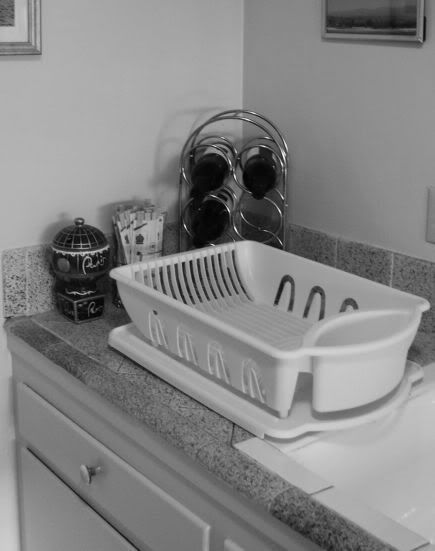 The photos on this wall were all taken by me (available at
my Etsy shop
) and the "Keep Calm" prints are from
here
(previously mentioned
here
). I hope the heat from washing dishes and cooking doesn't damage them -- any thoughts on that?
This is probably my favorite part of the kitchen. I just think the countertop stove is so cute! We
do
have an oven and a refrigerator; they just aren't shown. The tea kettle is from
Target
, the knives were a gift from Zach's sister, and the spoon rest was painted by a friend & I (details
here
).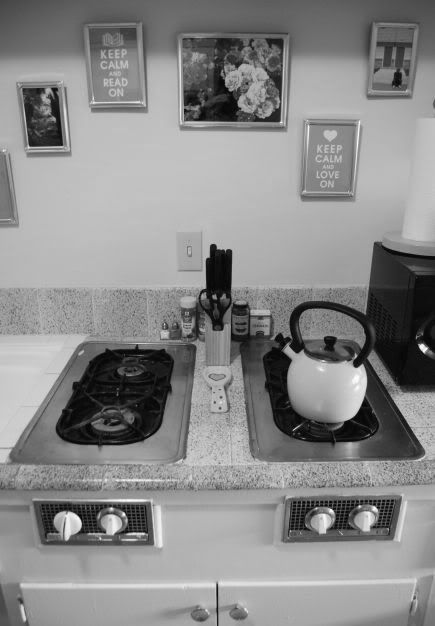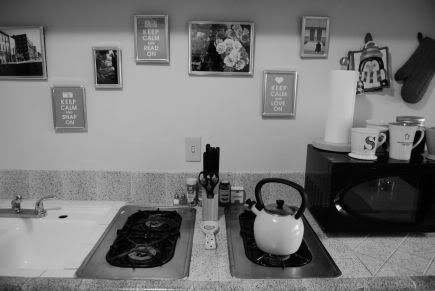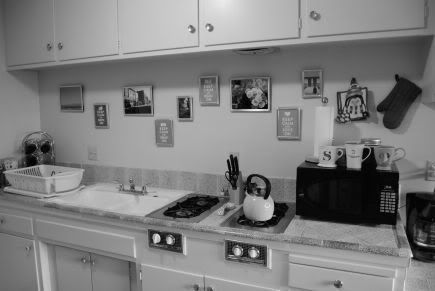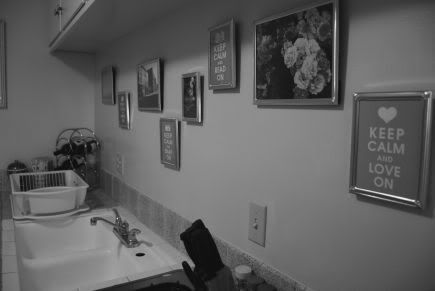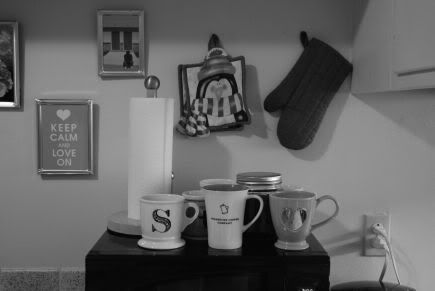 I have an extensive
mug
collection, but the most unique are displayed on top of the microwave. I really wish I had some of my favorites from college -- they're stuck at my parents' house! The paper towel holder and the glass canister holding my coffee are both from
Target
. I'm pretty sure the oven mitts were from my mother... Here's a peek at what the lighting is like, just for fun: