On
May 1st
, I announced that I would be taking two months off of shopping. I was able to do it for one month in
February
during
Kendi
's
30 for 30
and did just fine, so how hard could it be to double that? Plus, I gave myself the freedom to use
all
of my clothes instead of just 30 pieces.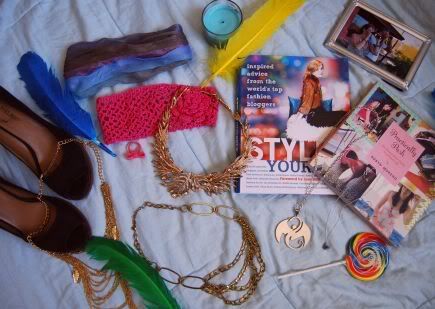 I was almost to the halfway point when I caved for a pair of $5 shoes at
an antique store
. They fit perfectly and were the most comfortable wedge I'd ever encountered. How I could I pass up a perfect pair for less than
my usual latte
? Unfortunately, it was all downhill from there! Since then, you've seen
many
new pieces in
outfit posts
...

Despite breaking the rules, I didn't break the bank. The forbidden items totalled under
$200
(which was once my
weekly
shopping budget). Now, books weren't banned -- but I wanted to show them off anyway. Aren't they pretty? I heard about "Style Yourself" from
Barbro Andersen
, who is one of many amazing bloggers featured inside. I'm giddy with excitement!