Hi guys! My name is Alexis Grace and I write a lifestyle blog called
North On Harper
. I was super excited to be asked by Stephanie to write a guest post for
The Loudmouth
. And, as she has her
Loudmouth Lounge
, I thought it would be fun to share a bit of décor advice with you! This is one of my favorite topics. I have mountains of décor magazines (yes, I recycle them eventually!) and have helped several friends design rooms in their homes. And I thought I would share some of the lessons I've learned along the way!
When my husband and I moved into our current place we realized that we wanted a more sophisticated and put together space than our previous homes. However with a limited budget and a collection of mismatched items that neither of us really liked we felt overwhelmed. So we sat back and devised a plan. Today our space is elegant, warm and most importantly fits both of our wants and needs.
These are the steps we took to achieving the look we wanted in our main living area:
1)
Determine Your Aesthetic.
Magazine, décor websites, design shows and friends homes can all be sources of inspiration. Create a file of things you like or that catch your attention. Once you've done that for a bit go through the file and see what common themes you find. Are there specific pieces you like? Make particular note of those (Even if they are out of your budget! We'll discuss how to deal with that later). One of my influences is designer
Kara Mann
.
2)
Start with a blank slate.
Sometimes it is hard to know where to start with a room- especially if it is full of things that you feel sort of ambivalent about. My suggestion is empty the room. Dramatic. Yes. But more so it is effective. Only keep the items that you want to keep long term. Consider selling everything else (Craig's List is a great option!) that does not fit with your aesthetic. We really wanted to start fresh, so we sold everything (besides the TV!) on Craig's List.

This was our space at the start: a worn out couch, a coffee table that didn't fit with our aesthetic, blah curtains and a TV stand that was just too low.
3)
Play with your layout and use of the room.
Move things around. Get to know your space. Live with it for a bit. Don't freak out if there is nothing there and rush out and get something just to fill it. This is the time to get to know what your real needs are instead of just getting things you think belong in your room. Maybe the area is "meant" to be a dining room, but you discover that you don't eat formally and you really need an office space. Kind of makes the china hutch you bought a waste of money. Be patient. We realized that because we love hosting friends, we wanted the space to serve not only as a living room, but also as a dining room.
4)
What Do You Need/Want, What's your Budget?
Now that you have a better idea of what you are missing make a list of the things that you do need. Now make a budget. How much do you have saved to spend on your place? How much can you put aside each month? Now prioritize the pieces and write down approximately what you are comfortable spending on each element. Remember, the room doesn't have to happen over night! You can save up for certain items. We took our time, asking ourselves before each purchase if we loved the item or just like it.
5)
Shop Creatively, but intelligently.
You are not limited to the PotteryBarn's, Ikea's or high-end designer stores. There are a ton of other options: hotel liquidators, flea markets, Craig's List, Garage Sales, Clearance stores (yes, places like Crate & Barrel, Ballards and Macy's have furniture outlets!) and Overstock.com. I have found great options at all of these places; often well below my allocated budget. When you find something you love remember that you can haggle. Something close but not just right? Rolling up your sleeves for a little DIY can be a giant money saver. And don't be scared to mix high and low items. Some things are worth investing in- others, not so much!
The Result: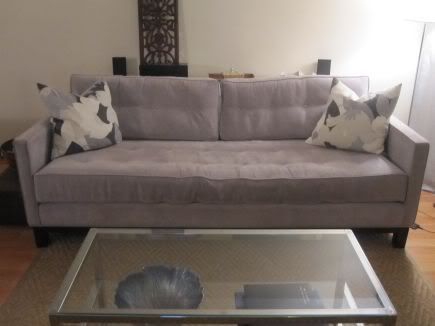 Is our space perfect? Not yet (We still have a piece of art to get framed for behind the sofa and some additional lighting to purchase). But, I can truly say I love every piece in it and that we really use our room to its full potential (okay, not the guest room, but we haven't applied the principles to it yet!). We also paid way less than retail for most things, which is a win!
Hopefully you found these tips helpful! If you have any questions or want any decorating help/suggestions/advice feel free to stop by
NorthOnHarper.com
or drop me an
email
!