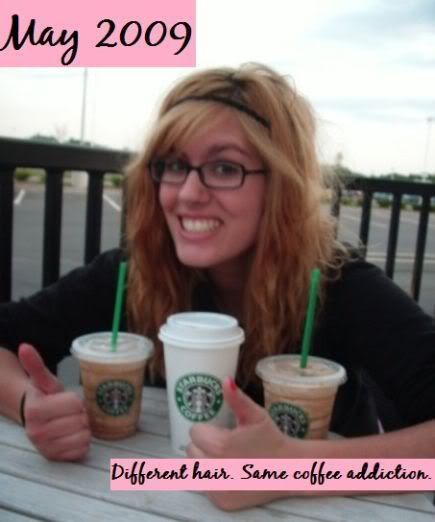 You should know by now that I'm a coffee
fiend
. And if you didn't know, now you do! I love
trying out new coffee shops
, or
sticking to my staples at Starbucks
, or mixing together my own concoctions
at home
. This
recipe
came into being today -- in fact, about five minutes ago -- as I was deciding what to do with leftover coffee that had gone cold. Thanks to
this blogger
, who recently guest posted
here
, I knew exactly what to do.
First
, let me announce that I
don't
recommend alcoholic beverages to anyone under the legal age. I also recommend you don't drink and drive, and -- even though this
is
a coffee drink -- I don't recommend you consume this before work. (I'll let you know if you should sip it while blogging once I'm done with this post.)
Secondly, this recipe was an
experiment
... and I made some mistakes along the way. (Hey, no one's perfect, even
me
. Hard to believe, right? Kidding!) For example, if you don't throw the ingredients in a blender, the milk will curdle. It'll still taste good, but look bad. (We all know
looks aren't everything
, but
still
.)
I'm sure you're bored (and thirsty) at this point, so
let's get started!
You'll need...
Milk (I used
almond
)
Whipped
Vodka ($10 at your local
Ralph's
)
Fresh, lukewarm coffee (Mine is from
The Coffee Bean
)
Then...

Four easy steps to an adult frappuccino! Did you try it? What do you think?