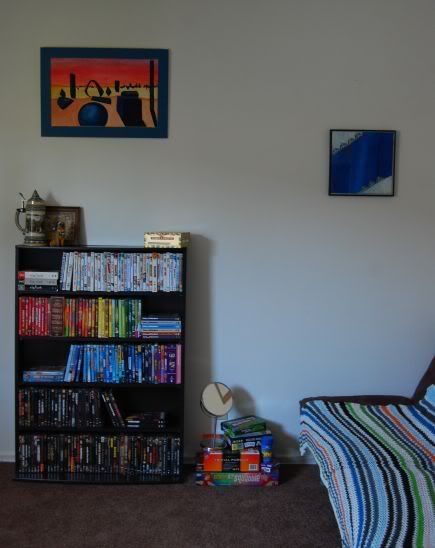 When you enter our apartment,
the office
is on your left and
the kitchen
to your right, with the living room straight ahead. In actuality, all three of these make up one large room separated by furniture and a low countertop. The living area is the
biggest
space in our home and has been the most difficult to complete. I still feel that it's not quite finished but it will have to do for now with the small amount of time and money we've had. Also, as I've mentioned before, we plan on moving again come March 2012; I'd hate to put in the effort to create
my dream home
and then have to pack it up a few months later.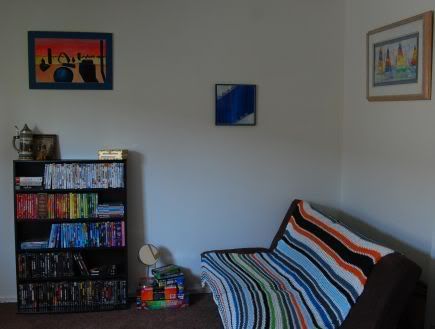 Most of the furniture in this room, as mentioned in
the 'before' post
, was free or gifted to us. This futon was from Zach's sister and the blanket from my parents. The painting above the bookshelf was from Zach's father and the smaller painting from my sister. The sailboat artwork was from my former workplace; it was in a garbage pile, ready to be taken to the dumpster, but I thought it was too cute.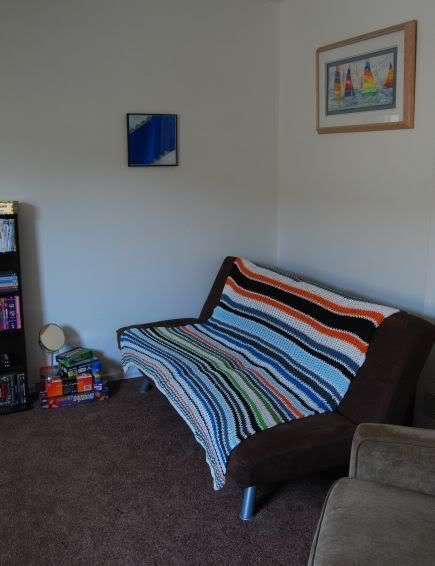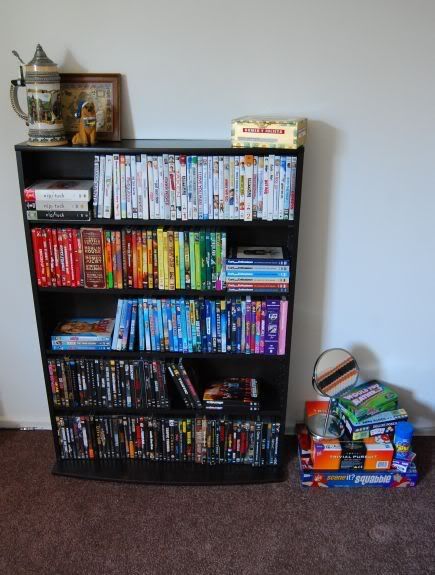 I purchased this DVD case brand-new from
Amazon
; after free shipping and a gift card, it cost around $30. We were in desperate need of more shelving for our growing movie collection! Our knick-knacks on display are from a variety of sources, the three on the left belonging to Zach. The beer stein was a gift from his father (purchased in Switzerland), the dog figurine a gift from his mother, and the old map a gift from me (
Goodwill
, $3). The cigar box on the far right was sent to me by
Bella
(details
here
).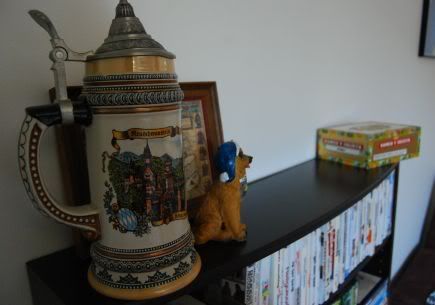 To the right of the futon is a love seat given to us by Zach's workplace. The shorter pillow was from
Ikea
and the one behind it from
Target
. No, we don't have kids -- the
Pillow Pet
is mine. Don't worry, I only own
two
...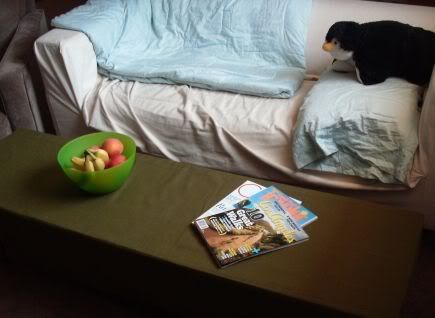 Next to that we have another love seat, this one from
Ikea
(gifted to us by my parents). The coffee table was found on the side of the road, free for the taking. It's pretty beat up so I covered it with a $15 tablecloth from
Target
. The fruit bowl -- and fruit, for that matter -- are from
Ralph's
.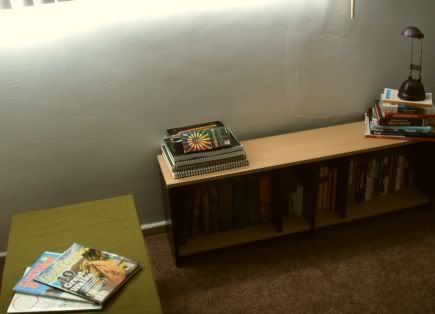 This is the last (and my least favorite) part of the room (besides the TV, not shown). I've always thought this bookshelf to be ugly and difficult to maneuver, but we need the space and it was free (left by a former tenant a couple apartments back). I organized Zach's books and a few of our CDs here, topping it with his sketching materials and some cute reads...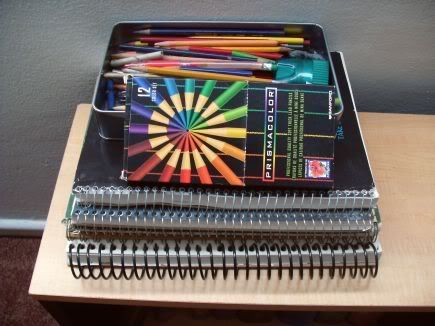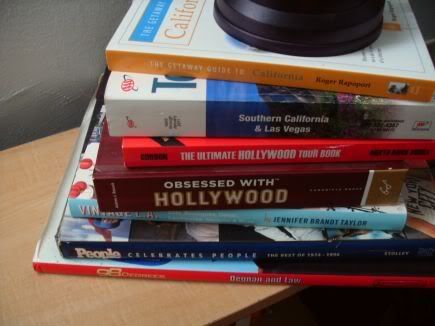 The lamp is from
Ikea
and at least six years old; it's falling apart but we're in desperate need of more lighting in this room. The only source of light comes from the window and normally it is blocked by the second half of our building anyway. I would love for us to get one of those big floor lamps from Target that everybody had in college!
You know the ones.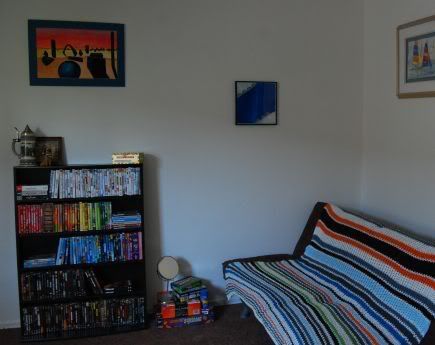 For more home inspiration, I suggest checking out...
Apartment Therapy
,
Belle Maison
,
Design*Sponge
,
Real Simple
magazine, and
this e-course
by the blogger behind
Smile & Wave
!