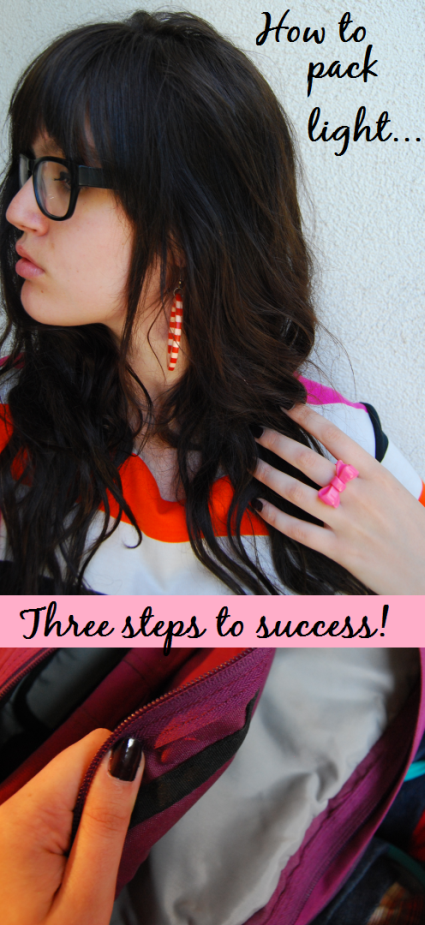 What does the word 'vacation' mean to you?
I'm sure it has something to do with a sandy beach, or a big city... maybe even a snowy mountaintop! Believe it or not, I won't be seeing
any
of these things on my trip next week. I'll be staying at a little cottage with my
family
in northern Michigan -- which means hiking, campfires, 65-degree weather, and
no
internet access.
Truth be told, this self-professed city girl is actually
excited
to get in touch with the great outdoors. Sometimes it's good to take a break from daily life and experience something completely different! I plan on journaling the old-fashioned way and taking hundreds of photos, so I'll have plenty of stories to tell when I get back.
For now, though, it's time to
pack
!
STEP ONE: Narrow it down.
As a 20-something girl living by herself in the
second
most expensive city in the United States, it's safe to say I want to spend as little
dinero
as possible on this trip. After shopping around and finding
the cheapest flight
I could (thanks,
Shatner
!) I was ready to figure out carry-on options. My mission? To only bring
one bag
on the plane. (Yes, fellow fashionistas, it's possible!)
Remember
, I'll be with family in the middle of nowhere for six days. They could care less if I wore the same outfit the whole time. However, I'll be taking photos, so I need at least a couple cute options! Here, I've laid out
the perfect packing list
. Besides toiletries and accessories, this is all you need for a relaxing Michigan vacay!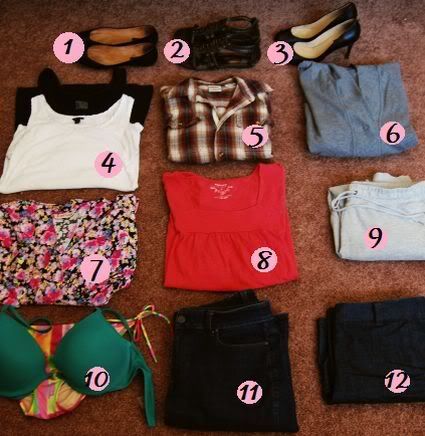 1) Flats. 2) Sandals. 3) Heels. 4) Tank tops. 5) Flannel shirt. 6) Hoodie. 7) Dress. 8) Short-sleeved top. 9) Sweatpants. 10) Swimsuit. 11) Jeans. 12) Shorts.
The key here is to select layering pieces that can be worn multiple ways.
I've already formed more than six outfits in my mind with these items!
STEP TWO: Roll it up.
I read in a magazine
years
ago that the best way to pack is to
roll everything up by outfit
, and the technique has never failed. Not only are things packed to perfection and take up the smallest amount of space possible, but you can easily grab a look while on the go!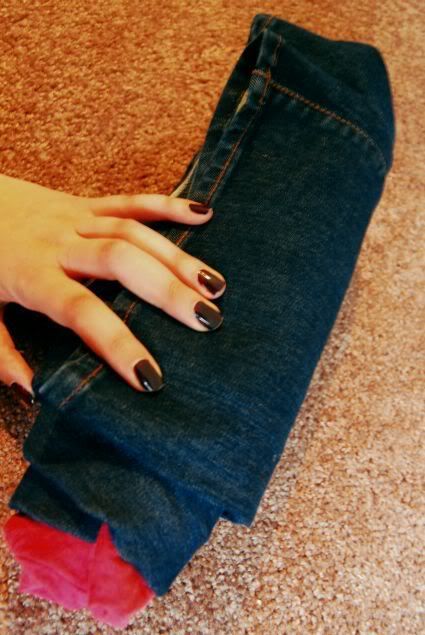 Before you start the rolling action, select (and put aside) the outfit you'll be wearing for your journey (in this case, a plane ride). I always wear the
bulkiest
items... it saves a lot of space, plus I'm always cold on planes and they don't hand out free blankets anymore.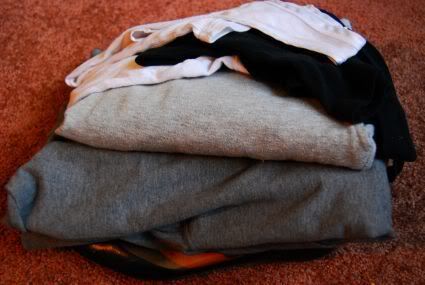 STEP THREE: Assess the situation.
I'm using a backpack for this trip because it'll easily fit under the seat in front of me. If you've followed these steps, you should have
plenty
of room left for your other travel essentials -- I have two whole pockets still!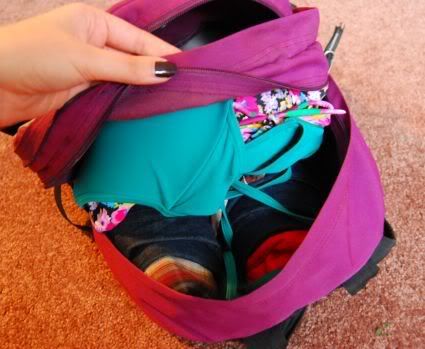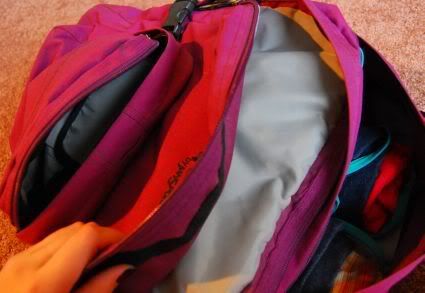 Do you have any personal packing tips? Did you use any of mine? What's in
your
carry-on? I'd love to hear your thoughts... ♥