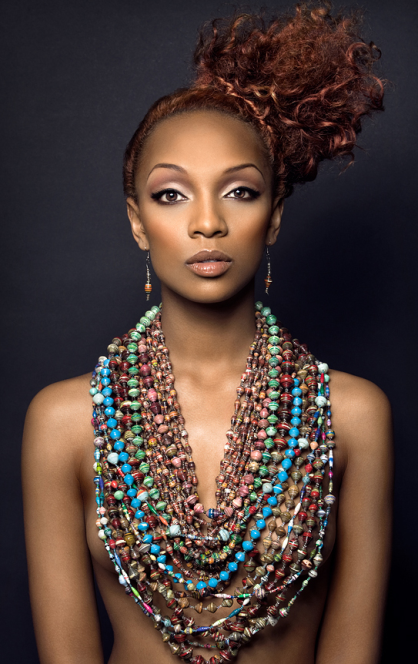 Imagine, if you can, that you are sitting in a one room hut with a woman who is crying. She is crying so hard that she can barely talk, and she is telling you, through a translator, that she contracted AIDS from her late husband. When the disease he passed on weakened her body to the point of putting her into a coma, she is telling you that her husband left her for dead. However, she continues on to tell you that before he left her, he searched the one room hut they shared with their children, and he found her life's savings - about the equivalent of $150 USD. Afterward, he took her money, and he drank away every single bit of it. He died soon after, leaving her not only without a partner to raise her children, but without a cent to do it with. By the time she began to recover, she had lost all hope.
You are sitting and this woman is wringing her hands and sobbing, and then she looks at you, and she asks if you can help her. Your guide lovingly tells her that just because he has brought a Mzungu (white) to her hut, doesn't mean that she will receive help. It just means that the Mzungu is going to take her story back to the other whites, and is going to try and get them to give money.
The place you are imagining yourself sitting is where I was sitting in the summer of 2010.
I was reporting back to a nonprofit organization on the aftermath of an AIDS crisis in Kakooge, Uganda, and I cannot tell you how many variations I heard of this same story.
They call Kakooge a poor little drunk town, and it was. Women make up the majority of the population, and they have two main options for income: they can work as a prostitute in a tiny strip of dirty huts in town referred to as "the bars," or they can do back breaking labor harvesting crops in nearby fields.
The determination of the women I was working with, more than their poverty, is what moved me. The help they requested was for capitol they could use to invest in sustainable work. I became aware that the women in Kakooge are innovators. One woman, Rosemary, told me that if she could just get the equivalent of $50 USD she could start a vegetable stand and provide for her grand children. She explained that she had found out exactly what kind of vegetables her village was lacking, how far she had to travel to get them, and what expenses she would incur along the way.
I began to become desperate to help the women I had met. I wanted to convince other people to believe in the capacity of these women, and to see the importance of investing in them. I needed to help the women in Kakooge to bring something worthwhile to the table, so people in the Western world would view them as more than charity cases. I needed to do more than simply ask for donations.
As I worked my way through my tiny, drunk village, I found beaded jewelry sitting outside huts, in small baskets. I knew missionaries sold these beads sporadically, and I had seen them given out for a suggested donation at talks about investing in different organizations. What I hadn't seen was someone taking this jewelry, and marketing it for the high quality product it was. These were handmade beads, cut from recycled paper, set out in the sun to harden overnight and strung together by hand in a place that, albeit poor, was exotic, and beautiful.
I had found my leverage. I had found my way to change the way that people viewed these women. I would bring the home the stories of talented, driven artisans. In exchange, I hoped the Western would would bring them what they were lacking: a market for their goods.
When I returned to the states with the idea to market the goods of artisans in Uganda, I sought to reach high fashion industry with their designs. I named my company Nakate, after a small girl I met in Kakooge, and I partnered with a
celebrity stylist
who believed in my cause. Over the past year, Nakate has been featured in shoots with designers from Project Runway, appeared in several fashion and design magazines and has been featured on runways in Portland and Seattle.
We have grown to supporting around 40 Ugandan artisans.
The women I met and worked with in Uganda are reporting that they are starting businesses with the money from jewelry we sell, and thus investing back into their own lives with money provided by their own work to begin with. I receive emails about women buying pigs and cows, starting shoe selling businesses and, most recently, an artisan who was able to roof her house for the first time. I also received an email about Rosemary, who has been able to start the stand she was dreaming about, and has been providing for her grandchildren - just like she hoped to.
There are women lining up waiting to become part of our project, and expansion, in the next year, is crucial. Our goals for next year include growing our customer base so that we can employ more women to create products, as well as expanding our current jewelry line into other locally made products. Through the purchases of these women's goods, and the spread of their designs to women in all walks of life, we plan to change Kakooge from a small drunken town to exactly what it is, if you can see it right - a village of innovators, a village of artisans. I will be returning in November, and I cannot wait to sit and hear my translator tell these women that I can help them, that there is a chance for capitol, just because I am sitting in their hut.
You can follow my trips to Uganda on my blog,
Voye'm
.
You can purchase goods from our Ugandan artisans
here
. Use code LOUDERMOUTH to get 25% off through Saturday, October 15.