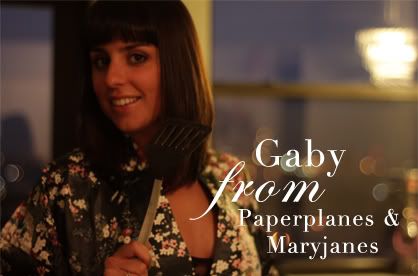 Hello lovelies. I'm Gaby from
Paperplanes & Maryjanes
, a personal style blog. I just got home to Brooklyn after living in California for six months where I was working in social media for Levi's. For a half of a year I was without the two things I love most- my boyfriend and my kitchen!
As soon as I got home I couldn't wait to make a sexy meal for my dude. Here is my menu for spicing things up for your man. Don't worry, I usually wear clothes when I cook.
No matter what I make, he always grabs for a beer. So I made something that would pair nicely, spicy cajun popcorn. I
popped the kernels on my stove top
(which was one of the funnest things I have ever done). When I removed the popped corn from the pot, I melted a half a stick of butter with salt and cajun spices leftover from a summertime crawfish boil then mixed the popcorn back in.
The other way to a man's heart is gooey, cheesy goodness.
Or that might be my heart
. Grilled cheese is so much fun to experiment with and this time I went with a stinky provolone and asiago cheese and smothered the bread with a
spicy apricot jam
. Sweet and savory and spicy.
yummm.
What grilled cheese would be complete without a hot soup? I chose a
vegetarian split pea soup
which was just like any man should be- hearty, thick and surprisingly sweet and perfect with some Tabasco.
I didn't need to make dessert.