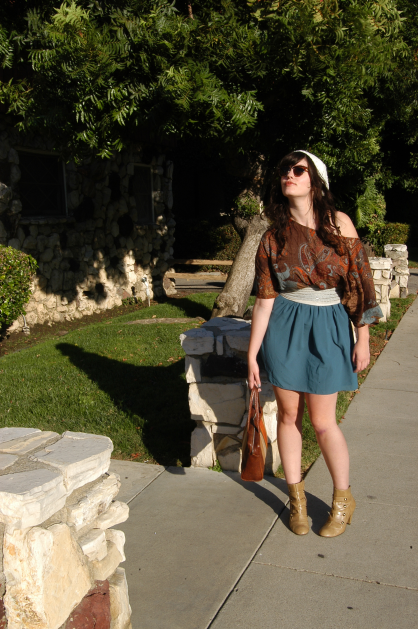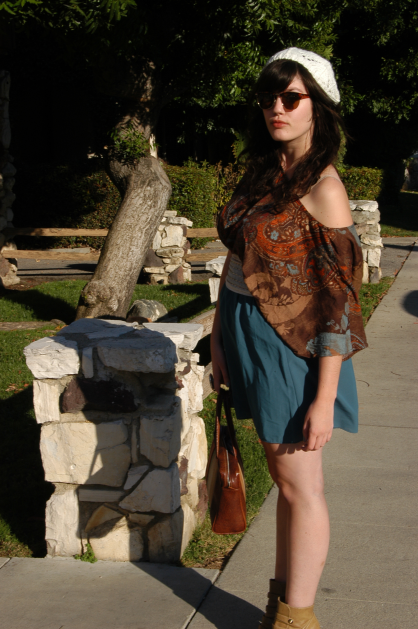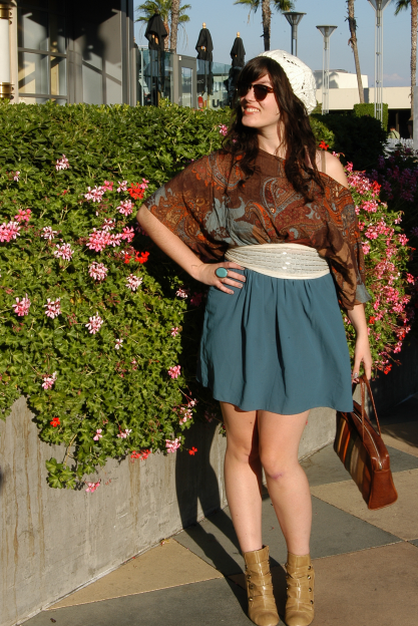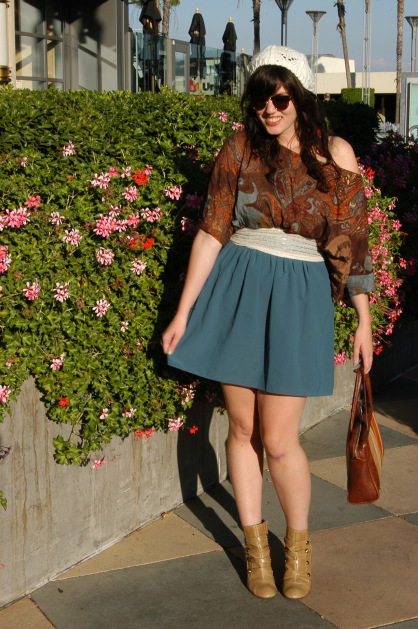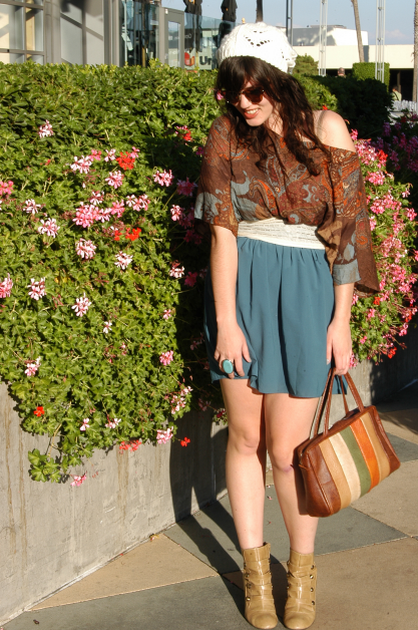 Outfit details:
Hat -
F21
. Sunglasses - For sale in my shop
here
. Top, booties -
Target
. Scarf (worn as belt) -
AT
. Ring - Borrowed from
Kimberly
. Skirt - Swapped from
Liesel
. Bag -
Bijou Vintage Bazaar
.
Boys. They shared pencils with me in elementary school, made fun of me in middle school and ignored me in high school. Then, suddenly --
I was asked out.
And again. I'm not quite sure why. Perhaps it was because I developed a personality, or developed in, well... other areas. But before college was over, I had a few boyfriends under my belt. Each relationship was longer and truer than the last.
Still, it never felt quite right. In a way, I knew it from the start. I knew this trait, that habit wasn't quite what I wanted, but I gave in. The hopeless romantic in me went with it. She gave him a chance, one thousand chances. She wanted it to work. And every time, she told herself:
This is it. This is who I've been waiting for. What I've wanted.
But in the end, she wasn't satisfied. It wasn't exactly what she wanted. It didn't turn out the way she planned, and this romantically hopeless person that I've become came out broken, frustrated and confused.
I thirst for love. I live for it, so much so that it hurts. It's what I am, it's what I aim to give, it's what I hope to receive. I don't need a man to be happy;
I am already happy, and I want someone to share that happiness with.
I don't need a man in order for me to feel good about myself; I already feel good about myself, and I want someone to love me as much as I do. I find this love, and yet crave something more, something better, something... perfect.
Something that doesn't exist.
It's wonderful to have wants and hopes and dreams. But when they turn into lists and plans and expectations, that's when I get let down. The road takes a turn I didn't map out and I throw my hands up, park the car, walk in the other direction, the direction I think is right, the one that I believe will lead me to my destination, the one I planned on.
I made a promise to myself last night.
I promised I would toss the map.
Throw away the list, forget about the plans. Grab the keys, push to start and go. Love doesn't come in a specific package. We're not in control of it. We can't walk into a store, peer into a glass case and pluck out the golden, glittering love we desire. And maybe, when I really think about it -- if I could, I wouldn't want to. Life is more exciting when you don't know what's going to happen around the next corner. Do you like surprises? I do.
Love is the best surprise of all.