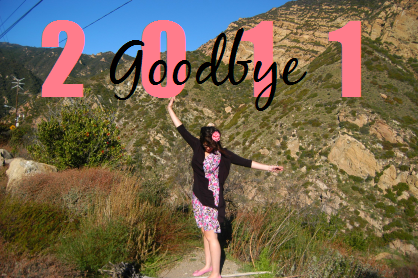 Happy new year!
I hope you have a safe and cheerful weekend. Can you believe that 2011 is coming to a close? It's a bittersweet time for me... To be honest, I'm looking forward to a fresh start! I've been putting together a list of resolutions for 2012, and I'm excited to share those with you! I'm ready for new goals, adventures and ideas.
For now, I want to thank everyone in my life who supported me over the past year, whether on or off the blog. My friends, my family and my blogging family: you guys are the greatest. That goes for
all
of you, but there are a few special people that must be named...
Liesel
, thank you for collaborating with me in the graphic design for my blog and following my particular vision. I can't wait to see what we come up with next!
Kimberly
, thank you for being so supportive from the start and always willing to take my photos. I don't know how I would have as many outfit posts as I do if it weren't for you. Thank you for coming up with new haunts for us to visit and not getting sick of me when we hang out for three nights in a row.
Zach
, thank you for being the first to push me to begin a blog in the first place. You've always been able to convince me to go for my dreams, even now, even though we're not together anymore.
Fenn
, thank you for your hilarious e-mails (I read & love them all).
Kate
, thank you for creating amazing drawings for me to decorate my house with.
Steffy
, thank you for selling amazing vintage pieces for me to fill my closet with.
Stephanie
&
Jude
, thank you for following me over here from LiveJournal and leaving the sweetest comments.
Alexis
,
Amber
,
Kirstin
,
Yvonna
,
Gaby
, thank you for being generally awesome and supportive.
Arash
,
Casee
,
Fabienne
,
Laura
, thank you for contributing this past week as I celebrated my blog's birthday.
Vahni
,
Kristy
,
Bella
, thank you for being the first to reach out to a baby blogger.
Keiko
, thank you for inspiring me every damn day. You are the reason I started this thing.
Thank you to anyone who has taken the time to stop by my blog, whether or not you took the time to comment. I appreciate you.
Now, if you've been as busy as me this past week visiting with loved ones and celebrating the holidays, you probably haven't gotten around to the many many posts in honor of my
blogiversary
! Here they are in one place, along with two giveaways. Be sure to enter now, as I'll be posting winners tomorrow! (This is also your last chance to become a January
sponsor
... and while I'm making random announcements, you should know that my
store
will be under construction this month!)
Sunday //
Staying Sane During the Holidays
Monday //
Antique-ing
+
Lessons from Kirstin's First Year
Tuesday //
Win a Flower Ring
+
Boots Made for Walking
Wednesday //
Runway to Room
+
A Merry Little Christmas
Thursday //
Lessons from Casee's First Year
+
The Mystery of Klout
Friday //
Win Mixed Media Paintings