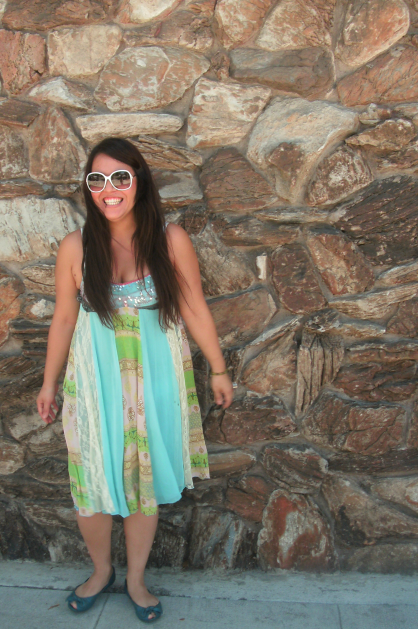 This month's featured blogger is Kimberly of Unrivaled Kitch! She has become one of my best friends this year. Since we first met in person back in February, we've gone on adventures around LA almost weekly. She is an amazing person, a wonderful confidant, a beautiful woman and an incredible chef! Here's more about her, in her own words...
I've lived in Southern California my entire life. I grew up in Reseda, CA, which is right smack in the center of the San Fernando Valley. I love California. It's truly my home. My family, my friends and amazing food culture surround me at all times and I couldn't think of a better way to spend my life: in the sunshine with the people I love.
My family is the most important and supportive force of people I've ever known. No matter what happens, I know they will always be there for me in good times and bad. I've always been a handful, but they've known how to pick me up or let me fall--that's necessary at times-- and I couldn't be more appreciative of all their love, kindness and support.
Every day, my family teaches me the strength it takes to love and as we grow together, we become even closer.
My niece, Maleeya, was born this year and actually shares the same birthday as Stephanie, so she must be a pretty special girl. My immediate family has now grown to include wonderful in-laws and so many other great people that I feel I am truly blessed. My extended family is amazing. I'm actually lucky enough to be living amongst five generations of family. We're a tough bunch of cookies.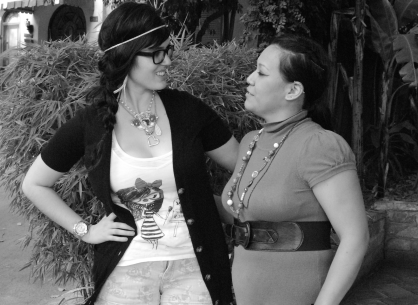 I started journaling when I was 15. Back then I had no idea what a blog was, but I knew that I wanted to write about some things in my life and I thought maybe someone wanted to read about it. Along the way I started taking photos, went to culinary school and became the executive chef of a northern Italian restaurant. I started my food blog in September of 2010 as an outlet for my food at my livejournal address where Stephanie and I met. It was where I was comfortable writing. Somewhere I turned, through good and bad, with people who probably knew more about me than even some of the people I saw every day.
I started off with no expectations, just the drive to do what was the most important thing in my life: cooking and culinary arts.
I stay true to that goal to this day and
Unrivaledkitch
motivates me to do that. It's my safe haven.
I've always been interested in bracelets. I've worn so many, lost too many and I even handmade some when I was younger. They were part of my punk rock style, which later translated into my life as a chef and an artist. As I get older, I understand that my style has to change, but I still love pieces from the old days. So I guess if I had to put it together, my style is a 1/2 cup edgy, 1 cup interesting, a 1/4 cup rock 'n' roll, with a tablespoon hippy, and a handful of whatever the hell I like--without regret.
My life is an every growing ingredients list.
My cooking style is from all over the world. I'm lucky enough to be submerged in food culture from so many places, so I eat as much as I possibly can to study other cuisines. I'm classically trained in French techniques from culinary school, professionally trained in multi-regional Italian cuisine, and my base for flavors comes from my Japanese and Mexican heritage, as well as just down-home comfort American favorites and Vegetarian and Vegan specialties. I know that sounds like a lot, but it's part of the whole diversity plan that makes me up.
I love changing things up
, learning more about food and making the best things I possibly can. Food means everything to me; it's my art and a huge part of my soul.
I love all things art and I have a serious travel bug. I love seeing where and how other people live, which is why I love to learn about new people and this is the biggest gift of blogging. Aside from blogging, I love dining out, trying new cuisines, cocktails, karaoke, concerts, music, painting, drawing, photography, writing, reading, magic movies, yoga, meditation and
living for the moment
.
I use two point-and-shoot cameras. Two Sony Cyber Shot 7.2 megapixel cameras; one has a better macro setting and is a little newer. The reason I have and use two cameras is that I lost one of my cameras at my mom's house and after thinking I looked high and low and searched everywhere possible, I decided to buy a new one. Then, almost a year after I bought the new one, my mom miraculously found the camera buried behind my old bed. But
it's really nice to have two cameras because if one goes out, you have a backup.
Not to mention the fact that I still find a way to misplace one of them (luckily for a shorter period of time) and I still have the other to use.
My favorite part of blogging is being able to share a huge piece of my heart with people from all over the world. My readership is from everywhere and it makes all the difference being able to share with others the things you love with all your heart.
My food blog has taught me so much about me, brought me to know people who I probably would never have been able to meet otherwise and truly excites me and challenges me at the same time.
My biggest accomplishment is each sweet comment that people share with me. I love knowing that people are interested in my food and that's what will always be important to me about blogging; it's not to be famous, it's just to keep my message out there and my love for food. My biggest challenge is staying in touch with my readers and not always thinking like a chef. Part of that challenge was when I decided to self-host and get a domain for my blog and move everything over to its new home
unrivaledkitch.com
. Food blogs are for everyone and not everyone wants to spend the day in the kitchen cooking for hours and hours, as I do, so sometimes I need to remember that delicious food can and needs to be made accessible to everyone.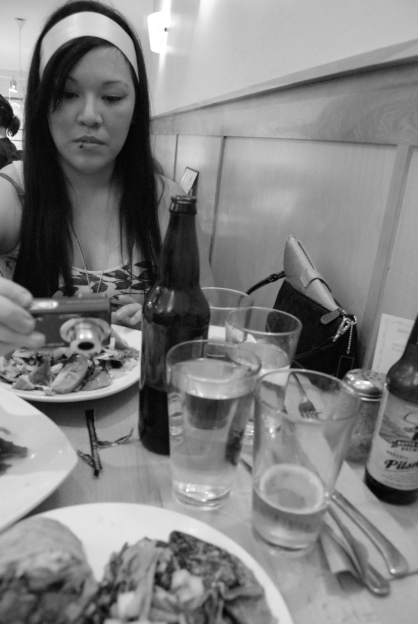 My dream career is one in which I can bring my food to the people who love and enjoy it. I want to be able to share my infatuation with people passionate about food and bring joy and health to others by sharing meals with them. I'm graced to be able to do the things I love to do. Maybe I don't make millions of dollars, but I've run a restaurant, I've been the Executive Chef in charge of over 50 employees working 15-hour days for 6 days a week, my name's been in magazine articles and on newspapers, I've cooked for celebrities and thousands of people over the years, but
what I've realized is that's not what matters
. Careers are a wonderful thing, but there are so many expectations and often times it hurts your chances for real happiness. My dream is everyday waking up and being happy, doing what I do, no matter what it is because ultimately now is all I have.
My blog is a food blog at its core and spiced with food photos,
recipes
, travel dining guides from all the places I've been and eaten, theories, techniques, and menus from a chef's point of view.
There's something for everyone:
from where to go to eat if you don't cook, to what you should cook when you're hungry. If you're ever in need of dinner, cooking, dining, or anything else food related advice I'm a comment or tweet away.
Everyone has a message. Finding your voice is the key to telling people who you are. Just being kind and real about the person you are, helps to show people the things you love without having to tell them all the details. Unrivaledkitch is not about ego, which it may sound like it by the name; but rather,
it's about everyone's kitchen fitting to their own particular needs and desires, making the kitchen obtainable to us all
. Blogging opens up a world of opportunity for us to share beautiful pieces of life with others and by doing so we make the world a better place.
Thank you to everyone who's ever supported and loved me for my food and for who I am.
Chef Kimberly Fujitaki
Twitter
|
Facebook
|
Foodbuzz