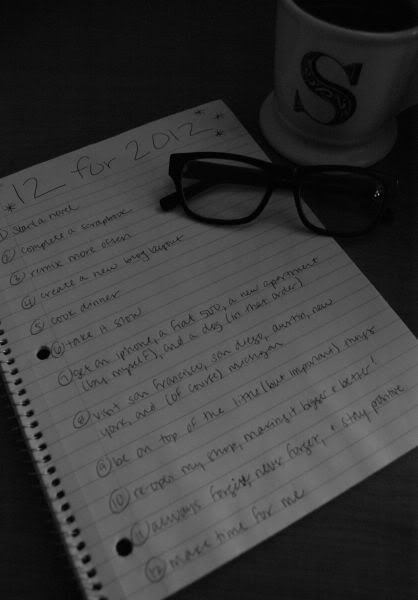 I've always loved lists. They keep me sane, organized and on-track! Today I jotted down my goals for the new year, and here are six of them in detail. Do you have your own resolutions for 2012? Let's keep each other accountable and make this our best year yet!
Take it slow. LA is the perfect place for me because it's extremely fast-paced; everyone is always on the go! That's exactly how my brain works. I constantly give myself deadlines, whether it be at my job, for the blog or in daily life. I'm training myself to slow down and stop rushing through everything. I could miss out or burn out otherwise!
Be on top of the little (but important) things. You'd think that with my aforementioned addiction to lists and deadlines that I would have stuff like 'go to dentist' and 'get oil changed' in my planner, but nope! It's weird -- I always forget about things that are so simple, yet so crucial to life. I need to work on that. Any tips?
Remix more often. I go through spurts where I'll shop like Paris Hilton* for a month and then the next I won't spend a dime. There needs to be a balance in there, so I plan to use the heck out of what I already have. It's a way to go green while saving green!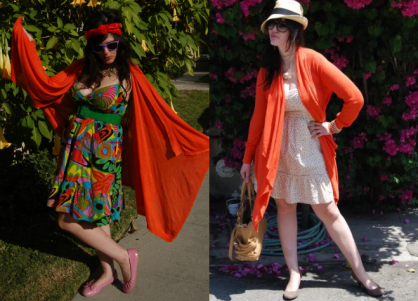 Cook dinner. I haven't posted a recipe here in forever, and it's simply because I haven't been cooking. My roommate tends to tease me for stocking the freezer with Lean Cuisines; not because I'm trying to lose weight, but because they take three minutes to make! The only items I have in the fridge right now are a loaf of bread, a tub of butter and a carton of almond milk. I tend to blame my poor eating habits on time constraints, but if I managed my minutes wisely and kept my kitchen stocked, I'd be more apt to cook. I plan to do this by going on a big grocery trip every Sunday -- starting today!
Make time for me. I thrive off of maintaining a busy schedule and it's difficult for me to stop and simply breathe (see 'take it slow' above). However, I know it's healthy for us to take a few moments to relax and recharge! I'm going to set aside time every day to do something that doesn't involve working or blogging -- or maybe to do nothing at all. What do you think?
Create a new blog layout. I really like the way it looks right now, but give me a few more months and I'll be itching for change! I'm inspired by both simple and busy layouts... Here are some I adore: Scathingly Brilliant, A Beautiful Mess, Mattieologie, Stay in the Lines, and (my favorite!) The Girl Who Stole the Eiffel Tower.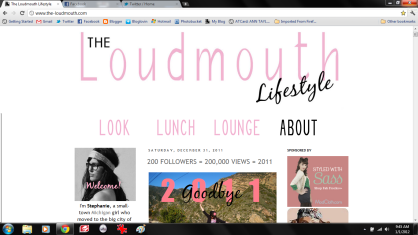 Thanks for reading about my personal goals! Without further ado, here are the winners for last week's giveaways (chosen using random.org): Congratulations to
Mary Rebecca
, who won a cute ring from
Femmena Mala
; and to
Yvonna Livianna
, who won pretty paintings from
Fenn
! Enjoy, ladies, and thanks to all who entered.
* Credit goes to
Bryn
for coming up with this phrase.