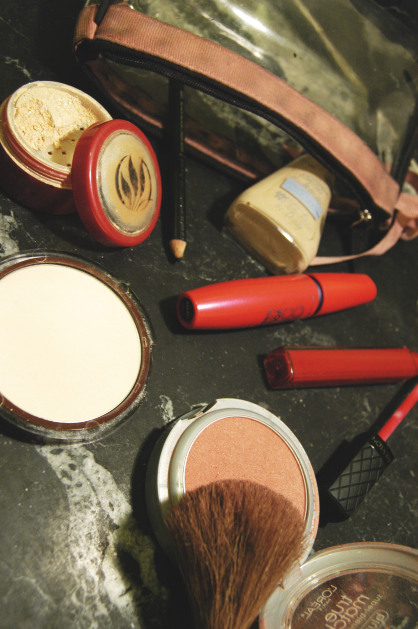 Although I love the clothing side of fashion, I've never been big on beauty. I didn't wear makeup until halfway through college, and even now, I don't wear much. However, there
are
a few items I carry with me daily in order to maintain a chic and professional work look. On the weekends, the only thing I'll change is my lip color, or maybe dab on a few extra sparkles.
My makeup routine is easy, cheap and works for everyone. I plan to show you
exactly
how I wear these items -- perhaps even with video -- but for now, I'll explain what you see here. You don't necessarily need to use
these
products to achieve my simple everyday look, but I'm including links just in case you'd like to try them!
CoverGirl Clean Liquid Makeup in Buff Beige:
I've been told time and again not to use CoverGirl products -- that I get what I pay for, and it's bad for my skin. However, I've been using it for years and I've never had a problem. I really think it depends on your individual face. :) I really love this foundation because it doesn't leave my skin looking greasy, even when I don't use powder on top.
Buy it here.
CoverGirl Clean Pressed Powder in Buff Beige:
This powder is easily blendable and is the perfect compliment to the foundation. It gives my face a nice 'matte' look.
Buy it here.
L'Oreal True Match Blush in Sweet Ginger:
I only recently began wearing a subtle brush of blush, and now I feel incomplete without it. This color is so feminine and pretty.
Buy it here.
Wet 'n Wild Eyeliner Pencil in Black Black:
I've also been using this for years. I'm pretty sure it was the first makeup product I ever purchased. :)
Buy it here.
(Although, I got mine at
Target
for $1. I refuse to pay anything more for simple black eyeliner.)
Maybelline One-by-One Waterproof Mascara:
I've tried many many mascaras over the years, and this is by far the best. I'm never using anything else! It separates, thickens and lengthens... it does it all, whereas before I would use two or even three different mascaras in a row to get the same effect.
Buy it here.
ProMinerals Loose Mineral All Over Luminosity Stardust:
This product is supposed to be brushed on the face to acquire a 'glowy' look, but I use it under my eyes instead, using a fingertip to dab on a
very
minimal amount (as to avoid looking like I'm going to a club or Halloween party). This technique simply brightens my eyes and wakes up my face. The sparkles aren't obvious -- you probably haven't even noticed them in outfit photos!
Buy something similar here.
Revlon Color Burst Lip Gloss in Fire:
I normally wear
Vaseline
or
Smith's Mint Balm
, but when I feel like adding color to my look, this one's my favorite. It's such a juicy red that makes a gorgeous pop!
Buy it here.