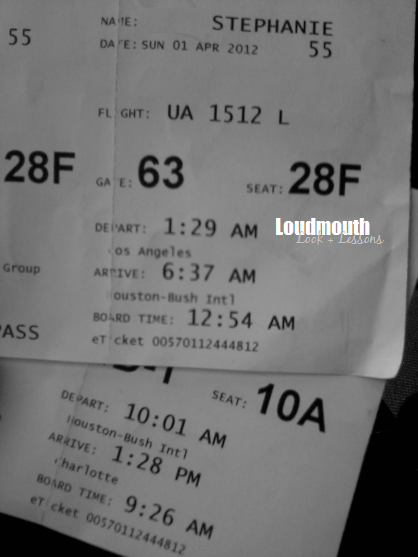 Outfit details: Dress - Felina & Dandall. Belt - Swapped from Liesel. Tights, bracelet, bag - Ann Taylor. Bangles - InPink. Booties - Target.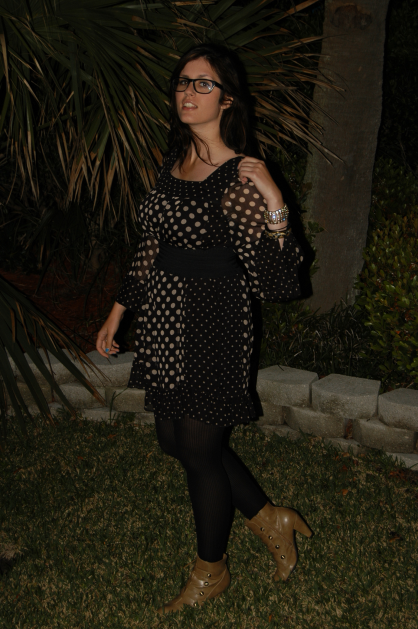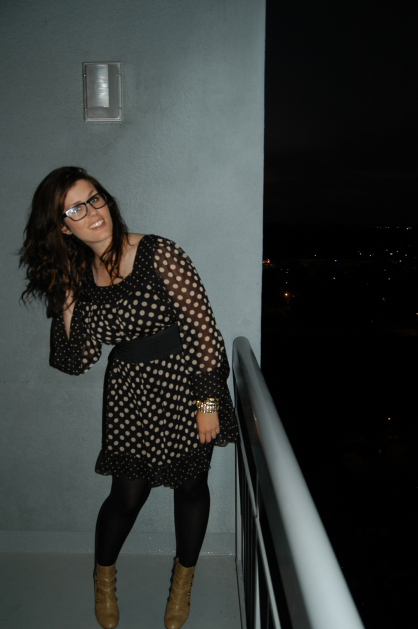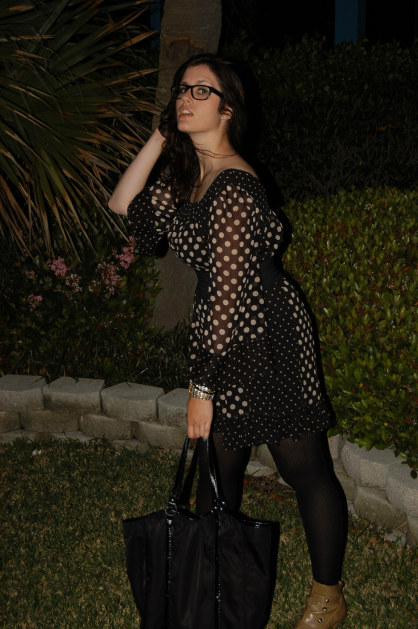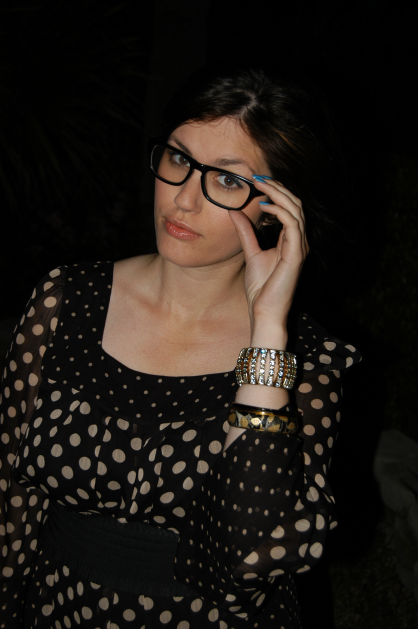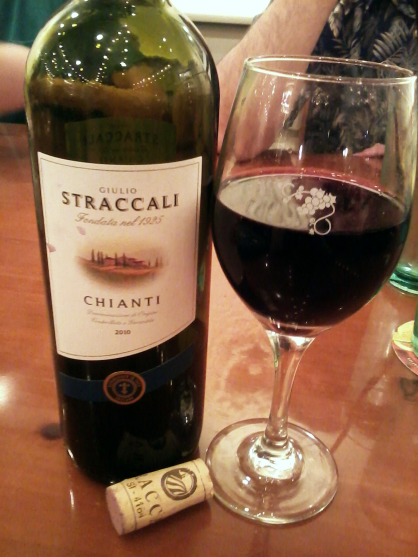 It's amazing when you realize that you've been living a certain way, and you didn't even know it because you were
so
busy living that you weren't thinking about
how
. Sometimes we need a moment to pause and dig deep into our hearts to recognize why we are the way we are. It can give us so many answers to smaller questions, and reactions to situations, that come up in our day-to-day.
When I was younger, I was very quiet. Now, I am -– most of the time -– very loud. It's taken me years to figure out why there was this change in outward personality.
Growing up, I was teased at school, my heart bruised and broken long before I went on my first date at eighteen years old. In the sixth grade, I was called 'bunny teeth' and 'chicken legs.' I was asked out by the 'popular' guys, but only as a joke. I played the flute in marching band, which came with a slew of taunts including one from a classmate that was something like 'your dad fucks you with that, doesn't he?' I was made fun of for my puffy hair, my thick eyebrows, my high-waisted pants -– things that are, by the way, in style now (and probably worn by the people that used to tease me). Eventually, my only friend at the time passed me a note in class one day saying she couldn't talk to me anymore because I 'wasn't cool enough.'
By the seventh grade, I was fed up. I ran away. Granted, I only ran away to the public library and was found by my crying mother after a few hours, but it was something. My parents didn't understand and thought it was their fault -– that they had done something wrong. They weren't the problem; it was
everyone
else. I couldn't wait to leave that town, but I didn't have a choice. So every day after that, I went to school, didn't say a word to anyone, and came home to read and write in my bedroom. I became lost in my stories -– stories of a life I wished I had, stories of girls with friends and boyfriends and people besides their parents that thought they were pretty.
In high school, I finally found a place, with the theatre kids. They were known to be as 'weird' as I was, and finally, I had people I could relate to. My experience with the stage changed my life. People liked me and wanted to be around me, and I was incredulous -– even skeptical at first. I began to come out of my shell, and instead of hiding in my room after school, I was going to rehearsal and then a local coffee shop with friends until my parents called for the third time to remind me I was out past curfew. At one point, I thought about moving to New York after high school and becoming an actress (though writing is, and always was, my biggest passion).
My personality continued to break through well into college and out until I became the outgoing, boisterous person I'm known as today. But I didn't realize until recently that how I act now is a way of protecting my heart just as much as being a quiet, invisible hermit in middle school was. If I make fun of myself, no one else can make fun of me. If I tell everyone everything, then no one has a chance to break my trust. If I start to date someone and I show them my wild personality right away, then they won't find it out
later
and decide that they don't like it. I'm protecting myself from rejection, the rejection that I felt as a pre-teen from classmates and then as a young adult from dates. And every time I feel another stab at my heart, I become louder and more confident, but also harder and more controlling, feeling the need to dominate in every area of my life, and increasingly becoming more frustrated when I can't.
My attitude went from "it's not you, it's me" as a 14-year-old to "it's not me, it's you" as a 24-year-old. I'm not sure if either extreme is healthy, but the point is that lately, my confidence is becoming exhausted. It seems easier to start blaming myself again for what happens, especially with men, and I'm starting to pull my personality back in under my shell. Because if I was really as great as I thought I was, then I wouldn't be single at 25. Right?
I know I'm going through a quarterlife crisis, and most people do. I'm not writing about this because it's unique –- I'm writing about this because it's not. What scares me about making this public is that I don't want people to get confused. How I act now, and how I acted before, both make up what I am. They're just two different sides, and one will always stand out more than the other. It's not always consistent; I know that I contradict myself. Because of this, what I post here is judged and questioned, and I'm okay with that. I had to be okay with it from the beginning. My blog is a reflection of who I am at the moment, and who I am –- as I type this –- is a mess.
(This post was written and these photos were taken yesterday as I flew from Los Angeles to Houston to Charlotte and then drove to Myrtle Beach, where I am staying for the week. First and last photos from my
phone
; others taken with my
DSLR
.)