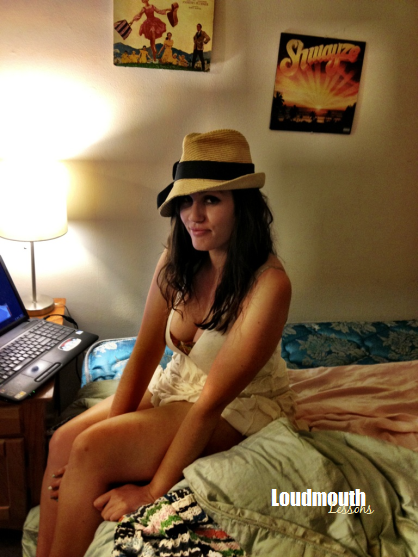 The same reasons that readers like my blog are the same reasons that other readers don't: I'm outgoing, fun-loving and extroverted, while at the same time possibly chaotic, overwhelming and a little too honest. I think it's the same when it comes to people in other aspects of my life as well. Not everyone is going to like my personality, and that's okay. I could probably have more blog readers and more friends if I changed myself, but I don't want to go against who I am.
There was a point, though, when I started to do just that.
As far as I know, anyone who has a deep passion for something wants to be paid to do what they love. Musicians want to be paid to make music, actors want to be paid to act, and writers want to be paid to write. That's why I don't think there's any harm in bloggers keeping track of followers or pageviews. In fact, if you want to make a living from your blog, you
should
do that. You won't make money unless you have an audience. However, if you are
changing
yourself or your work in order to attract an audience -- and therefore, make money -- you're doing something called
selling out
. We've seen musicians do it, we've seen actors do it, and we've seen writers do it.
Over the past few months, I started to notice what my readers responded to most. People didn't necessarily make comments about what they liked or didn't like to see, but I could tell what was going over well by the
amount
of comments I received, and I started to tweak my content based on that. I worked really hard to give my audience what they wanted, and I hate to admit that my work paid off -- my views and followers went up. Then, as I wrote in
my last LESSONS post
, I wondered why blogging wasn't as fulfilling.
Now I know: It was because my blog stopped being strictly about my passion. I read once that if you want your blog to become a full-time job, you need to treat it like a full-time job. But once I started to treat my blog like work, I started to burn out. I realize now that blogging
itself
wasn't giving me stress -- it was the pressure of feeling that my blog had to be a certain way. I had started to use my blog as a business that catered to its consumers. And it wasn't very fun.
I don't know if I would have had this epiphany if I hadn't posted about my inner struggle here. The different perspectives you shared and the sweet words of encouragement I read were so important to my thought process. I've realized that maybe it's okay for blogging to be a 'side job' or hobby, and I'm going to treat it that way for now. And it's okay if that changes again, too -- change does not have to be bad.
That's what I continue to remind myself as I continue stumbling blindly through my twenties. Within the past five years, I've had seven home addresses, fourteen first dates, five workplaces, three car accidents, six hospital visits, and two big break-ups. Many people have entered and left my life during this time. In fact, it seems as if the older I get, the more friends that fade away. I'm not going to pretend that it doesn't hurt, but I'm also not going to let it completely control my emotions or determine my self-worth. Right now, I can count the people that I see and talk to regularly, outside of my co-workers, on one hand. But I need to remind myself that quality, of course, is more important than quantity. This whole
post
is one big reminder.
So I when I tweeted
this
, it was a little funny -- but completely serious. It feels silly to say, but I definitely have more friends all over the world (that I've never even met) than friends in LA. I was never part of the 'in' crowd, and I never will be. My life or my personality may be weird -- but they're uniquely mine. And
that
is cool.
I've said it before, and I'll say it again, and I'll
keep
saying it, as much as I have to: It's time to be me, and it's time to
love
being me, in blogging and in life. It's time to let go of the past, relax about the future, and focus on the present. It's time to forget that time exists.