When J of
Life in Lavender
invited me to participate in her week-long blog event,
The Woman Project
, I immediately chose someone I'd been wanting to learn more about anyway:
Oprah Winfrey
. She's normally not seen as a style icon, but an icon she is. We all know her for her talk show, subsequent
magazine
and
TV network
. As a woman who suffered a painful childhood and went on to independently build her career from the ground up, I see her as a great inspiration. She positively influences women
and
happens to be fashionable!
While doing research for this project, I found two
videos
I
had
to share. The first is when she surprised Ellen on
Ellen
, and the second is Oprah's interview with
Ricky Martin
after he came out. Not only is he still super hot, but I was
totally
pulled in by the interview and now I want to read
his book
. :) I'm officially addicted to Oprah now... yikes!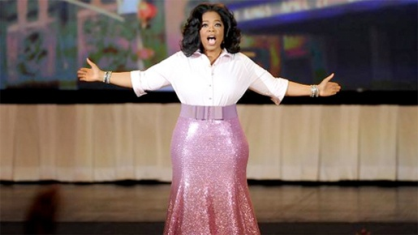 As for her sense of style, I've noticed lots of sparkles, bright colors and big hair. When Oprah wears a full suit, it's usually skirted and in a bold shade. While in pants, she keeps it feminine with jewelry and a pretty top. My favorite accessory, however, may be her facial expressions. :) Here's my take...

Outfit details: Suit, bracelet, pumps - Ann Taylor. Lace top - Kohl's. Necklace - Items. (You can't really tell, but the suit is sparkly!)



Outfit details: Watch - Michael Kors. Pants - AT. Pumps - Target. Top - Swapped from Liesel. (A punch of color to keep it fresh!)



Outfit details: Just kidding, this isn't an outfit. This is me attempting to make my hair look like Oprah's. It clearly didn't work out, and my face isn't as cute either. I'm not even sure why this photo exists.


On a prettier note, it's June and I'm anticipating a big month of healthy change both on and off-line. A few things coming up on the blog: a week of posts dedicated to my weekend in Santa Barbara, my summer goals, a special recipe and some fun giveaways! Later today I'll be updating my sidebar with new sponsors, and this weekend I'll be working on the new
LESSONS
post that I promised you.
As always, thank you for paying attention to my blog and accepting all sides of me -- the happy and sad, the sweet and sour, the quiet and very very loud.


photo sources: 1 | 2 | 3 | 4 | 5 | 6 | 7 | 8 | 9