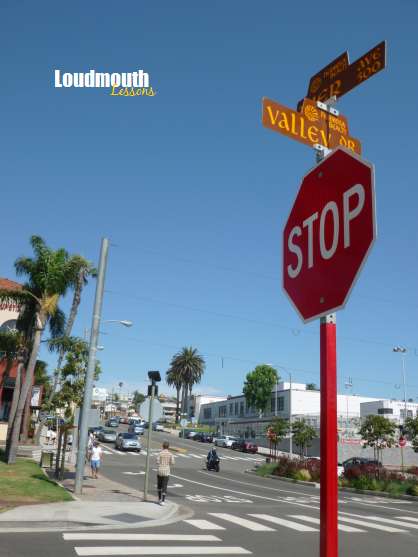 My
LESSONS
posts seem to be pretty repetitive. The common theme: I'm obsessed with goals, schedules and deadlines, but life doesn't always go according to plan. It's not that I don't like change -- in fact, I've grown to love it. For awhile, I only liked the changes that I made; the ones that were under my control. I even wrote a guest post
here
about making changes for yourself. Now, I appreciate any and
all
change. It helps me grow and learn. I'm grateful for it! One thing that has also changed over time, along with my life and me, is this blog.
I've actually been blogging for over 10 years. I started out at LiveJournal where I posted lots of personal photos and secret thoughts. If you're not familiar with the site, users would add 'friends' as opposed to followers. Most of my posts were marked 'friends-only' and not public. I didn't think about blog traffic or the quality of my content. I didn't even think of it as a 'blog' -- it really was a journal.
In 2010 I stumbled upon
Keiko Lynn
while posting my outfits on
Lucky Style Spotter
(I'm not sure if it still exists now). Until that point, I hadn't known much about the world of fashion blogging and had not even considered it for myself. But after becoming addicted to Keiko's blog and finding a few others (including
Vogue Gone Rogue
,
Miss Melissa
,
Grit & Glamour
, and
The Citizen Rosebud
) I realized that this was all something I, too, could be a part of.
Documenting my life through words and pictures is something that I've been doing forever -- even before I joined LiveJournal. I received my first diary (with a lock!) and first camera on my seventh birthday. Since then, my love for writing and photography has never wavered. I was excited to have found a new outlet for my creativity; through fashion blogging, I could combine my passions of writing and photography with personal style.
Soon, though, I became frustrated. Everything I read was telling me to narrow down what my blog was about -- only focus on one or two topics, three at the most. I tried to do this, but after awhile, I just couldn't. Yes, I like dresses and chocolate and the color pink, but I also like rap music, scary movies, and tequila. All of these things make me, me. And why should I hide certain parts of myself? I missed having the freedom to post about what I wanted, when I wanted to.
Last month,
Cassie Boorn
tweeted
, "The day I started censoring myself on my blog is the day the lady at the gas station in our small town said she read it." This month,
Delightfully Tacky
wrote, "This blog isn't the whole story. It's real life, but it's just peering through a keyhole into one room of the house of my life."
Do these bloggers
have
to post everything about their lives? Of course not. They're entitled to
choosing
what they want to post about
certain
things. That's what works for them. Elsie of
A Beautiful Mess
blogs the same way. In her e-course
Blog Love
, she explained: "I have plenty of likes and dislikes that I don't blog about. I think that these choices make my brand stronger. It also helps me maintain a private life. Boundaries can be healthy, good for branding and clarity too! I've put a lot of thought into my role in the blogging community. I know who I want to be and who I don't want to be. I have a purpose. My blog's purpose does not reflect 100% of my real life interests, hobbies and opinions -- and that's intentional. I have a focused plan." She's not showing a 'pretend' self, but rather, a version of herself.
It's perfectly fine, of course, for fellow bloggers to censor their blogs, but
only
if that's what makes them comfortable and satisfied with their blogs. If you want to post about something that's out of the ordinary, then by all means -- do it! It's your life, it's your blog. I think there's so much pressure for us bloggers -- pressure to share things, pressure to hide other things. I've said
before
that my only rule for blogging is to be yourself. If you're naturally an open person who tells everyone your life story (like me), then don't hold back. If you're naturally a private person that likes to keep things secret, then don't share more than you're comfortable with. Our differences make us unique and special. And for the record, I
love
blogs and bloggers that are completely different from me and mine!
Blogging is supposed to be fun. If you're having fun, then you're doing it right. You're doing things
your way
. If you're not having fun, then something needs to change. Do you feel like you're holding back something that you want to share with the world? Do you feel like you're sharing too much and you want to pull a few things out of your blog? It's okay to make changes. It's healthy. It's good.
Little Chief Honeybee
made a goal this year on her third blogiversary: "This blog has been a blessing, but there are still times when I feel like I can't commit myself to say some of the things I want to. That's the part I hate. Absolutely no one is holding me back from saying these things or writing these posts except myself... I hope I can be more upfront and honest in the things that I write. Everything on this blog is valid and true, but I find myself only drafting the posts that are sticky or just seem so silly. I can't imagine that thousands of people want to know about that one tiny trivial thing that I did, so I end up not publishing it. That's silly. This blog serves as a virtual scrapbook for my twenties. I don't want to just skim the surface anymore."
Fenn of
Short Girl Blogs
sent me an e-mail recently that also stuck: "I feel like I put almost all of it out there. I leave out my ranting, because that sort of writing doesn't go anywhere... But I talk about my insides all the time. Sometimes, I forget just to write about my art or whatever, because I think I spend a lot of time writing about me."
I couldn't agree more, for myself and my own blog. It's become more personal over time; it's not just about outfits anymore. And I'm glad. Once in awhile, though, I can't help but feel like it's a little too messy, too random, too all-over-the-place. And when that happens, I just read this (by
Kyla Roma
) and feel better: "Finding your niche is an idea you'll find at every blogging conference and piece of marketing advice you pick up... Instead of worrying about which sub-genre of blogging that you fall into, remembering the overall story that you're telling can be a positive way to connect all the pieces that make up your blog."
It's funny, because even though I'm not afraid to post (almost) everything about my life, I'm shy when it comes to telling people about my blog in 'real life' (as if me sitting here typing to you isn't real). I mean, I want traffic. I want people to read this blog. I want people to know me. I want to be everybody's friend. If I didn't, I would keep this all locked up and tucked away, like I did before. But I've chosen to publicize it. At the same time, I don't want everyone to know everything about me simply from visiting this blog. I want it to be organic. I want someone to get to know me through
me
, not through a computer screen. And then later, he can read the archives...
What about you? Do you feel like you share too much (or too little) on your blog? Is it time for you to make some changes? Let's chat.