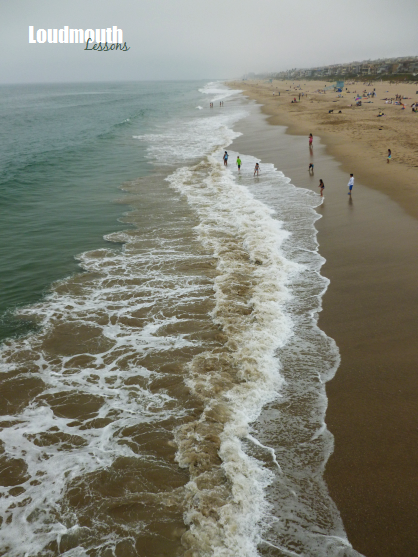 When I was younger, I thought that once you became an adult, everything was set in stone. I saw myself graduating college, moving to the big city, finding a steady job, getting married, and settling down -- all the while, hanging out with my best girlfriends
SATC
style. I assumed that my daily life, and the people in it, would stay the same until it was time to retire at 45. I would then spend the rest of my days writing on the beach with a margarita in hand.
I wasn't
completely
delusional. I didn't think my life would be perfect, but I
did
think that it would go according to plan. I'm not sure whose plan it was, though. Perhaps I based it on what society or religion or my family was teaching me. My mother has had the same girlfriends since grade school and has been with my father since she was 18. He's worked in the same industry since he was old enough to drive. I only thought the same for me.
Over the past few years, I've learned that my life's events are almost impossible to plan for; rarely does something work out the way I want it to. I graduated college and
moved to LA
in 2009, but it wasn't until 2011 -- after much searching and struggling -- that I found a stable job with a good company. As for friends, they continue to enter and exit my life as if they're a rotating MySpace Top 8, and most of them
are men now
,
which is ironic
after everything I've written about the opposite sex. Speaking of which, I'm not married (or even close).
Here's the thing, though:
I'm happy.
In fact, I'm probably the happiest I've ever been right now. I don't have the money I wanted, but I have enough to support myself in LA, which is an accomplishment in itself. I don't have a Samantha and a Charlotte and a Miranda, but I have different friends in different groups who love and care for me, some of which I've known a few years and others a few months. I don't have a beach house on the water, but I have a spacious apartment in the
Valley
with
two roommates
whom I adore. I'm not dating anyone seriously, so that area of my life is completely stress-free. I'm working hard and playing hard and enjoying everything about being 25.
Life is pretty much perfect right now.
Sometimes I feel like I'm forgetting something, because I'm not worried about anything.
It's only when I start thinking about what others have, or what others think I
should
have, that I start questioning my own life. I start analyzing my happiness. But there's no point in overthinking our emotions -- we need to simply
feel them
, rest in the moment, and move on. And there's no point in comparison, because there is no rule book for life. There is no map, no itinerary. We make our own schedule, and even then, something can happen beyond our control that changes it. And that's okay.
Happiness is a process, a painful and beautiful process of
accepting
, and then
appreciating
, and then
loving
. It's accepting that things are not what they used to be, or what we once wanted them to be, or what others believe they should be. It's appreciating what we have in the moment. It's loving ourselves, our lives, and the people around us.
I didn't think I could feel this way
a few months ago
, but I'm here. My journey of self-discovery isn't over (it never is), but I've definitely hit a milestone. "We're glad for what we've got, done with what we've lost. Our whole lives laid out right in front of us." Remember that
song
? It's still true. We can't do anything about the past, and we only have so much control over our futures.
Enjoy right now!