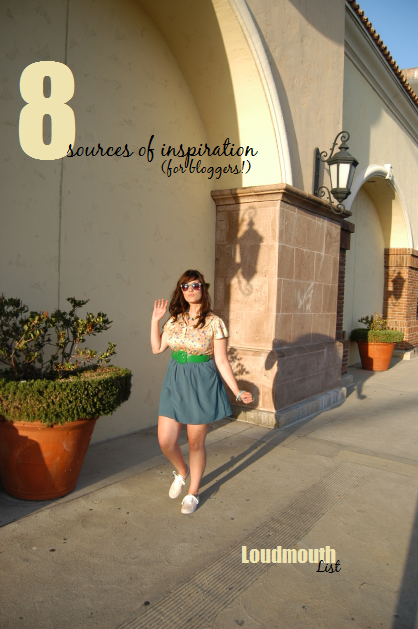 I constantly have a mile-long list of blog post ideas. I'm not the most creative person in the world, I just think I know where to look! The truth is, inspiration for blog posts comes from
everything
around me, and I don't think that only applies because I'm a lifestyle blogger. Here are my 8 favorite sources for inspiration, and I hope they help
you
come up with future ideas as well!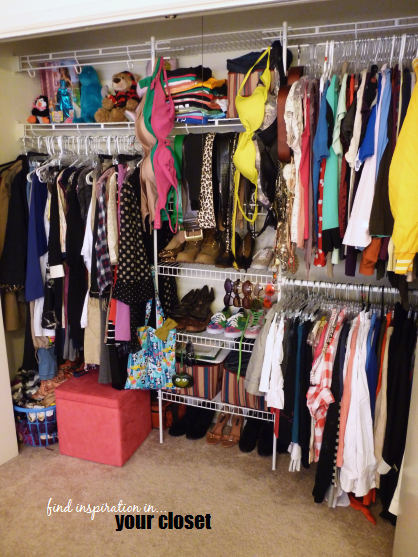 1) A closet/cupboard clean-out.
Here's a peek at my 'new' closet. It's still not organized yet (at all) but I'm just glad that six weeks in, my clothes are finally out of boxes! I cleaned out my wardrobe
so
many
times
at my old place, and I can't wait to do it again. I don't think I wear half of this stuff! I'm sure that as I go through the process of sorting and purging, I'll come up with all sorts of ideas (for outfits or otherwise). Organizing
anything
usually sparks creativity in me, even if it's cleaning out my kitchen cupboards. I've found some resources for closet decluttering by other bloggers... Here's a quick to-the-point article from
Already Pretty
, some tips from
A Beautiful Mess
, even more tips from
Nubry
, and an entire series from
Kendi Everyday
!
2) Travel/Exploration.
Close your laptop, turn off your iPhone, and get out there! Whenever I take a trip -- whether it's for a day, a weekend or a full week -- I come back to my blog with a handful of new post ideas. If you don't have the money to leave town, explore a park, a beach or a neighborhood in your area. If you don't have the time, even a few hours will do. At the very least, take a walk around the block during your lunch hour! Bring a notebook and let the ideas flow. Don't forget your camera!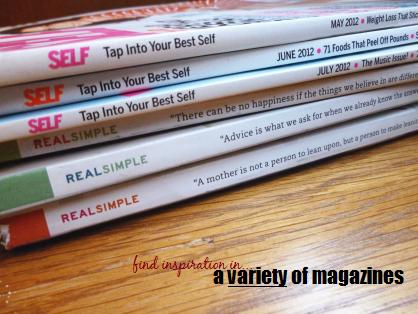 3) Magazines.
I always have my journal out when I'm flipping through magazines. I treat them as 'homework.' :) You may be surprised to see that the two subscriptions I have are for
SELF
and
Real Simple
. I kinda like to read about the things I struggle with (like my physical health or keeping my house clean) because those articles are the most inspiring to me. Even if I don't always follow the advice (er, never) it keeps me motivated! So, if you're a fashion blogger, maybe consider reading a food magazine, or vice versa... Look into something you're not as familiar with! I emphasize 'variety' because reading the same magazine (ie: Vogue) will only expose you to certain things over and over (ie: high fashion). You never know what you'll come up with when you step outside the box!
4) Other blogs.
Don't be a copycat, obviously, and give credit when credit is due. But it's true -- another article or a photo by someone else can spark a new idea for you. That's the beauty of the internet!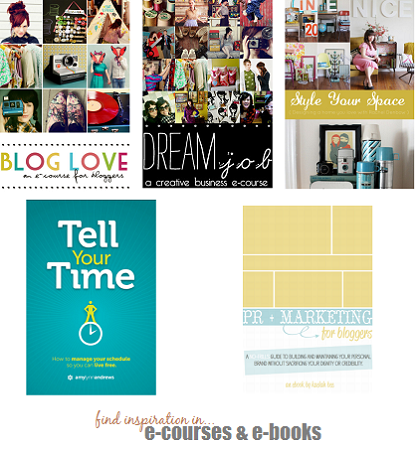 5) E-courses/e-books.
Call me a nerd, but I miss college. Signing up for e-courses and reading e-books (while taking lots of notes, of course) makes me feel like a student again! And the best part? I'm only learning about the things I
want
to learn about. So far I've taken (and gone back to re-read) three courses by Red Velvet (
Blog Love
,
Dream Job
, and
Style Your Space
). I'm currently reading
Tell Your Time
by Amy Andrews, and next up is Little Chief Honeybee's
PR book
(already purchased and ready to be enjoyed). Resources like these leave me with
lists
of ideas!
6) Pinterest.
We're all familiar with
Pinterest
by now, right? Right!? And just in case you forgot, it's an awesome source of inspiration. I'm constantly pinning and going back to see the pretties I've collected. If you notice a theme, hey -- turn that batch of photos into a post! Easy.
7) Journaling.
I truly believe that keeping a personal journal is super beneficial for one's mental health. It can also spark plenty of creativity. Write about your thoughts, your dreams, your world. No one has to read it but you! Then, once in awhile, pull out something you feel comfortable sharing and place it on the blog. I like to think of my life as a story, so I wrote the above title on the first page of my journal. What's
your
story?
8) A deep conversation.
Sometimes, a conversation with someone -- whether it be a friend or a stranger -- sparks an idea. In those cases, I have to pull out my journal and jot down a note. If my journal isn't handy, I'll type a memo in my phone or scribble it on the back of a receipt... When I don't write things down, I don't remember them. If you're lacking inspiration, maybe it's time to call someone and have a good chat! It really helps to get the creative juices flowing.
♥
One last thing...
Remember to keep your inspiration organized. These two posts by
A Beautiful Mess
and
Little Chief Honeybee
have been super helpful for me. I personally use both a journal and a planner for my thoughts, lists and ideas. Find a system that works for you, and stick with it! Then you'll
always
know what to post about.
Promise.