Hey, it's
Fenn
here, from
Short Girl Blogs
,
Short Girl Photography
, and
Larry and Boo's Emporium
! Steph offered me a guest post, and I threw out a lot of different ideas. She chose my idea of writing about my style icon,
Taylor Swift
! The vast majority of the images in my collages come from
The Taylor Swift Style Tumblr
, the rest were googled and are from various media outlets.
I'll be the first to admit that Taylor Swift has probably gotten as far as she has today from her looks more than her voice. Though I think she is probably the greatest lyricist of her generation, and I firmly believe that one of her songs will reach "Leaving on a Jet Plane" proportions in our culture, I will admit that her vocals are not the best. I don't think she would've made it as far if she weren't 5'11", naturally blonde, thin, and blue eyed. Nevertheless, I love the girl and have since I first heard, "Our Song." So, any skeptical haters leave their hatin' at the door, because I see her flaws, but I still love her.

I fell in love with her second single (I think), "Our Song." I heard it on the radio and was super ecstatic that a young girl was singing an age appropriate song. There are so many teenagers who perform songs that just aren't age appropriate. Britney and Bieber are two that come to mind, for sure. Hearing a 15 year old sing a song about being a 15 year old was exciting to me, even though I was so far from 15! I went out and bought her album and it was full of songs that reminded me of being a teenage girl. I just love that about Taylor, and it's something that has continued...because she writes all her own songs! Her first looks, from her videos, were to die for in a very fairy tale way. Did I want to be that princess in the corseted gowns? HELL YES!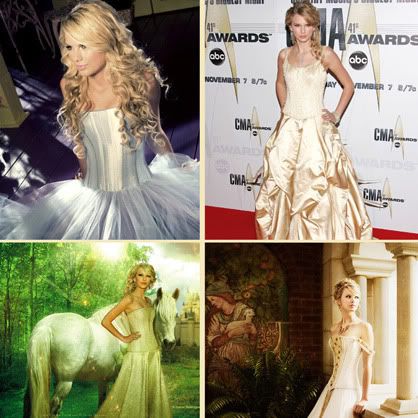 However, I would say Taylor's early looks were definitely not my style. I could see the obvious "Country Singer" influences with the cowboy boots and black gowns. I could also see the teenager in her, with the slouchy tees, skinny jeans, and flannel. Nevertheless, the girl was always appropriately dressed. This is something else I like about her : she writes songs that are age appropriate and dresses appropriately as well.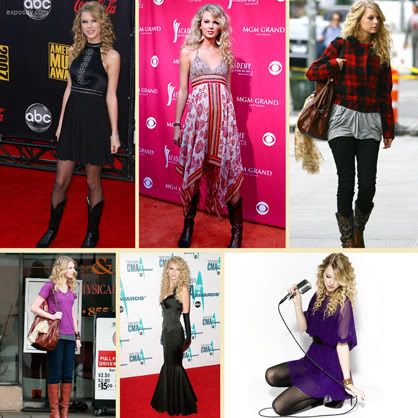 Lately though, she has hit a major style evolution. I would say that her style has a very classic edge. She's wearing 50's era silhouettes in her dresses and pants. She's kind of got a modern Audrey Hepburn going on, without being too literal. I am loving the cigarette pants she's wearing! (The red ones are my faves.) I like that she pairs a skinny bottom with a modest top, instead of going too over the top. She's wearing a ton of dresses with a fitted bodice and an a-line skirt...and many of them have sleeves! It excites me when I see sleeves, because I think there is a lack of sleevage in our culture. She pairs many of her choices with flats, which also makes me super happy. Heels are uncomfortable and can cause long term damage to the feetsies. In our culture, Taylor's height means that she's not expected to wear heels. I'm not sure if that's why she wears so many flats and kitten heels...or maybe it's because heels are painful, and she gets that. Whatever the reason, I'm loving it! I think it's very positive for a young icon to dress well, covered up, and to wear flats.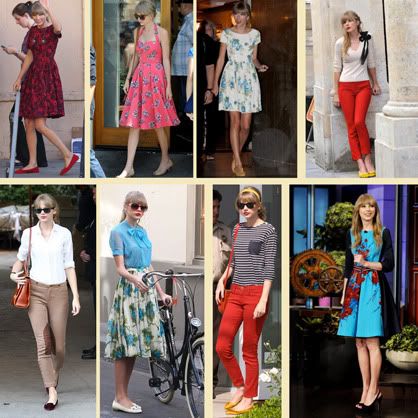 Also, if you check her out when she's in her downtime, being stalked by the paparazzi, she's still rocking some heavily awesome style. We see the skinny jeans, the flats or oxfords, and casual button downs or grandpa sweaters. If you check out her fancy style above, there is a heavy influence of the color red. This is probably because her next album is titled, "Red." I'm sure all the red we're seeing on her is a marketing ploy, and I'm fine with it. It's a good color, and it's a bold choice that I think a lot of young women should emulate. In her down time, her color palette is a little more mellow, with a lot of navy and mustard. I'm totally digging on that too...yellow can be hard for fairer girls to pull off, and Taylor does it nicely with a more brown mustard color.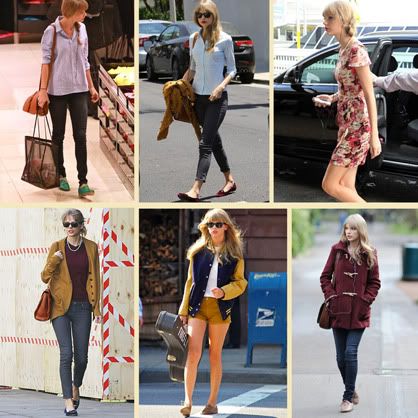 I also want to talk a little bit about Taylor on the red carpet. I don't think this girl has ever made a bad decision. She's always appropriately covered, even when being somewhat risque. She does a lot of heels, obviously, as they are red carpet standard. She'll play with different colors, and I'm in LOVE with the navy blue stunner she wore to the Grammys this year (I think it was this year). Also, when she wants to be edgy, with that bright white gown or that tux, she just totally pulls it off. I seriously don't think the girl has ever really looked bad, and I think a lot of that has to do with her dressing just very appropriately. When I see her, even as a teen, I think she looks like any of my friends might look, or how I might dress...just very obviously fancier. And I'm sure her clothes cost a fortune! Still, all those sparkles make me swoon!!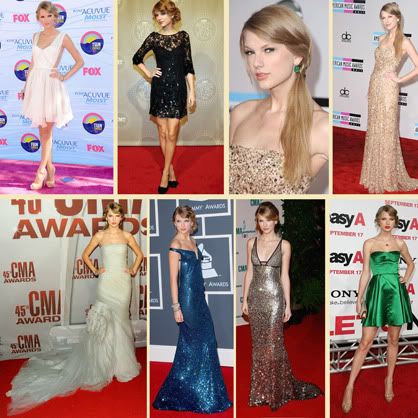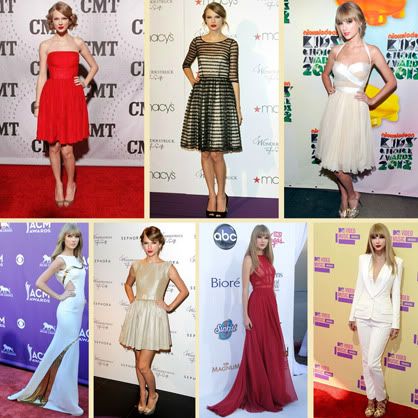 That is not all that I have to say about Taylor's style, though! I've got one more thought on the subject, and I think it's a pretty good one. But to read it, you'll have to head over to my blog! I hope you've enjoyed this style icon post. If you are unfamiliar with Taylor's music, I highly suggest you give her a listen. I would say start with her song for the "Hunger Games" movie, "Safe and Sound." Follow that up with, "We are Never Getting Back Together" and "Story of Us." If you're digging what you hear there, then continue to, "Our Song," "Mine," and "Jump The Fall." By then, you'll be thoroughly ensconced in Taylor and there is no turning back!

(Yes, it's true; T.Swift has become one of my guilty pleasures between all the rap and hip-hop I jam to! Thank you, Fenn, for sharing her beautiful style with us! And if anyone else is interested in guest posting, please email me: theloudermouth AT gmail DOT com)