On Sunday morning before going back to Cali-Cali, I met up with my best friend Kelly-Kelly in
Haslett
. We chose this small farming town because it's
right
in the middle of the state and the perfect spot to meet up! The restaurant we dined at,
Blondie's Barn
, really
did
look like a barn (but without the smell). The food was delicious and the menu was racist... I guess that's Michigan for ya! Even though I didn't order it, I had to feature the 'Polack' omelet in a photo (I'm half Polish, the other side is mostly Italian). Also, I appreciated that Kel wore a hoodie representing my college (
Grand Valley
) even though she went to the opposing one (
Saginaw Valley
). Cool!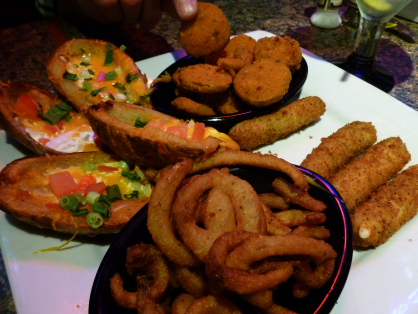 Now, let's rewind a little. On Friday night, fresh off the plane, I met up with my parents and sister at
Brann's
next to our hotel. My mom had already ordered me a margarita and a side salad with honey mustard (she's the best). That was followed with a massive plate of the best fried bar food I'd ever had (or maybe I was just hungry). ♥

PS: I added new buttons for sharing to my right sidebar (yay!) but don't know how to center them (boo). Anyone know how to fix this? I'm so bad at html! Already tried the ol' < center > trick. Thank you kindly!