Hello Loudmouth followers! I'm Sandi from
Pushing Polish
and I was totally flattered when Stephanie asked little old me to do a guest post on her amazing blog. I've never done a guest post before either, it's my first time! The thing I like to blog about is nail polish and nail art, which I've been into since 2011. I used to be a nail biter so wearing nail polish really helped me kick the bucket on that habit, and then it slowly expanded to nail art (go big or go home right!). After a few months of showing off to my friends, they all suggested that I start a blog...and here I am. So, nail art - that's what I'll be bringing to the table today. Enjoy!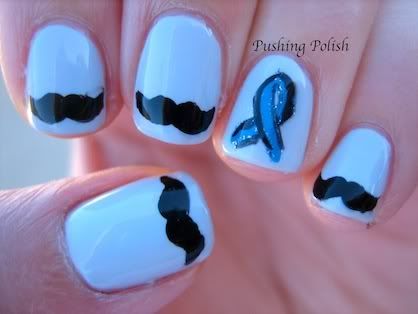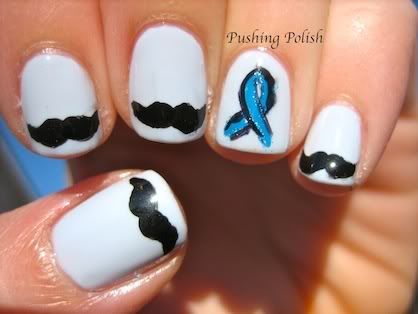 For the start of November, I decided to do some moustache nails. Not sure how many people are aware of No Shave November or Movember, but it's a month when men stop shaving to raise awareness of prostate cancer initiatives. Last month I did something for October's
breast cancer awareness
, so I thought it'd be cute if I participated in this month's prostate cancer awareness as well.
First I'd like to discuss my base color, which is a self-made frankenpolish of mine. Since the ribbon color for prostate cancer is blue, I made a color as such. I had a blue polish but I wanted something softer and more jelly-like and this is what I came up with. I'm naming this polish
Cry Baby Cry
, because I like to name my frankens after Beatles songs!
As for the nail art, I used large and small dotting tools for the moustaches and a tiny paintbrush for the blue ribbon (
Milani Dude Blue
). Then I used a silver and a black striper to outline the ribbon (
Kiss Nail Art Striper
).
That's all I have, what do y'all think? Before I finish, I'd like to thank Stephanie for inviting me to post on her lovely blog. I hope I lived up to her expectations! Toodles!
(She totally did! Please do visit Sandi and her adorable blog. She's a total sweetheart and super creative with her polishing! I'm continuing to take on guest posters for the rest of the month, so if you're interested, please email me: theloudermouth AT gmail DOT com)