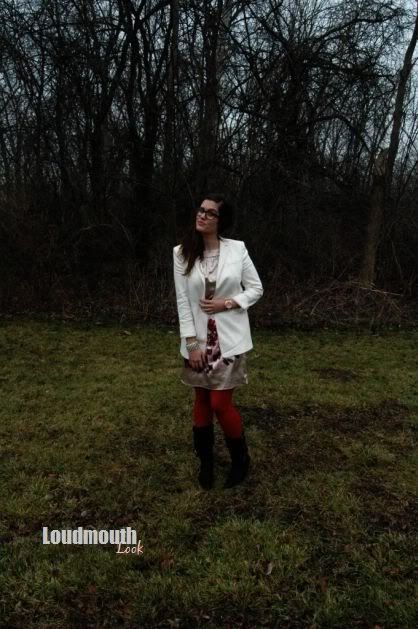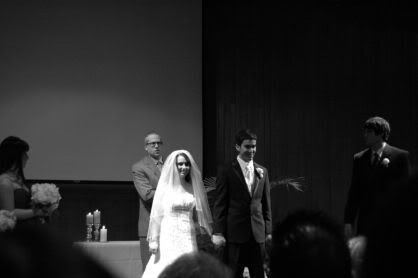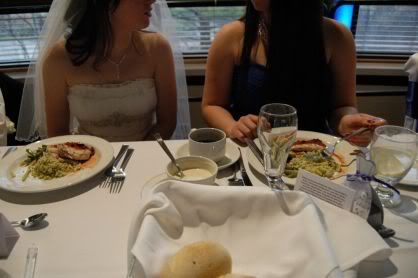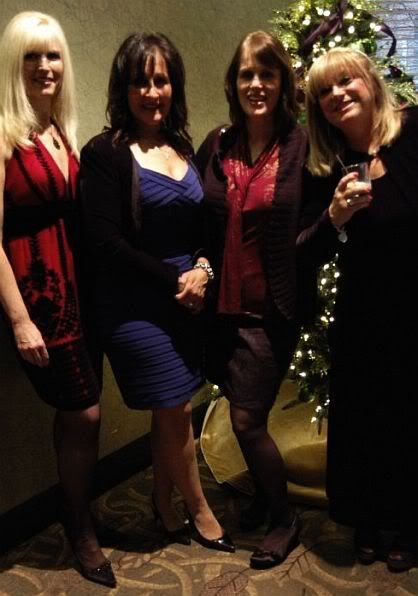 Outfit details: Dress, jacket, bracelet - AT. Tights - We Love Colors. Watch - MK. Boots - Payless. Nail polish - Essie "In Stiches"



Okay, so these are all from the Saturday of my trip (over a week ago, whoa). My parents, sister, her boyfriend and I went to our friend Rachel's wedding. She and her hubby Jordan are so young and adorable! It was easy to see how excited they were. Her older sister Jennifer is my age and it was wonderful catching up with her. We went to the same college and I've only seen her a few times since then, but when we do get together it's as if no time has passed. Our families have that type of relationship. My mom has known Eileen, the bride's mother, since they were kids. The two of them, along with their friends Karen and Serena, have stayed in touch for years. They still meet up for every birthday. So
Sex and the City
, right!?
As for my sister Liz and her man, Nick -- they are seriously the cutest couple. They were friends for years but she's taller than him, so she thought he wouldn't be interested in her. Turns out he was thinking the
same
thing about his
own
height! One fateful night someone decided to set insecurities aside, take the risk, and make a move. The rest is history. I'm pretty sure they're next in line to get married. And my parents? Well, they're the best example of a couple that I could ask for. They're not perfect, but they're close. Very close. (Sidenote: My sister obviously decided to dye her hair after
these photos
. She wanted me to put a disclaimer on that post about her roots. Ha!)
Anyway, the wedding was early, so I got home and still had hours before bedtime -- which, let's face it, sleep doesn't really happen for me during these visits. :) The plan was to go out with my favorite set of twins,
Megan
and
Melissa
. ♥ Megsy and I began our evening at
Caribou Coffee
, where we used to spend hours upon hours of our lives back in high school. Being there definitely brought back a flood of happy memories. We moved on to
Chili's
next door, and then went to
Art and Jake's
for drinks. Other friends met up with us along the way, including Lissa. It was
so
nice seeing those girls. I know we'll always be a part of each others' lives. I'm grateful for them.