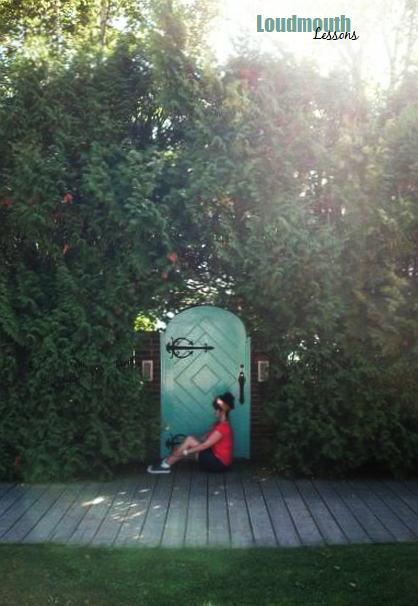 "Birthdays have always been especially hard for me because I've always believed that by this one, okay, now by this one, I'll be my new self, and I never am, and there is a moment when I'm alone at my own party, in the ladies room or in the kitchen, where I am blinded by a flash of sadness for what I will drag into the next year, poisoning it and weighing it down. And then I dredge up the hope again and tell myself that this is the year, this one. By my next birthday, it will be different. That's what I say every year, and every year I believe it, and every year it is a lie." -Shauna Niequist,
Cold Tangerines
I've always thought of a new year like a birthday.
I'd begin it a little older, a little wiser. Better, hopefully. Full of new dreams and ideas. I'd create a goal, or a whole list of them. And 2012 was no different.
I made a list
, and by the end of the year, half of it was crossed off. But there was one last thing I hadn't included, a secret pact I made with myself, goal number thirteen.
I promised myself that 2012 would be the year I don't fall in love.
For someone that falls in love with everyone she meets, this was a daunting task.
I was happy to leave 2011 behind. It was the year I quit my job and worked part-time for six months, forcing myself into the aftermath of debt. It was the year I broke up with my long-term, live-in boyfriend, forcing myself into the aftermath of mourning. I knew I asked for these hardships, but I knew that my decisions were for the best. I just needed to wait. And wait. And wait.
I slept through midnight on New Year's Eve. I was supposed to be at a sleepover with three of my best girlfriends, but I suppose the exhaustion of the year was more extreme than I realized. And, after that, I always wondered what I'd missed. Because after that, things were different. Two of the girls began to fade away and fall out of my life, and I kept trying to make plans with them, and they kept saying they were busy, but then I'd see their tweets about getting lunch and doing yoga together, and when I asked what was wrong they would avoid the conversation. And when I went through a traumatic experience on my birthday that resulted in PTSD and months of therapy, one of the girls told me I was being too negative, and the other dropped off a case of beer I'd left at her house months before, and I never heard from them again.
Clearly, 2012 did not begin well.
But the events that occurred only solidified resolution number thirteen. Falling in love, something I'd always loved, was bad; it resulted in pain; it was an addiction I needed to break. So I began making new friends, friends that didn't know my past or what I'd been through, friends that couldn't judge me because they only knew the bright, shiny, good parts of me. I closed myself up, taped my heart back together and locked it away, along with my secrets. I didn't need to tell everyone everything anymore. That scared people. Honesty, to me, was always a big part of love. But honesty is scary. I didn't want to scare people away. Again.
With these new friends came new men, men that I kept at an emotional distance, but physically close, so that I could entertain sexual needs while resisting my hidden desire for love. The hopeless romantic in me was still there, but I wanted to shut her up and tell her how stupid she was being, because didn't she see where love got me before? Didn't she understand yet? But once in awhile she would sneak up on me, and I would start feeling something for someone, and I'd lower the wall that I'd worked so hard to build up, along with my standards. And I would give someone a chance, and then a second one; and then I'd get hurt again, all of my fears justified. I'd then start from the beginning, motivating the romantic in me with my mantra:
You are beautiful on your own, you are smart on your own, you are worth something on your own. You are independent. You don't need anyone.
And it would work until the next time I was reeled in by a smile or a compliment or simply the sight of a beautiful face.
The truth was that I really
was
happy on my own -- but perhaps it was society or religion or friends or family that had been telling me or showing me my entire life that I had to have a partner, and maybe I didn't really want it after all. Maybe I was okay with being alone. Being alone was easy. It was fun. And when I started to like it, I started to feel insecure about the fact that I liked it.
The questions from others, both men and women, only made me feel more weird.
"Do you ever get lonely?"
"No."
"Do you even
want
a boyfriend right now?"
"Actually, not really."
"Do you think you'll ever get married?"
"I don't know. I don't know if I care."
In our society, being single is seen as negative. If a woman doesn't have a boyfriend -- or, as I get older, a husband -- there's gotta be something wrong with her. I was reading an article about Taylor Swift the other day, and the comments it received (from other women!) were disturbing. "She keeps dating guy after guy, and it never works out. Obviously she's doing something wrong if she can't keep one of them around." Yes, clearly it's her fault that she keeps getting hurt. And it's the woman's fault when she gets hurt physically, too, right? She must've done something. She asked for it.
That was sarcasm, if you couldn't tell.
But, maybe things weren't working out for me because I didn't really want them to. Maybe I was a hopeless romantic because I had been taught to be. Or maybe, just because it was
fun
to be romanced. Maybe that didn't mean I wanted a relationship, and maybe that was okay. Maybe I liked being a strong, independent career woman.
And I became that, so extremely, that a female co-worker told me that I look like I never cry. It was strange hearing that. I didn't know if it was good or bad. I didn't want to be seen as emotionless. It was then that I realized I had two extremes fighting inside of me -- that soft, incredibly romantic girl and the hard, fiercely independent woman. I was wearing a suit by day and a skirt by night, stomping in my work heels to the next meeting and then switching to stilettos for a date. I'd be so happy, so calm and carefree with my life, but then I would start thirsting for love or sex or just
attention
and I'd fall back into that world of drama and adrenaline and heartbeats.
"I get caught up in being liked to the point where I find merit in people who are all wrong for me but I push those warning signs aside because they buy me dinner and presents or tell me I'm the hottest woman they've ever dated, to the point where I gloss over certain aspects of my personality or beliefs in order to make myself more palatable or desirable, to the point where I tell myself I like someone when actually they're just someone who's incredibly fun to hang out with but I would never want to date." -Michelle,
Antidotal Evidence
The thing is -- and it took me an entire year to realize this, but -- it's okay for me to be a mixture of personalities and emotions, and it's okay for me to want to be alone and it's also okay that sometimes I don't want to be. And maybe I'm not as weird as I think, but even if I am, I'm okay with that. People will judge no matter what, so I might as well be myself, whichever self I want to be that day.
In 2007, which was an important year in my life and one that I reference often, I made the resolution to lose 10 pounds. I achieved that, and upped it to 20. I ended up losing 35 pounds that year. And, you know, not much changed. Except for my size. I was still me. And I've since gained it all back, and I don't really care.
But every time I create a new goal, or list of goals, I think about that year and I'm reminded that I really
can
do anything I put my mind to. This past year, I managed not to fall in love, but that still didn't stop me from loving. It didn't stop me from getting hurt. I was still me, and I still felt things. I changed, a little, but for the better. I'm a little older, a little wiser. And every time I think that I've learned all I can, I'm taught a new lesson.
I know I'll learn even more in 2013. I'm nervous. And excited. And maybe I'll even let myself fall in love, or at least, learn to love the ones I
used
to love who let me down.
But, I'm still not quite ready.
Not yet.
At least not today.