Someone once asked my childhood pastor, "How do I know when God is speaking to me?"
His response: "I can't tell you that for sure. But, if you feel like you should do something good -- then do it."
I've lived by this philosophy ever since. I'm not always sure who is telling me to do what, but I do what feels right. Well, sometimes I do what feels wrong, but then I deal with the consequences. And find a
lesson
. My point is, I do what works for
me
. We're all different.
I'm not Catholic, and to be honest, I'm not even exactly sure what Lent is. But sometimes I feel compelled to participate. And when I couldn't think of the right thing to give up this year, I decided to do it my own way.
I'm going to do something active for 40 days in a row.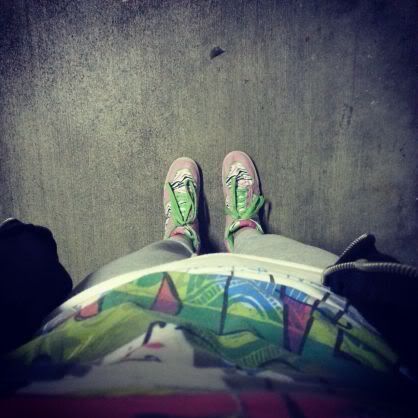 I'm not a health expert. This is not a health blog, and it won't become one. I didn't make this goal to change my size (I believe in
HAES
) or to lose weight (I'm on board with
FFF
).
I am doing this because movement positively impacts both my mental and physical health.
And even though I'm on my feet all day, every day at work, I'm talking about
intentional
movement. Working out for the sake of working out. If I can't get to the gym, maybe I can take a walk outside. Or do crunches at home. Whatever. If a whole group of women can run a mile a day
for 30 days
, I can do this. And yes, this is a goal within a
goal
within a
goal
. (Are we still making
Inception
jokes?)
Now, if you'll excuse me, I'm off to complete day one.