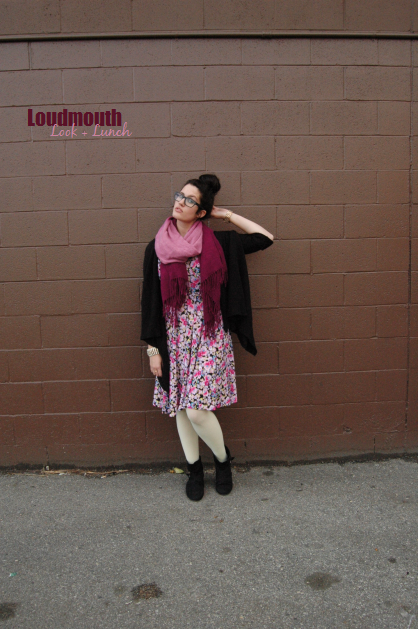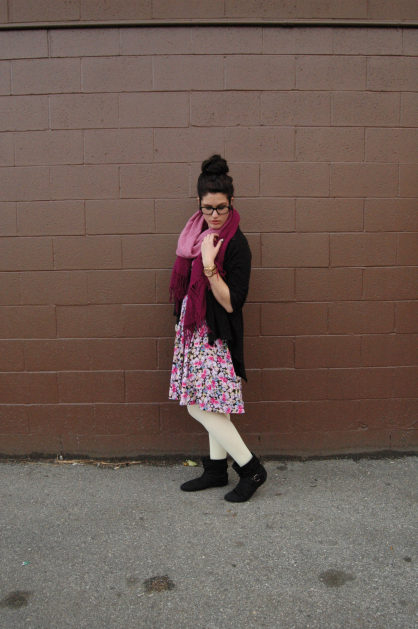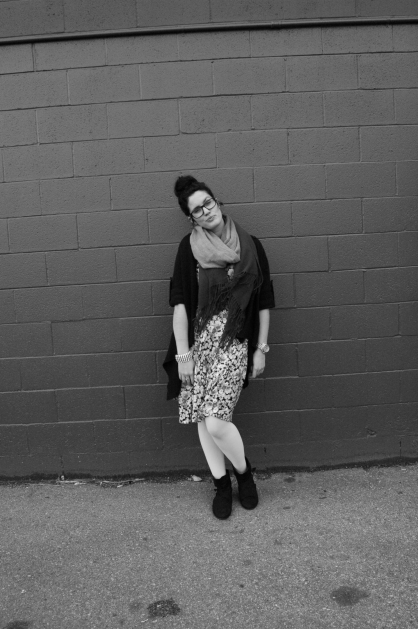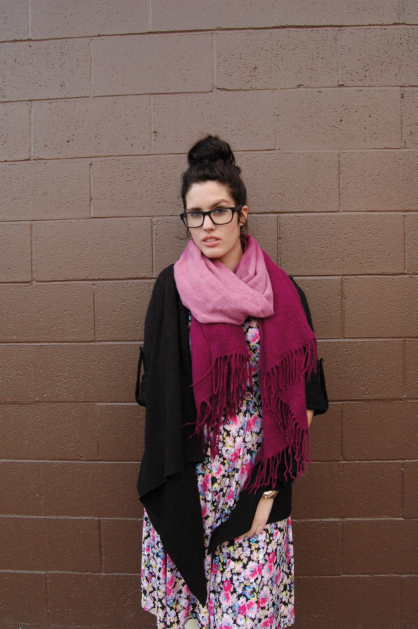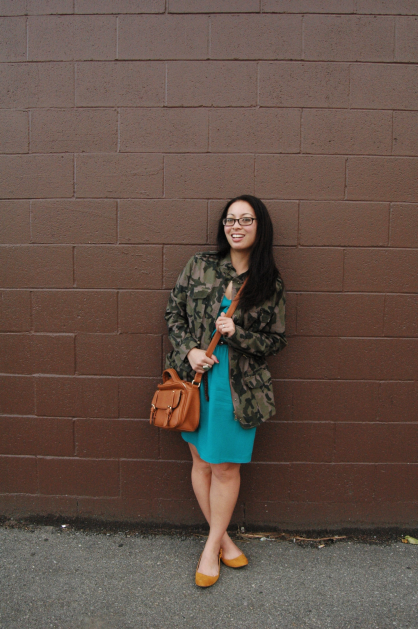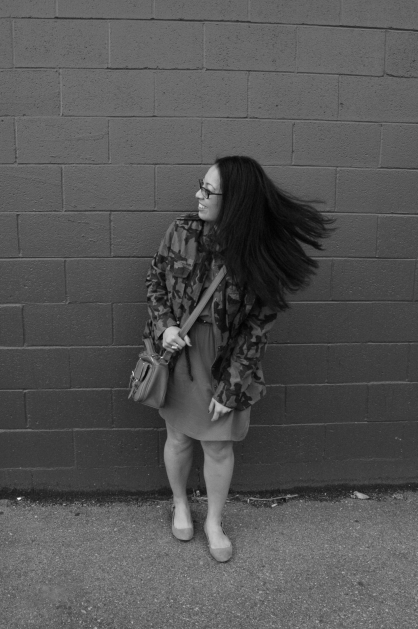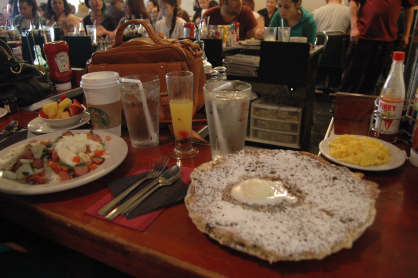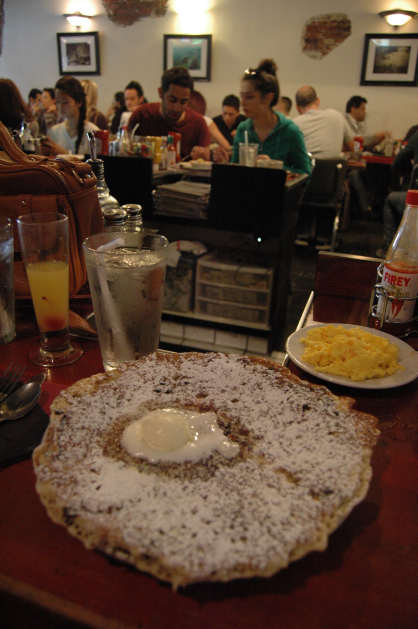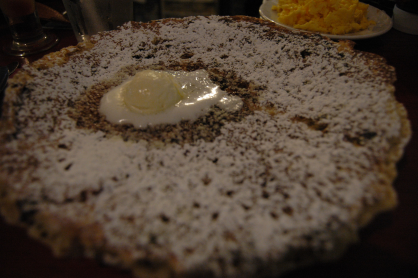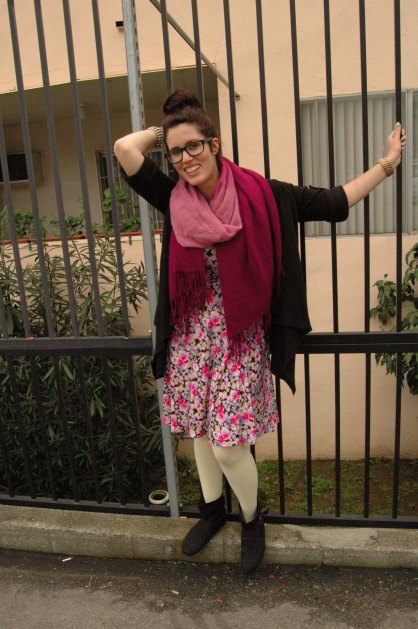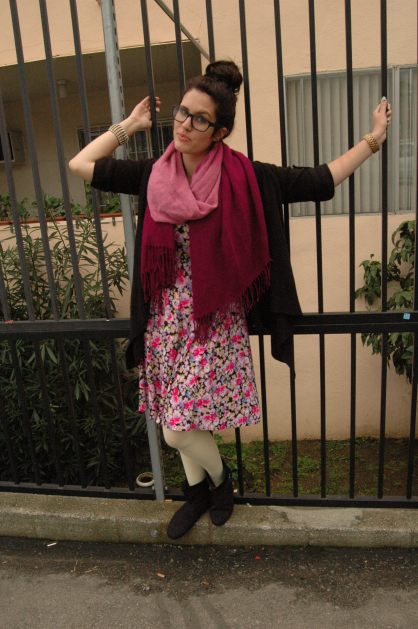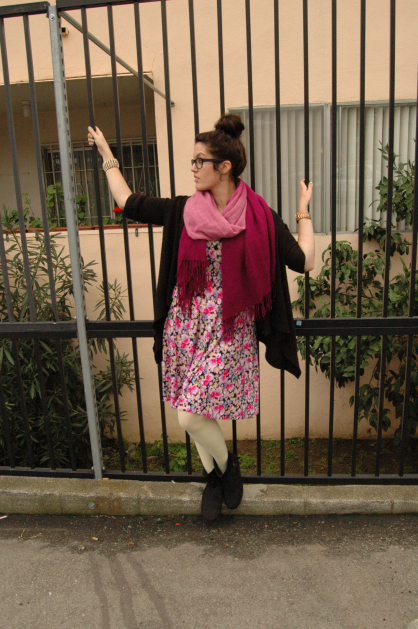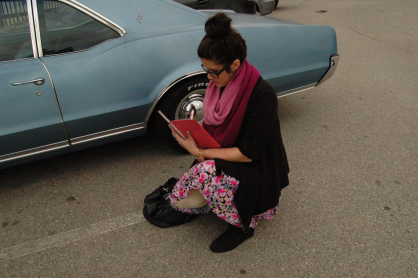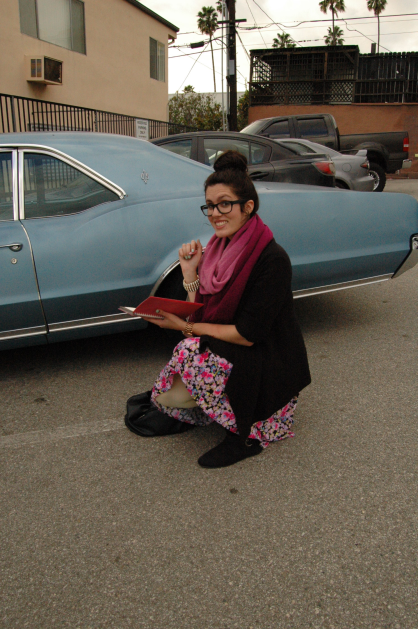 Outfit details: Sweater, bracelet - Ann Taylor. Dress - c/o Karina Dresses. Scarf - Style Nation swag. Ring - Avon. Watch - Michael Kors. Tights - We Love Colors (similar). Booties - Forever 21 (similar). Glasses - Warby Parker. Nail polish - Revlon "Minted" and UO "Voodoo"



Clearly, I love brunching. Even if it happens at 2pm.
Jessica
and I met up last Sunday afternoon at
The Griddle
, my favorite spot for pancakes in all of Los Angeles. The restaurant is located in West Hollywood, just a few blocks away from the Walk of Fame, and it's constantly busy -- but the food is well worth the wait! I tried the 'Eyes Wide Open' cakes this time; they're made with chocolate chips and a shot of espresso. So rich and delish!
As for the outfit, I decided it was time for some spring florals. I paired
this dress
from a couple summers ago with my favorite
grandma sweater
and comfy booties.
My new bangs
are already annoying me, so I pinned them back! I'd forgotten that I used to blow-dry them every single day, and right now I don't have a hair dryer. The one I received
last year
c/o
Misikko
broke, and I'm supposed to get a new one in the mail. I hope they really do come through, but I'm not counting on it. I haven't had the best luck in the past...
Remember
the glasses I got
c/o
Proopticals
that cracked the first time I wore them? Well,
they
were supposed to be replaced and never were, even after countless e-mails. Blogging is like dating when it comes to sponsors -- you never know for sure if it's going to work out, and sometimes it's just too good to be true. V of
Grit and Glamour
wrote a good post about this subject awhile ago. I'm glad I'm not alone!
At least this dress hasn't ripped. Yet.
But as far as friends go, I've been lucky lately. Jess is a wonderful woman and I'm honored to be part of her life. At the end of this set of photos, you can see me scheduling my next visit to her pad in San Diego. She has adorable dogs, a hilarious hubby, and a beautiful home not far from the beach. I just can't wait!