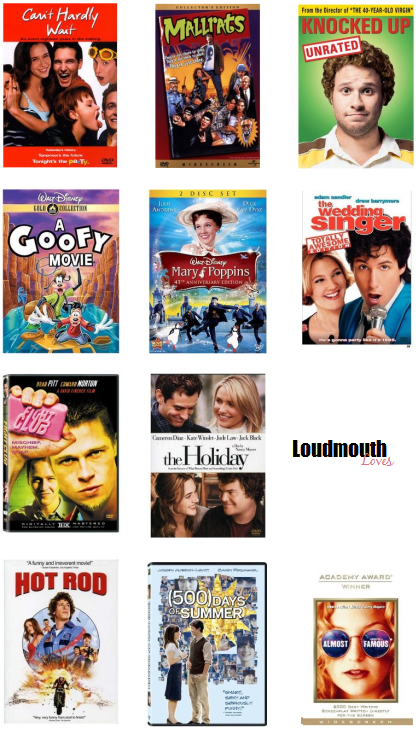 Welcome to February! Last month didn't go by as fast as last year did, and I'm glad. I was able to take things slow and live in the moment more. I'm not sure how that happened, because I was actually busier than ever. But I even allowed myself time for books and movies!
Speaking of which, I loved when
one of my favorite bloggers
shared
her favorite films
, and I decided to do the same. Even though I've posted about movies
before
, I've never actually told you my faves!
As you can see, there are actually 11 listed here; I couldn't choose just 10. In fact, I think I started out with maybe 35 movies that I had to narrow down. These are the ones that I could watch over and over for a week straight and not get bored.
1)
Can't Hardly Wait
. Remember back in the '90s when every other movie was about high school? Well, this one was the best. It's fun and funny and it's got so much heart. Every time I watch it, I recognize yet another actor that's become a huge success since then. I remember seeing it for the first time at a sleepover when I was 11 years old and I was like 'um, I don't think I'm allowed to watch this...'
2)
Mallrats
. This is my favorite Kevin Smith film by far. Maybe it's because the guys in it remind me of the loveable slackers I tend to fall for. Maybe it's because almost the entire movie is shot inside of a mall. Maybe it's because Ben Affleck plays a huge douchebag. I don't know. But it's quirky and hilarious.
3)
Knocked Up
. Are you seeing a pattern here? Clearly, I love comedies. This is my favorite by Judd Apatow. (I met him once, by the way, and he was just as awkward as the male characters he creates.) This movie makes me laugh the
entire
time -- all the way through, from beginning to end. And it made my mom cry, so you know it's touching, too.
4)
A Goofy Movie
. Favorite Disney movie! It's hilarious (of course) and the songs are amazing. I know every word. I think it's kinda funny that I chose a father-son road trip story over any of the princesses, but oh well. It's true. (PS:
I met Max
before, too!)
5)
Mary Poppins
. Second favorite Disney movie! You guys already know about
my love for Julie Andrews
, and this is where it all began. She plays a confident, independent woman who helps others and adores herself. There aren't enough female characters like this!
6)
The Wedding Singer
. I have seriously seen this movie a dozen times and it never gets old. There are
so
many lines from it that my sister and I quote to each other! It's a love story with realistic complications. It's so funny and cute and has an awesome soundtrack.
7)
Fight Club
. This is probably the most serious movie on this list. If you haven't seen it, drop everything and watch it tonight! I'm serious. It's so suspenseful and unique. I feel like if I say anything else I'll give something away, so believe the hype and watch it already! (The book is awesome, too!)
8)
The Holiday
. Favorite Christmas movie. I watch it every year by myself and laugh and cry. I can totally relate to the characters, and Kate Winslet has the most wonderful, dramatic monologues. There are also some fun cameo appearances that I always forget about!
9)
Hot Rod
. This movie is so underrated; I can't believe how many people haven't seen it. It stars two-thirds of
The Lonely Island
, so you know it's funny from the get-go! The characters are all completely goofy and awkward. Most of it is very unrealistic, but that's what makes it so much fun!
10)
500 Days of Summer
. Probably my most favoritest. I can completely relate to it, the soundtrack is amazing, it looks pretty and it's funny too. I love JGL, and Zooey is perfect in her role. I've already talked this one up too much in the past, so that's all's I'm saying. But you need to watch it if you haven't already. Okay, that's all.
11)
Almost Famous
. It stars a high school boy with dreams of being a writer. It's also about music, and it's about love. How could I
not
adore this movie? In my opinion, everything Cameron Crowe touches turns to gold, but this one's his best. The bittersweet ending makes my heart swell. I think I need to watch this one tonight.
Alright, so what's missing from this list? Do you agree/disagree with my choices? I want to know what
you
think the best movies are!