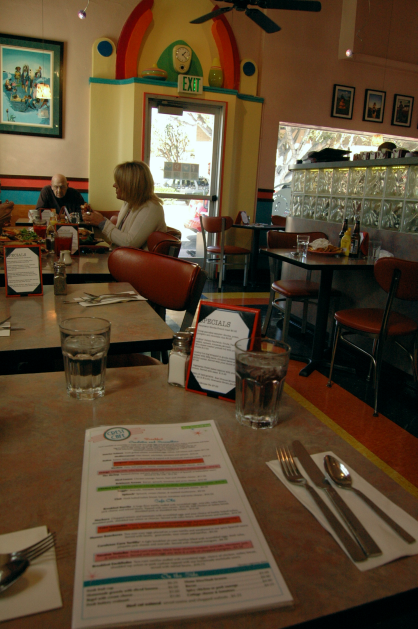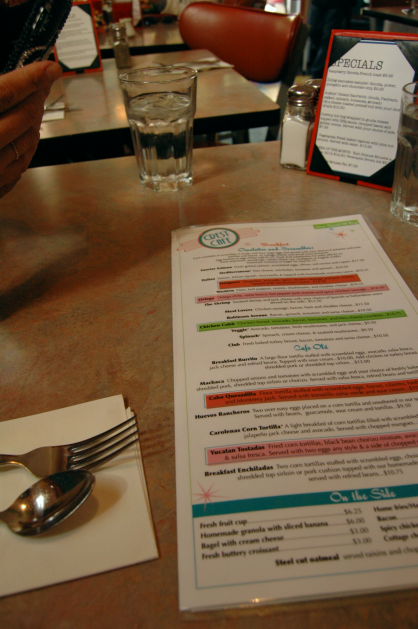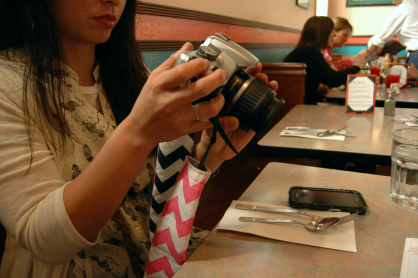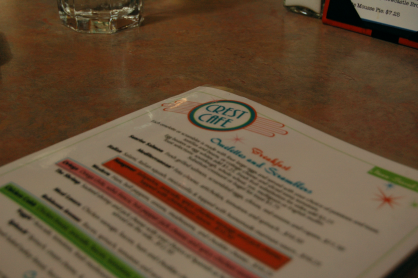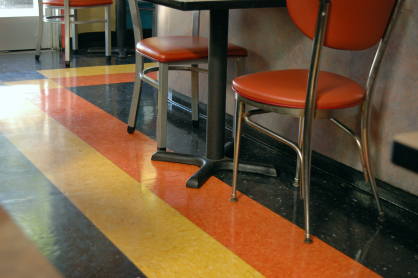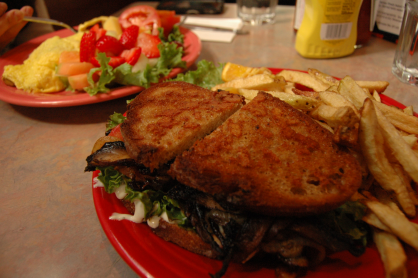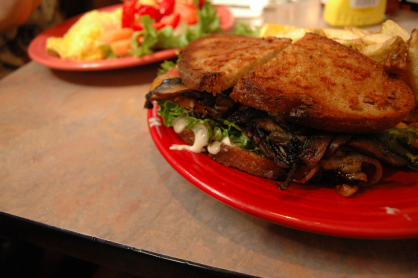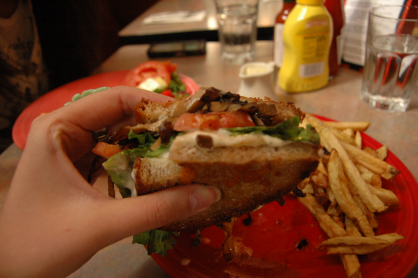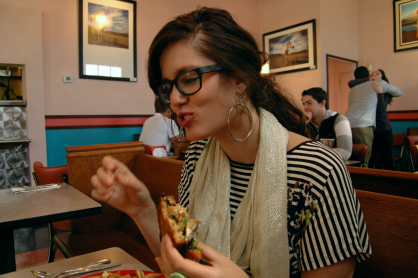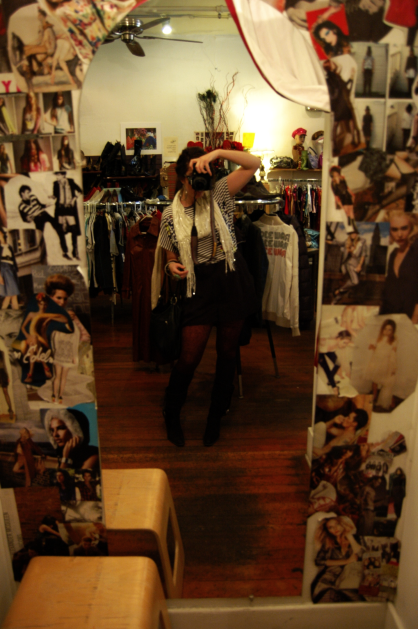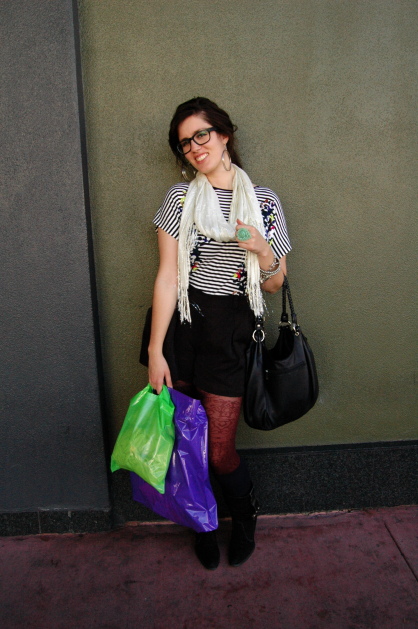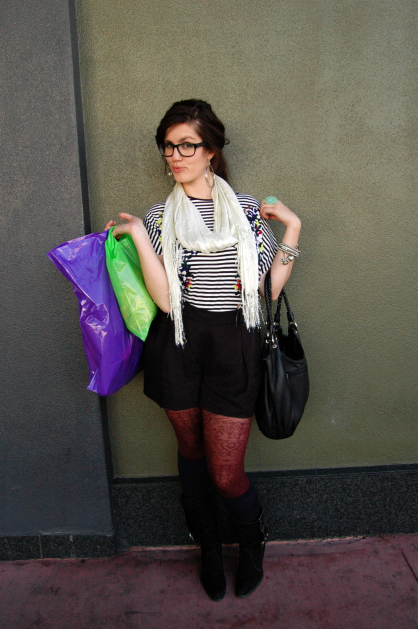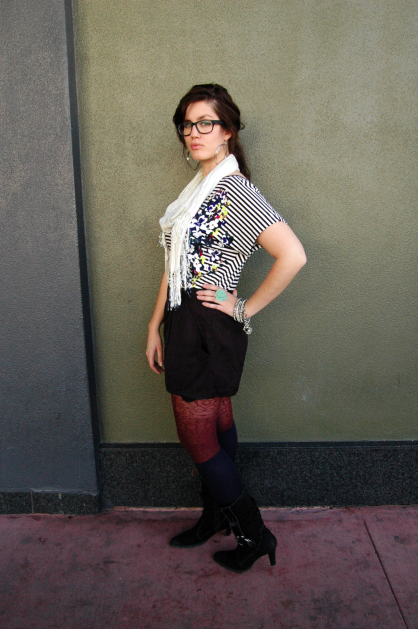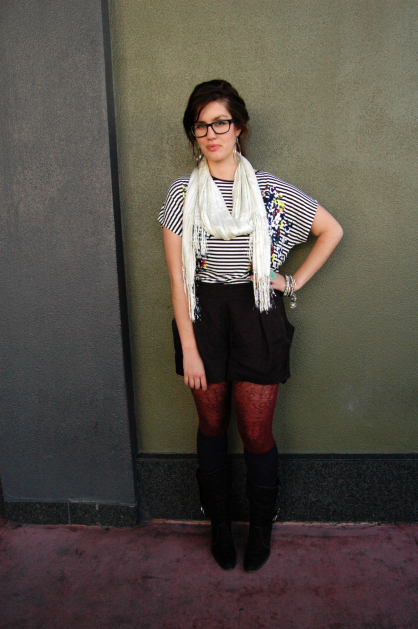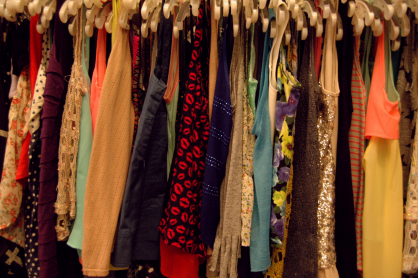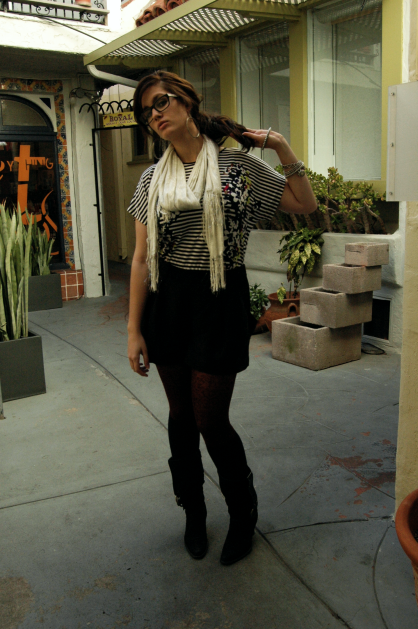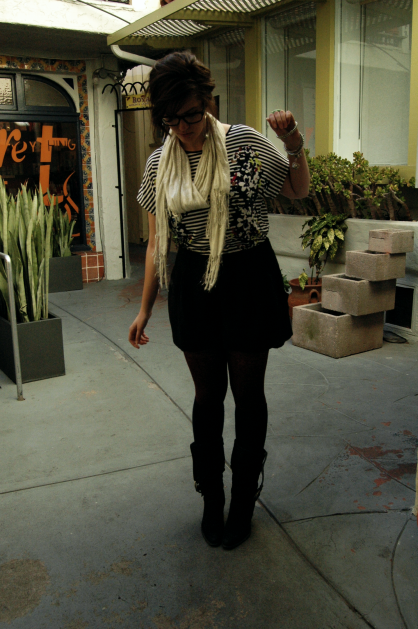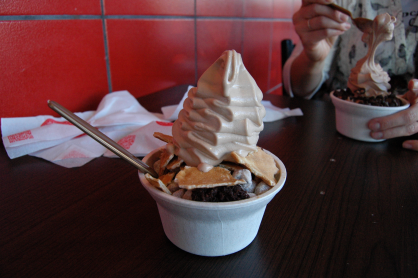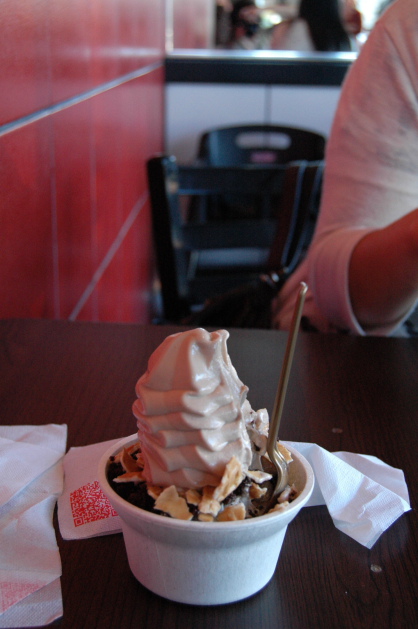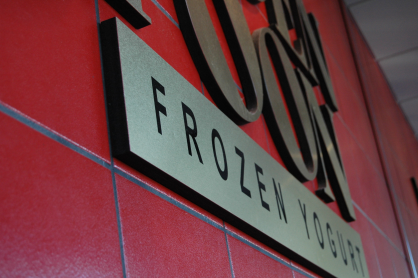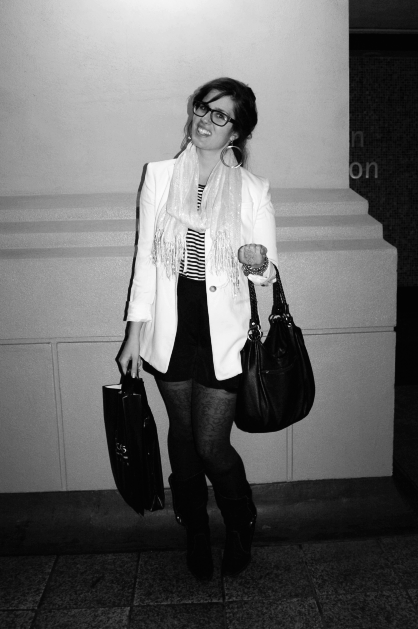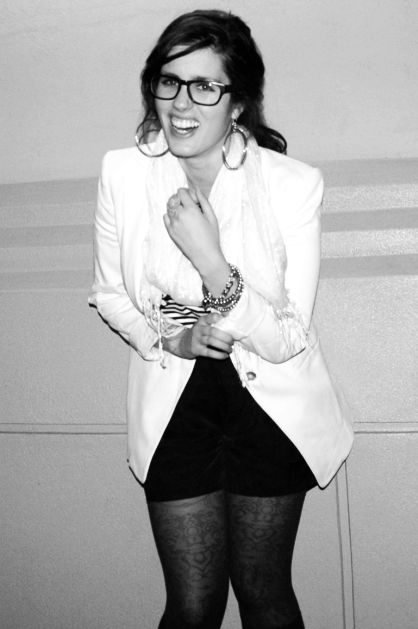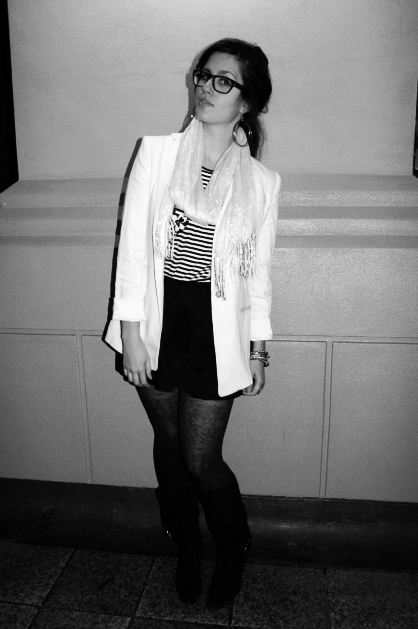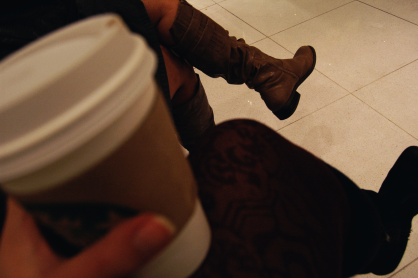 Outfit details: Shorts, top, jacket - Ann Taylor. Scarf - Charlotte Russe. Earrings - Guess. Bag - Salvation Army. Bangles - R.J. Graziano. Charm bracelet - Juicy Couture. Boots - Payless. Ring - Crimson and Clover, won in a giveaway by The Citizen Rosebud. Tights - Incognito. Socks - I can't remember. Glasses - Warby Parker.



Last weekend, I went down to San Diego and stayed with my dear friend
Jessica
for the night! I had definitely been feeling a bit of cabin fever and was excited to have a little getaway. Even though it was a quick visit, we made the most of our time together -- eating and shopping as much as our stomachs and wallets could handle!
Our adventures started as soon as I got there on Saturday around noon. We immediately headed over to Hillcrest for lunch and parked ourselves at
Crest Cafe
, which was new to both of us. It turned out to be a cute little place with bright decor and absolutely delicious food! Jess ordered an omelet with fruit, and I got a portabello mushroom sandwich. I also had fries for the first time in almost a month, which is a long time for me, ha! So that was a nice treat.
Then it was time to explore the neighborhood's vintage and thrift shops! I got a $14 scarf and a $3 ring at
Flashbacks
. I also got a really cute cropped, floral-printed denim jacket for $15 at
Buffalo Exchange
(that was Jessica's find). We browsed through a few more stores, which made us hungry again, so we grabbed froyo at
Golden Spoon
!
After that, we headed over to the mall in Gaslamp. We stopped in
Francesca's Collections
, one of our favorite stores! I got chip clips that looked like bears for $4 and a big package of cute straws for $6. I'll be saving those for my next house party. :) We also had to check out
Forever 21
, of course. I managed to find
this Drake shirt
for $15 and couldn't help but snatch it up. I can't wait to style it!
Between popping into stores, we snapped photos and grabbed more coffee. Jessica picked up a few goodies throughout the day as well, but I'm sure she'll describe them over at
her own blog
. Also, I took plenty of pictures of her, but I want to see which ones she likes best before posting. I personally think she looks good in all of them, but I'm super picky about my own photos, so I assume others are too.
At that point we were pooped, so we headed back to her house in Imperial Beach. We stopped at
El Tapatio
on the way and Jess bought us food to-go so we could enjoy it in her lovely backyard. We ate and talked by the bonfire while enjoying wine and her husband's home-brewed beer. Once the fire burned out, we headed inside and watched some
Big Bang Theory
which turned out to be cute and funny. I also got lots of cuddle time with her three adorable dogs. It was a chill ending to a wonderful day! I had such an awesome weekend and I look forward to telling you all about day two.