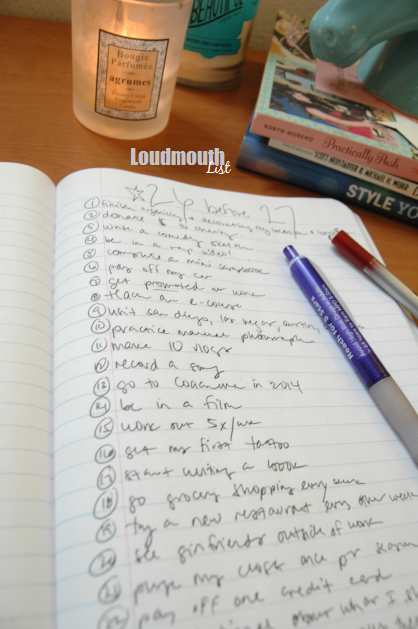 Oh my gosh, it's been
so
long since my last post and I have
so
much to share! First off, here's my brand new birthday list. Seeing as I turned 26 over a month ago, I figured I should kick off my catching up with this! If you post your own goal lists, please
tweet me
the link. I'd love to see!
1) Finish organizing + decorating my
bedroom
+ bathroom.
2) Donate $$$ to charity.
3) Write a comedy sketch.
4) Be in a rap video.
5) Complete a mini scrapbook.
6) Pay off my car.
7) Get promoted at work.
8) Teach an e-course.
9) Visit San Diego (for the third time), Las Vegas (for the fourth time), Austin (for the first time), and Orlando (for the first time in 20+ years).
10) Practice manual photography.
11) Make 10
vlogs
.
12) Record a song.
13) Go to
Coachella
in 2014.
14) Be in a film.
15) Work out 5x per week.
16) Get my first tattoo.
17) Start writing a book.
18) Go grocery shopping every week.
19) Try a new restaurant every other week.
20) See girlfriends outside of work.
21) Purge my closet once per season.
22) Pay off one credit card.
23) Be intentional about what I share on-line.
24) Host more
parties
(especially themed ones).
25) Read at least one whole book per month.
26) Go one month without dairy or gluten.