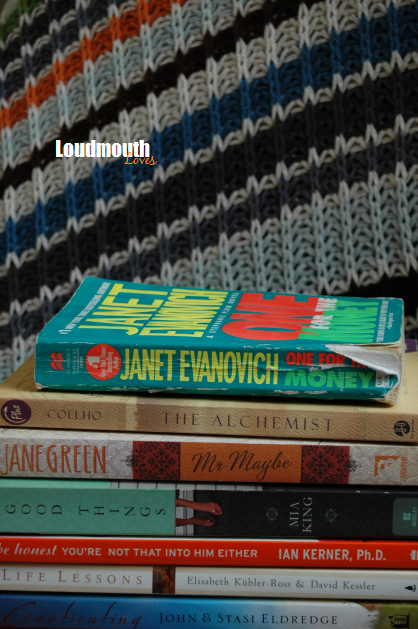 It's been two years since I
last
posted about books. But what can I say -- I've been busy. We've
all
been busy. And we don't get to read often enough, am I right? (I'm assuming that we all enjoy reading. If not, I'm not sure why you're reading this blog right now. Weirdo.) Fortunately, I've become better at managing my schedule, and I've been setting aside time for personal projects and hobbies more and more often.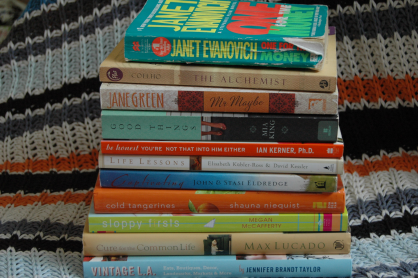 I've done a lot of reading in my life, but of course I don't have the time or space to share every single book I've read. However, I would like to reveal my favorite books (the best of all time, in my opinion) along with ones I'm working on now (I like to read a lot of books at once and take forever to finish them) and ones I haven't started yet (but are waiting to be devoured). Are any of your favorites on this list? Which ones did I miss? Agree or disagree? Feel free to
tweet
me!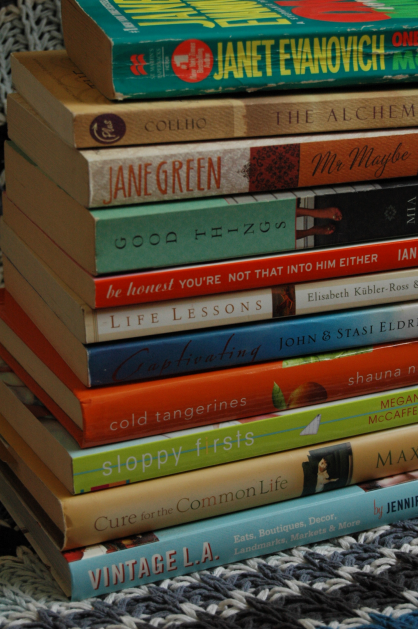 Old favorites:
The
Stephanie Plum series
by Janet Evanovich,
The Alchemist
by Paulo Coelho,
Mr. Maybe
by Jane Green,
Good Things
by Mia King,
You're Not That Into Him Either
by Ian Kerner,
Life Lessons
by Elisabeth Kubler-Ross and David Kessler,
Captivating
by John and Stasi Eldredge, anything by
Shauna Niequist
(visit her lovely blog
here
), the
Jessica Darling
books by Megan McCafferty, anything by
Max Lucado
,
Vintage LA
by Jennifer Brandt Taylor.
Currently reading:
Jesus Calling
by Sarah Young (my daily devotional),
Beach Girls
by Luanne Rice, the Bible (needed for aforementioned devotional), a collection of stories by
F. Scott Fitzgerald
(I adored The Great Gatsby before it was cool),
Cocktails for Three
by Madeleine Wickham,
Boundaries
by Henry Cloud and John Townsend,
Exceeding Customer Expectations
by Kirk Kazanjian,
Cracking the Boys' Club Code
by Michael Johnson,
The Nine Rooms of Happiness
by Lucy Danziger and Catherine Birndorf.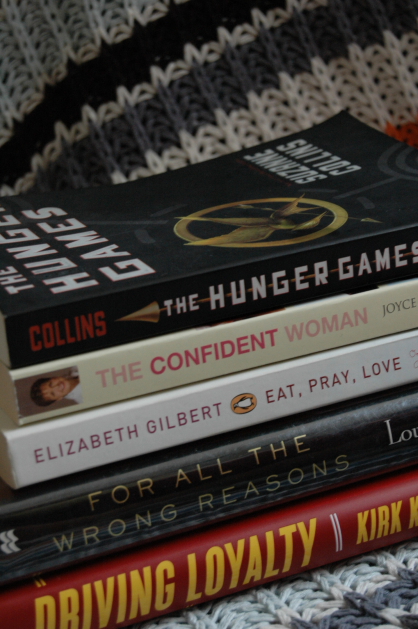 Up next:
The Hunger Games
by Suzanne Collins (I've yet to see the movie also),
The Confident Woman
by Joyce Meyer,
Eat, Pray, Love
by Elizabeth Gilbert (haven't seen this movie either but the book is usually better anyway),
For All the Wrong Reasons
by Louise Bagshawe,
Driving Loyalty
by Kirk Kazanjian.
*Click
here
to see my favorite movies, too!