I totally copped blogging bestie
Jessica
's style with this list. We're both adventurers at heart, and nothing makes us happier than exploring our respective cities. Unlike her, however, I could not narrow it down to 25.
So, I doubled the number and made it 50. I'm clearly crazy and indecisive. But, honestly, my favorite thing about LA is the multitude of restaurants waiting to be experienced. In the small town where I was raised, there were only a few to choose from. I feel so spoiled, happy and grateful here. The possibilities are endless!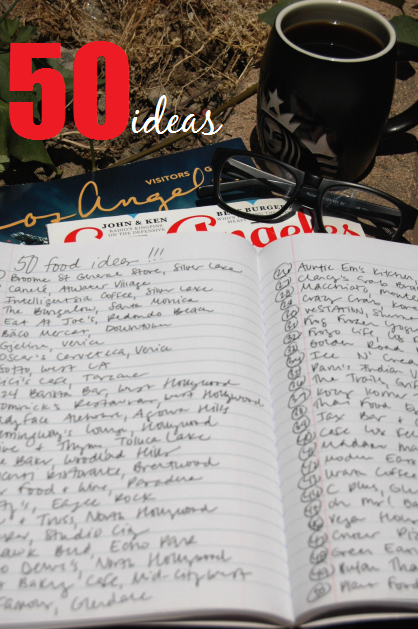 To make this list, I pulled together ideas from a variety of sources: magazines,
Yelp
, fellow bloggers, local friends, and
this
old post. I can't wait to start crossing them off with
Jessica
, and
Brandon
and
Celeste
too. Would anyone else like to join? Yay for food lovers!
Here they are...
1. Broome Street General Store, Silver Lake | 2. Canelé, Atwater Village | 3. Intelligentsia Coffee, Silver Lake | 4. The Bungalow, Santa Monica | 5. Eat At Joe's, Redondo Beach | 6. Bäco Mercat, Downtown | 7. Gjelina, Venice | 8. Oscar's Cerveteca, Venice | 9. Sotto, West LA | 10. CiCi's Cafe, Tarzana | 11. K24 Barista Bar, West Hollywood | 12. Dominick's Restaurant, West Hollywood | 13. Ladyface Alehouse & Brasserie, Agoura Hills | 14. Hemingway's Lounge, Hollywood | 15. Olive & Thyme, Toluca Lake | 16. The Baker, Woodland Hills | 17. Vincenti Ristorante, Brentwood | 18. Noir Food & Wine, Pasadena | 19. Fatty's, Eagle Rock | 20. Bow & Truss, North Hollywood | 21. PizzaRev, Studio City | 22. Mohawk Bend, Echo Park | 23. Tokyo Delve's Sushi Bar, North Hollywood | 24. Toast Bakery Cafe, Mid-City West | 25. The Famous, Glendale | 26. Auntie Em's Kitchen, Eagle Rock | 27. Clancy's Crab Broiler, Glendale | 28. Macchiato, Monterey Park | 29. Crazy Crab, Koreatown | 30. veSTATION, Sherman Oaks | 31. Frog Frozen Yogurt Bar, Hollywood | 32. Froyo Life, Los Feliz | 33. Golden Road Brewing, Glendale | 34. Ice N' Cream, Glendale | 35. Paru's Indian Vegetarian Restaurant, Hollywood | 36. The Trails, Griffith Park | 37. Kozy Korner Thai Cuisine, Glendale | 38. Thai Food Express, Glendale | 39. Jax Bar & Grill, Glendale | 40. Cafe Los Feliz, Los Feliz | 41. Madame Matisse, Silver Lake | 42. Modern Eats, Silver Lake | 43. Urartu Coffee, Glendale | 44. C Plus, Glendale | 45. Oh My! Bakery, Glendale | 46. Vegan House, Silver Lake | 47. Cruzer Pizza & Pasta, Los Feliz | 48. Green Earth Vegan Cuisine, Pasadena | 49. Bulan Thai Vegetarian Kitchen, Silver Lake | 50. Plant Food For People, Highland Park