Hi! So, I got back from Las Vegas two nights ago, and I think I've finally recovered. Whew! That city will wipe you out. I wanted to pop in and give you a little recap on our trip though. :) I know I still have to update you on my parents' visit, but I wanted to provide this quickie post before delving in to the four I have planned for that staycation. So, here we go! The adventure started on Friday night, when
Sarah
and I had a preliminary drink at
The Barrel
. It's a super dive-y, fun place with karaoke, a crowd of characters and relatively cheap beer.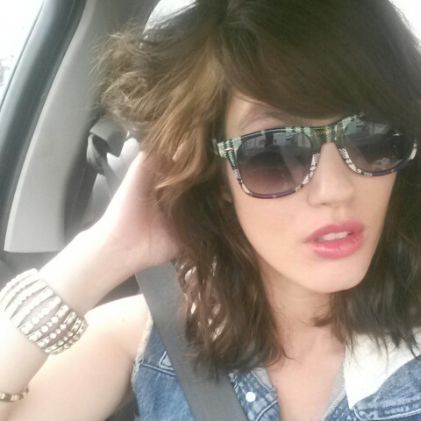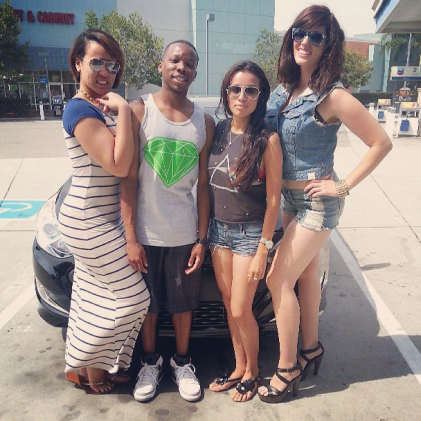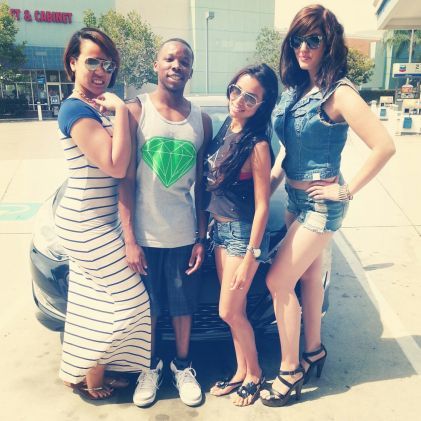 The next morning, we were on our way to Sin City! We went along with
Jacquelyn
and
Avery
, two more work friends. I honestly don't know what I would do without my job -- I would probably only have one or two people to talk to. Of course, it's all about quality and not quantity, but I'm really grateful to know so many awesome peeps. The trip definitely brought us closer, and we're already planning our next adventure! San Diego, Santa Barbara or Palm Springs? I'm not sure yet...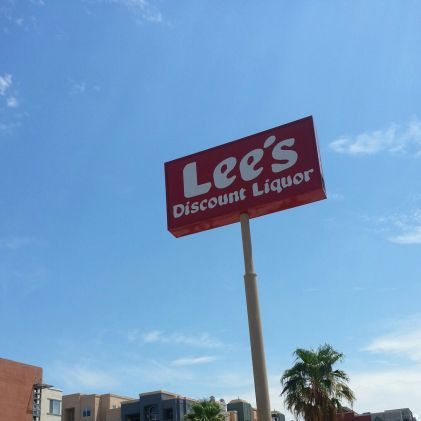 We stopped at
Lee's
to stock up on liquor just outside of Vegas. It's apparently a well-known store, and I'm glad we went for that instead of buying drinks on The Strip. It was way more affordable; I'm pretty sure I only spent about half of what I thought I would on this trip. We got a fifth of Ciroc Peach and a fifth of Seagram's Seven. A few miles later, we arrived at our hotel,
Excalibur
! And that's when the party started...
Our room was the cheapest one that was close to everything, and it ended up having an amazing view. We barely spent any time in the room, though. As soon as we dropped our things off, it was time for some food! We drank a bit and then went down to the food court in our hotel. We walked 99% of the time while we were there -- there's really no point in driving around Vegas. It's not safe and taxis are cheap.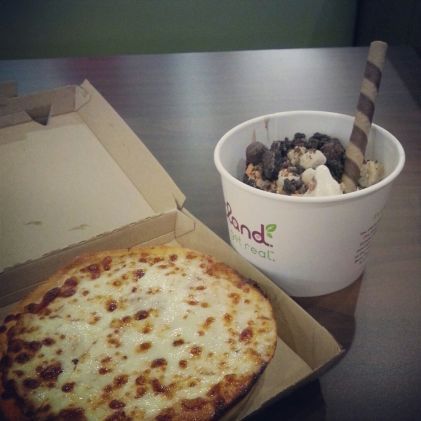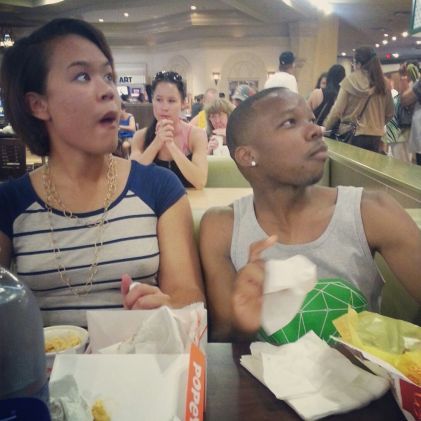 I had planned on Saturday and Sunday being my 'cheat days' -- my awesome trainer says I get two per week. I splurged and got a personal pan pizza from Pizza Hut Express and a froyo from Yogurtland. These are, admittedly, two of my favorite foods. (By the way, I loved Emily's
post
about her junky faves!) Also, sidenote, I'm glad I decided against bringing my DSLR. It was so much easier to walk around without it, and I didn't mind taking photos with my phone. They're not too shabby!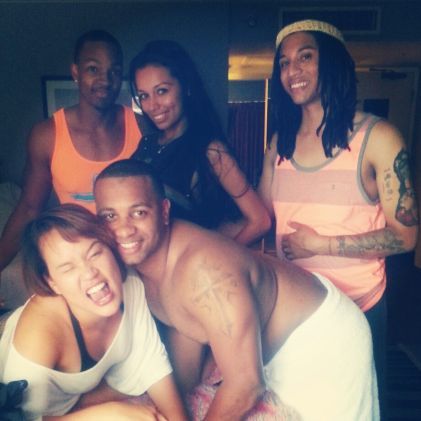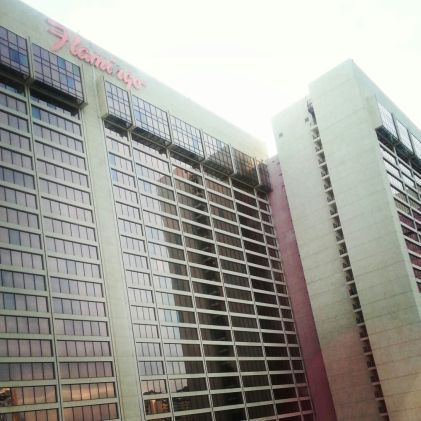 After that, we headed down to the pool. Avery insisted that
Flamingo
's had a better vibe, so we started walking there. Unfortunately, walking in 110 degree weather while slightly intoxicated, sucks. It was especially difficult for myself, a cold-blooded Michigan gal. We hopped in a taxi about halfway there, but by the time we got to the gate, we couldn't get in. Then, there was another turn of events -- Avery happened to run into a crew of guys he knew! So we headed up to their room and partied for a bit. The whole trip ended up being super random like this.
Eventually we made our way back to Excalibur and got ready to go out. I got us on the guest list at
Tao
(located within
The Venetian
) which happened to be the favorite club between all of us. We had a little kerfuffle between the girls at this point, mostly due to my emotional instability, but we got over it within five minutes. I somehow seem to fuck up most of my female friendships, but fortunately, these ladies are much more patient and forgiving than I. We put on our best dresses, took some mirror pics and were out the door!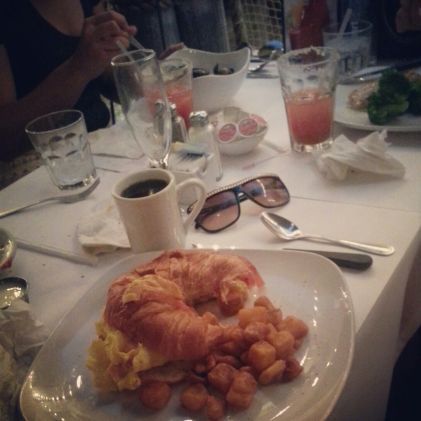 As you can see, no photos were taken between the hours of 11pm and 11am. My next pictures were taken at a late breakfast the next morning. This is because what happens in Vegas -- well, you know the rest. ;) Let's just say that the four of us got separated immediately after entering the club and all came back to our room the next morning with different stories. It was totally a
Hangover
type night! But, our breakfast was delish (like that transition?). We went to
Oyster Bay
between Paris and Planet Hollywood within the prettiest shopping center I've ever seen. I ate yummy scrambled eggs and salmon on a croissant with potatoes on the side. As for beverages: Sarah and Jax got bloody marys, I got a mimosa, and Avery got beer because he's a badass.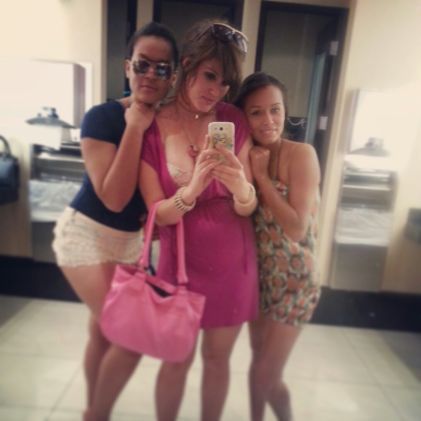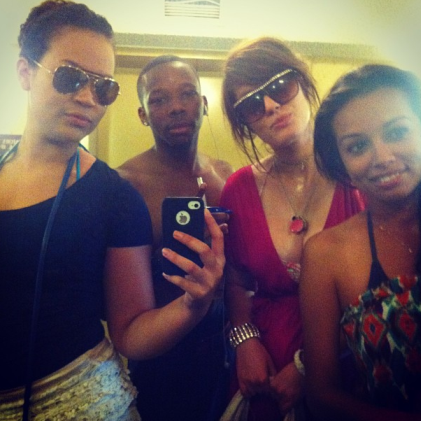 Then it was
finally
time to hit the Flamingo
pool
-- for real! It was quite the success this time. Avery and I made friends and mingled while my two girls relaxed and recovered. I enjoyed the best piña coladas ever and dipped in the perfectly warmed water. I didn't want to leave for a couple extra hours, and that's exactly what happened.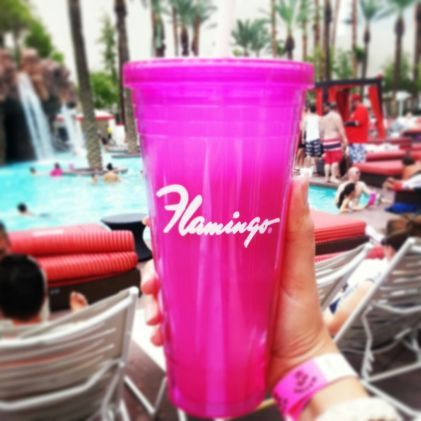 The girl in red, below, asked if my boobs were real. And the girl in black told me I was beautiful. I honestly felt like everyone in Vegas was in such a good mood. Everyone was super friendly and nice to each other. Maybe it's because they were relaxed and having a good time, but I just wish people could be like that
all
the time! For me, the world is a magical playground, whether I'm on vacation or at work. I know I still have this childlike innocence about me, and maybe it gets me hurt sometimes, but it's
so
much more happy and fun. I hope to bring a Vegas vibe everywhere, I suppose -- with perhaps a little less alcohol :)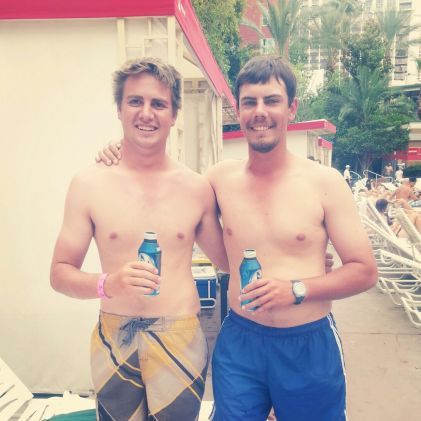 The dudes above were farmers from South Africa. And that was the
weirdest
conversation so I had to take a picture to remember it, haha! Being a
pescetarian
, it was awkward hearing stories about shooting cows in the head. That's literally their job, all day every day. I guess someone has to do it, right? But they assured me that the animals die instantly, and until their time to be killed, they get to roam and frolic in wide open pastures. Apparently, they work on a free range farm.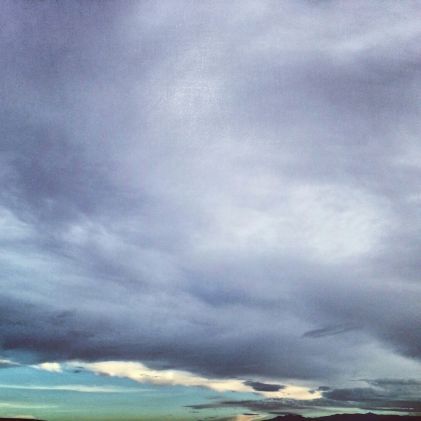 Eventually, the time came for us to go. And unfortunately, traffic was horrific. I guess that's what you get for leaving on a Sunday evening! But it was all worth it. I seriously had the most amazing time. I can't wait to do it all -- well,
most
of it at least -- again! (PS: Photos 15 + 19 by Miss
Sarah
. Hair cut + color by me. Almost everything worn from
Target
.)