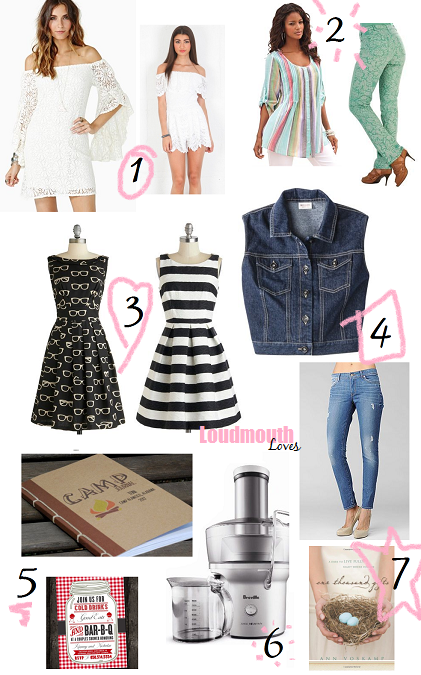 I know this is super unoriginal, seeing as
everyone
and
their
sister
posts shit like this, but I haven't done one of these in
awhile
and well, they're just fun to make. Plus, the money that I used to spend on clothes and accessories is now going towards training sessions and traveling. If I'm not going to buy something, I might as well save a picture of it. By the way, I know nothing about graphic design and I draw like a 5-year-old.
So, there's my disclaimer, and now we can move on to the goodies!
1) These off-the shoulder
lace
dresses
are absolutely swoon-worthy. I'm really into white lace this season.
2) Though I tend to stick with neutrals these days, I can't help but indulge in a little color once in awhile. This
top
and these
pants
from
Roaman's
would go
so
well together!
3) I've been looking at
these
dresses
from
Modcloth
for awhile now. Black and white never goes out of style, and I'm a little obsessed with the glasses print.
4) I think I've become addicted to denim again. I'm loving denim
vests
and frayed
jeans
. Cute
and
sexy!
5) And now, for some cute non-clothing items. I'm in love with these adorable BBQ
invitations
and this camp
journal
. I want to do outdoorsy stuff now just to write about it. Okay, maybe not.
6) I've been making smoothies a lot, but I really want to get a
juicer
. I know this is a huge trend right now that'll probably fade, but I'm totally into it.
7) My favorite books are motivating, inspiring, spiritual and pretty -- like
this
one. I'd love to add it to my collection sometime soon.