You guys, I'm SO excited to share this post with you. Music has been a huge part of my life for as long as I can remember! My parents were part of our church's worship band growing up -- my mom sang, and my dad played guitar or bass. My sister is also extremely talented and has been playing the piano since she was two years old (seriously). I played flute in the marching band when I was younger, and sis and I both did musical theatre. My brother's in high school now and plays the tuba! I love visiting home because there is always music flowing through it from different rooms in the house. It's beautiful.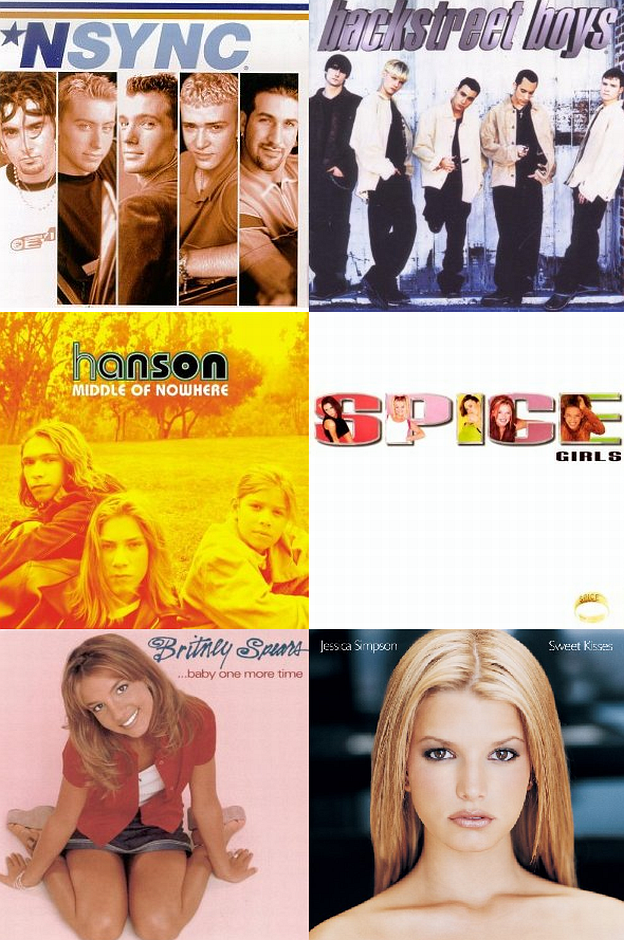 Back in middle school, I honestly don't really know what I listened to. I think I just liked whatever everyone else liked. (I desperately wanted to be cool, even though I wasn't at all.) My parents didn't like me listening to mainstream music, but I was still exposed to it at friends' houses. I remember my neighbor down the street, Jamie, always had the latest CDs. She was one year older, and I remember feeling so naughty watching MTV with her. Ha! The first album I ever bought myself was by
Hanson
. All of the other boy bands, girl groups and teenage blondes followed...
Backstreet Boys
,
'N Sync
,
Spice Girls
,
Britney
,
Jessica
, etc.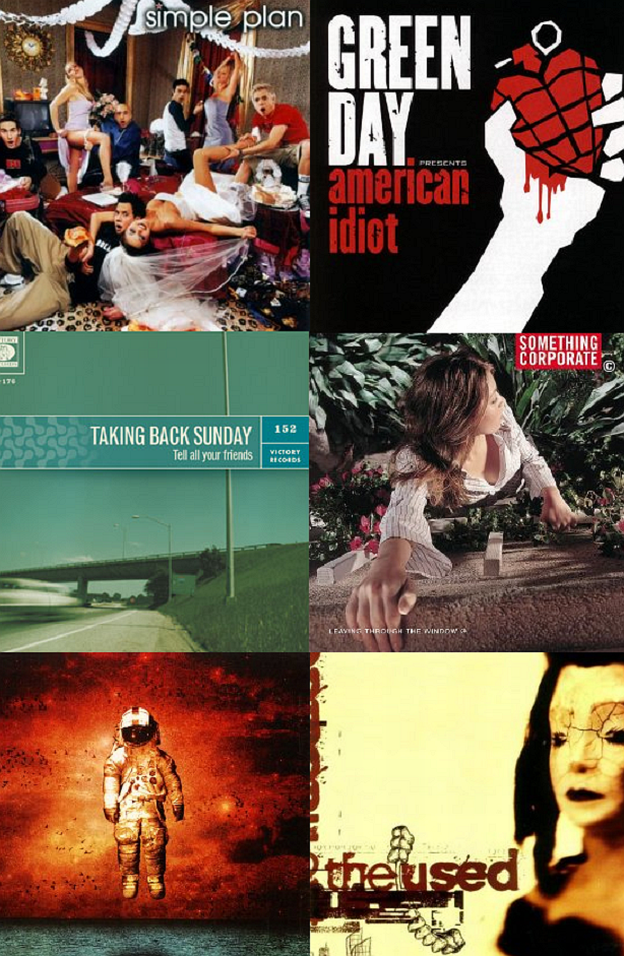 Then in high school, I started getting into pop-punk and emo rock. You know, all that dramatic stuff. I did a LOT of journaling. ;) And I made new friends! All of my money went to concerts and shows in downtown Detroit every single week. Those were some of the best nights of my life. I never did drugs, never drank -- I was a really good kid. I didn't need any substances with the high of live music buzzing in the air. I can't even name all of the bands I met and hung out with! It was a really cool time.
I started driving, and I distinctly remember playing that
Taking Back Sunday
album over and over again in my little red Vibe. I had a huge crush on the same guy for all four years of high school, and I almost dated him but he chose another girl over me. Haha, life was rough. Those songs still remind me of those feelings -- crazy! My other faves were
Simple Plan
,
Green Day
,
Something Corporate
(still love Andrew McMahon),
Brand New
,
The Used
,
The Early November
,
The Starting Line
, and
Dashboard Confessional
(naturally). Oh, and let's not forget about all the Broadway soundtracks I listened to, especially
Rent
and
Wicked
!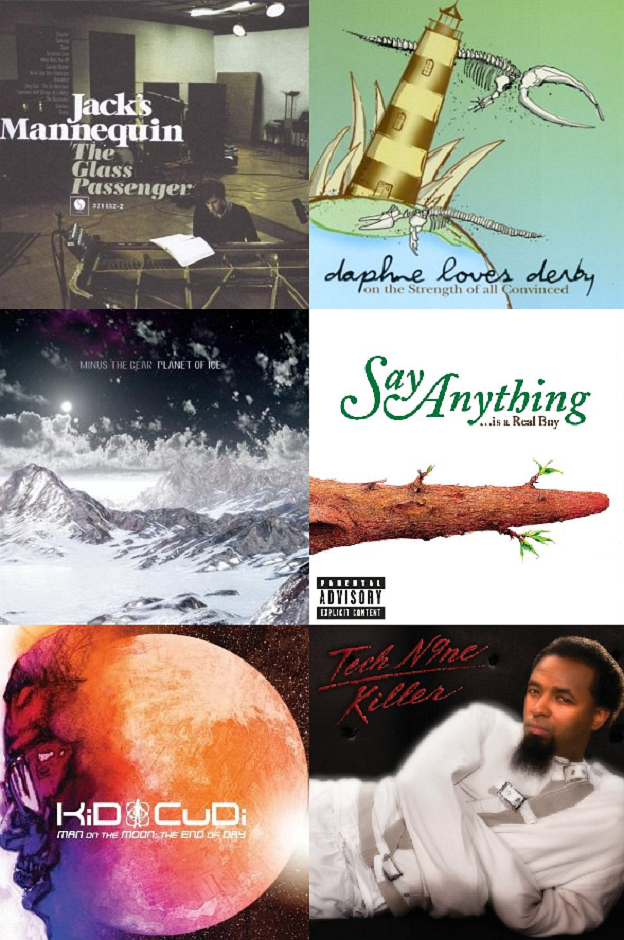 After graduation, I started listening to piano rock and indie stuff that was more relaxing, upbeat, romantic and fun. I loved
Jack's Mannequin
,
Daphne Loves Derby
,
Minus the Bear
,
Say Anything
,
Lydia
,
Manchester Orchestra
and
Copeland
. Once in awhile I'd go out to a show in Grand Rapids (my college town), but sadly, it wasn't at the top of my priority list anymore; I was a broke and busy student. At some point I decided that I wasn't too cool for rap anymore, and I got pretty obsessed with
Tech N9ne
. We would even have Tech-themed parties where we'd drink his signature cocktail,
Caribou Lou
. So fun! I also really liked
Kid Cudi
,
Shwayze
, and
Astronautalis
... I began opening my mind to new genres.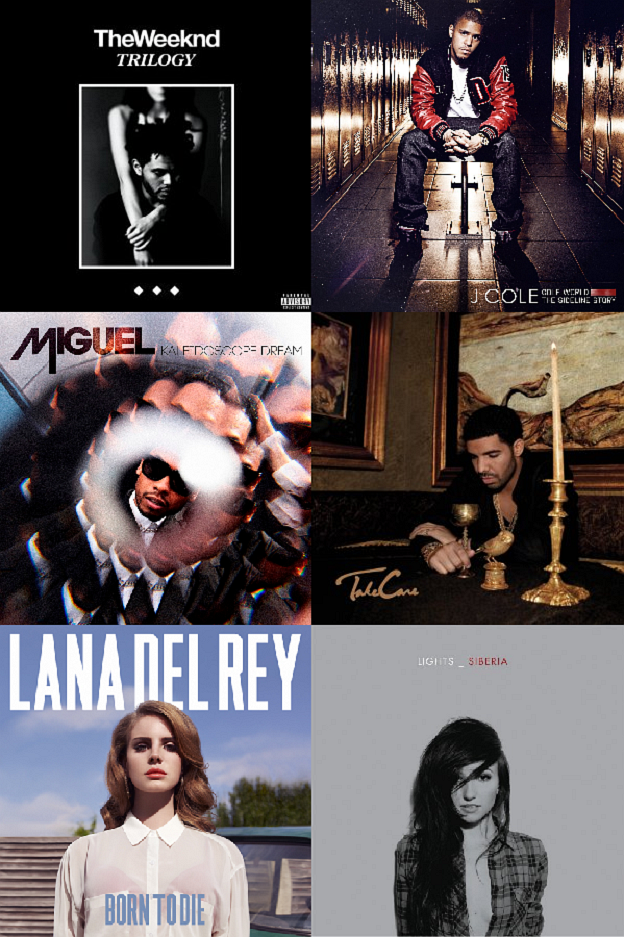 It's funny, but now that I'm looking back on all of these albums and artists, I'm realizing that my music taste is now a combination of the elements I always used to love. What I've been listening to over the past few years is an eclectic mixture of songs that can be fun and playful, but also dramatic and full of feeling. For the most part I listen to alternative R&B like
Miguel
and
The Weeknd
(his
new
album just dropped Tuesday!); lyric-heavy hip-hop like
J Cole
,
Kendrick Lamar
,
Drake
, and
Childish Gambino
(AKA Donald Glover of
Community
); along with random female artists like
Lana del Rey
,
Lights
,
Lily Allen
and
Taylor Swift
(judge me).
If you're interested in following my musical journey, you can check out my
last.fm
page
here
. I've been using the site on and off for the past eight years, and I'm as of now I'm back on. Let's be friends!