As of today, I am a paleo pescetarian.
If you know the definitions of these two ideals, I'm sure you are quite confused because the pair tend to contradict each other. And if you don't know what either of them are, then you are probably even more confused. So, let's review. (Thanks Wikipedia!)
Paleo:
is also popularly referred to as the caveman diet, Stone Age diet and hunter-gatherer diet based on the presumed ancient diet of wild plants and animals that various hominid species habitually consumed. The contemporary "Paleolithic diet" consists mainly of
fish, grass-fed pasture raised meats, eggs, vegetables, fruit, fungi, roots, and nuts
, and excludes grains, legumes, dairy products, potatoes, refined salt, refined sugar, and processed oils. It was first popularized in the mid-1970s by gastroenterologist Walter L. Voegtlin.
Pescetarian:
is probably a neologism formed as a blend of the Italian word pesce ("fish") and the English word "vegetarian". A pescetarian diet typically shares many of its components with a lacto-ovo vegetarian diet and includes
vegetables, fruit, nuts, grains, beans, eggs, dairy
, and insect byproducts (such as honey), but unlike a vegetarian diet it also includes
fish and shellfish
. The Merriam-Webster dictionary dates the origin of the term "pescetarian" to 1993.
I've been eating pescetarian for over three years now, but I hadn't heard of paleo until I read
this
post by
Vahni
of
Grit and Glamour
in August 2012. She wrote that she was beginning
Whole30
, a 30-day program with strict rules: no grains, dairy, legumes, alcohol, or added sugar allowed. I was intrigued, but for me, it seemed impossible. Without all of these things, what was I going to eat? As someone who made the decision to stop consuming beef, chicken, pork and poultry, my daily menu was already limited.

But I continued to read her updates throughout the month, and I was thrilled when she
linked
to a Whole30 shopping list for
vegetarians
. Unlike the
omnivore
list, this one included a limited amount of dairy and legumes, and obviously no meat. I knew that I could accomplish Whole30 in my own way by choosing items from the two lists and creating a pescetarian version! I just needed to muster up the courage to start.
It took me a year, but here we are.
What I will be eating + drinking this month:
Fruits
Vegetables
Eggs (pastured + organic)
Water, sparkling water, black coffee, tea
Seafood (wild-caught + sustainably fished)
Healthy fats (olive oil, avocado, nuts, seeds)
Limited legumes (edamame, organic tofu, lentils)
Certain dairy products (like organic, full-fat yogurt)
What I will NOT be eating or drinking this month:
White potatoes
All meat but fish
Alcohol, soda, almond milk
Carrageenan, MSG, sulfites
Added sugar (or fake sugar)
Grains (wheat, rye, oats, corn, rice, quinoa)
Most dairy (nothing factory-farmed or processed)
Most legumes (peanuts, lecithin, refined soy products)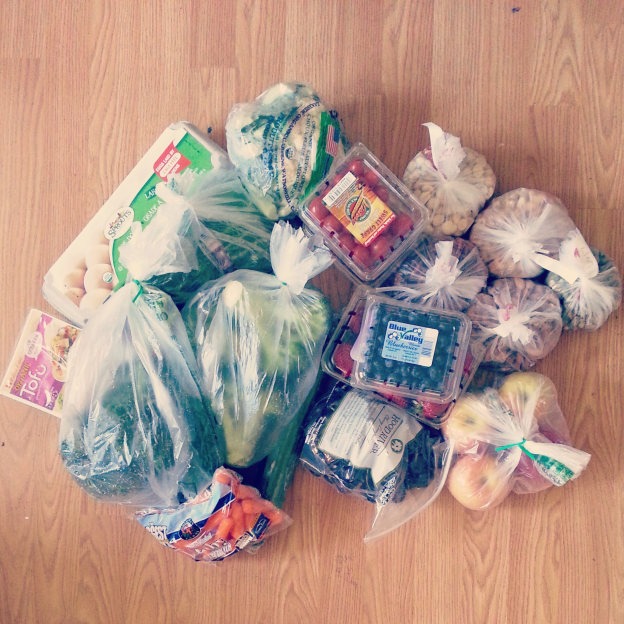 To prepare myself for this month of change and challenge, I followed these steps, as suggested by a number of sources (including
Nom Nom Paleo
and
The Clothes Make the Girl
, which are both amazing):
1) Tell someone.
I emailed Vahni a couple weeks ago. She was the first person I heard about Whole30 from, and so it was only fitting that she was the first person I told. Speaking your goals out loud or writing them down sets it all in stone. There's no turning back after this first step!
2) Remove anything non-Whole30 from your kitchen.
I attempted to finish my cabinet's carbs and sugars over the past week, and needless to say, it was a very bloated one. I did a final fridge clean-out yesterday and tossed anything left that wasn't Whole30-friendly into a bag for my boyfriend and his roomies. Today I delivered them a big package of bread, pasta, brown rice and popcorn.
3) Go shopping!
This, of course, was my favorite part. I went to
Sprouts
and began my healthy hunt. I took along both
shopping
lists
and checked things off as I went. It was fun! I expect to spend more at the grocery store this month than I usually do, but I'm sure I'll also be saving by not drinking at all or going out to eat as much.
4) Prep your meals.
As soon as I got home from the store, I cooked a ton of broccoli and salmon, and made a massive bowl of salad. I'll be able to just grab and go from these containers throughout the week. When you make it quick and easy to eat healthy, you really have no excuses!
5) Take pictures.
I was super embarrassed to post 'before' photos of myself on
Instagram
. I was standing in my pajamas, in my messy room, with no bra on and a puffy lower belly, but I snapped a few anyway. Again, this makes the process more real -- now, more of my friends know what I'm doing and can hold me accountable. Pressure's on!
6) Keep yourself motivated.
Be your own cheerleader! Everyone has different ways of doing this, but I personally love self-help and inspirational books; they've gotten me through some trying times. I'm not ashamed to admit it. I'll be reading the following throughout the month to help me stay strong:
Jesus Calling
(recommended
here
),
The Joy Diet
(suggested by
Shanley
), and
It's Your Time
(borrowed from my trainer). It's easier for me to believe in myself when I choose to believe in something greater than myself. But, again, that's just me. :) I also plan on reading
It Starts with Food
as well -- that's the official Whole30 guidebook!
Any questions, comments or suggestions about paleo, pescetarianism or Whole30? I'd love to hear them all. Even if you have a different opinion. Seriously! Feel free to
tweet
or email me (theloudermouth@gmail.com) and I'll be answering popular questions in a future post for all to see. Curious about my journey? Don't you worry; I'll be constantly posting updates on
Instagram
and
Twitter
with the hashtag
#Loud30
, and I'll even be doing some
YouTube
videos throughout the month. Hooray!