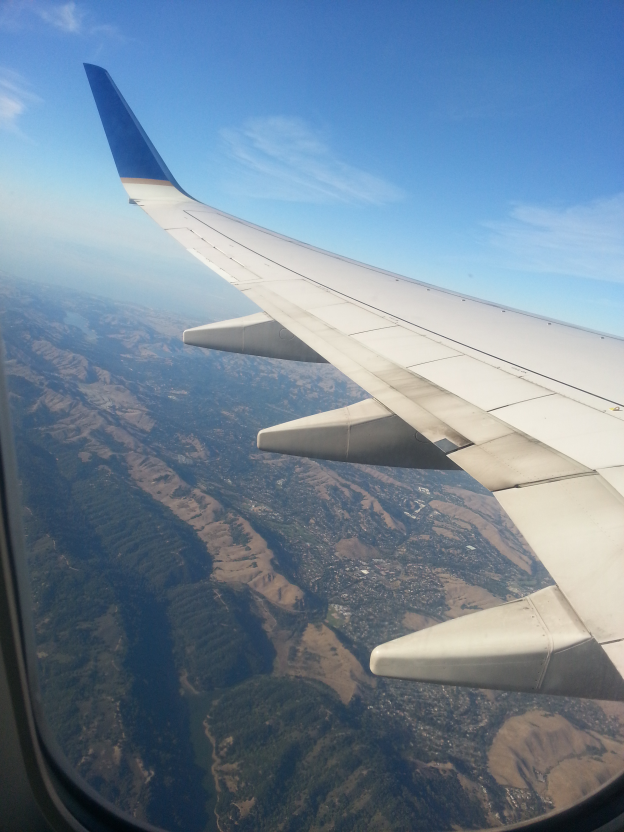 In 2012, I traveled to Myrtle Beach, Santa Barbara, San Diego, San Francisco, Las Vegas, and Michigan (twice). So far this year, I've visited Santa Barbara, San Diego, and Las Vegas (twice each) along with Austin and Orlando, too. Believe it or not, I don't make a ton of money, I'm in the process of paying off debt, and I've been able to have fun on all of these vacations with less than $100 in my wallet. It's totally possible to see the world without going broke, and I'm here to let you in on some of my saving secrets (but shh, don't tell anyone). Here are my 10 best tips for travelling on a budget!
1) DO YOUR RESEARCH.
Your first step is to scour the internet for the cheapest flights, lodging, and activities. Check sites like
Expedia
and
Priceline
for low rates on plane tickets (but keep in mind that taxes and fees aren't always included). If your destination is within a few hundred miles, I'd recommend renting a car or using your own -- even with climbing gas prices, this can still be cheaper than flying. Plus, some of my favorite vacation moments happened while on the road! As for staying in town, I almost always sleep over with a friend or family member, which is completely free. If you don't know anyone nearby, some great sources for looking up hotels and other accommodations are
Yelp
, the phone app
Hotel Tonight
, and
Airbnb
. And don't forget to google "free things to do in (enter city here)" for the best activities on a budget.
2) MAKE A LIST.
Or five. I'm a huge lister, and that skill comes in handy when planning a vacay. I'd recommend writing down the most affordable restaurants and sources of entertainment that you found, along with anything fun you'd like to shop for while you're there -- that'll help limit you from buying every souvenir in sight. You should also make a packing list, which brings us to my next point.
3) PACK LIGHT.
Most airlines only allow one personal item (a purse or laptop bag) and one carry-on. Therefore, it's important to
pack
as
little
as possible, unless you want to pay anywhere from $30-50 or more to check your luggage. I'd suggest bringing your biggest purse (that will still fit under the seat in front of you) and a small suitcase (for the overhead bin). But, be sure to check carry-on measurements while doing your flight research, so that you're not forced to check your bag when you get there. Of course, if you're driving, none of this applies to you, and you can bring however much you want!
4) BE HONEST.
If you're on a tight budget and staying with friends or family, you should be honest with your hosts and let them know that you have a limit on how much you can spend. That way, they're not making reservations for fancy dinners and Cirque du Soleil when you can't afford it. Awkward! It's better and easier (and healthier for your relationship) to be honest with them and tell them what's up. If they're true friends, they'll understand, and they'll probably be helpful in finding stuff to do that won't break your bank account. Chances are, they're in the same position as you, and will probably be relieved that they'll be able to save money too. Everybody wins!
5) DON'T STAY LONG.
I'd love to take a three-month trip around the globe, but I know that's not feasible at this point in my life. Instead of taking a long vacation, I plan small weekend getaways throughout the year. This helps to spread cost and limits my spending. I usually don't stay anywhere longer than 2-3 days.
6) SPLIT THE COST.
My cheapest trips have been ones that included going with a group and splitting the cost of a rental car and hotel room. Sometimes I like travelling solo dolo, but it's also nice to grab a friend or two and have a
girls' weekend
or a
road trip with co-workers
you don't normally get to see outside of the office. You can also pitch in for taxicab rides or, if you'll be driving around town, parking costs (sidenote: big cities charge anywhere from $5-35 for a day of parking).
7) EAT AT HOME.
Grab snacks, drinks and other rations for the hotel room or your hosts' fridge. I absolutely love going out to eat and exploring new restaurants, but I always have at least one meal per day at home (usually breakfast before we go out, or dinner when we get back at the end of the day). Not only is this healthier for you, but it definitely keeps costs down. It's also a fun and free activity to cook together! I'm lucky to have two good friends that always treat me as if I'm at a bed and breakfast;
Jessica
in San Diego and
Charisma
's husband in Orlando are super good chefs.
8) PACK YOUR SNACKS.
Bringing something healthy and portable has saved me from spending money on yucky theme park food and pricey airport crap tons of times. It's fun to splurge once in awhile, but the cost of snacky stuff can be bad for both your wallet and waistline. Choose a combo of protein and carbs to keep you going, like nuts and an apple or banana.
9) TAKE PICTURES.
Some may say it's silly that I'm constantly taking photos, but what could be a better souvenir than an album of memories? I rarely shop on vacation because I'd rather take back something unique, personal, and free -- like my pictures. Even if you just have your phone with you, snap a few
instas
. You'll cherish them forever!
10) GIVE YOURSELF A BREAK.
When it comes down to it, you're on vacation. Let loose and have fun! Don't be so frugal that you end up not having a good time. Figure out what the most important things are to you, and focus your funds there. Be smart and thoughtful when it comes to spending, and you'll end up having a great time. And then
tweet
me all about your adventures!