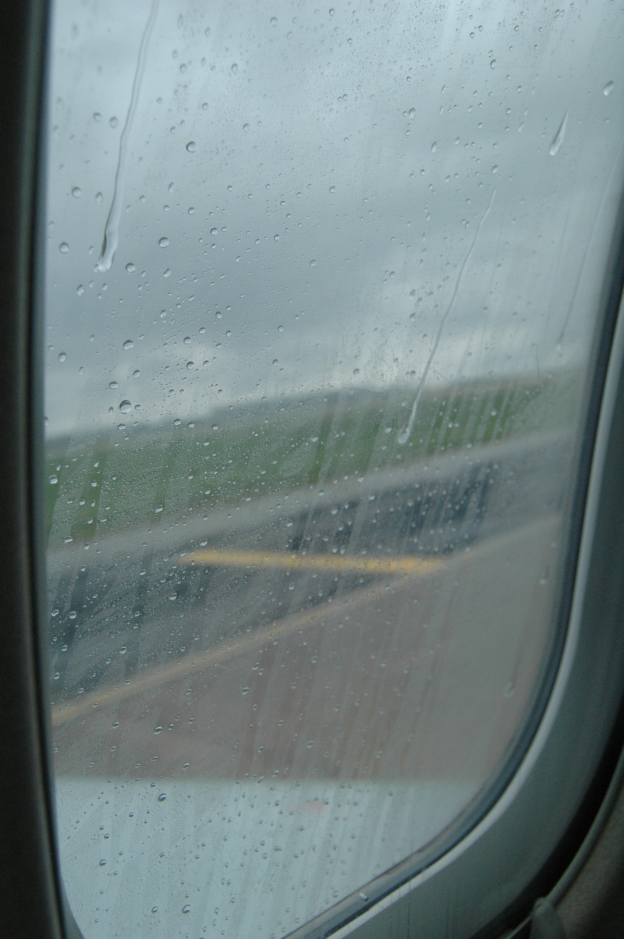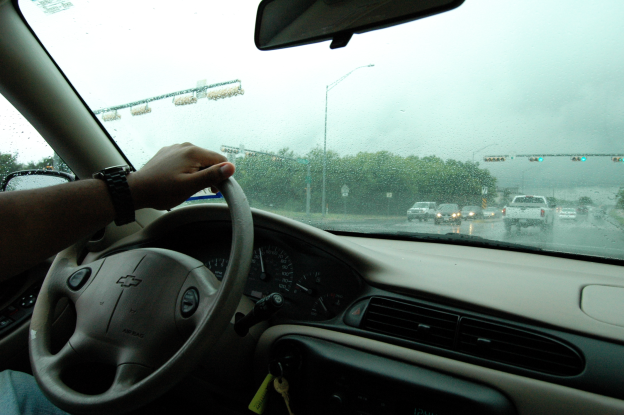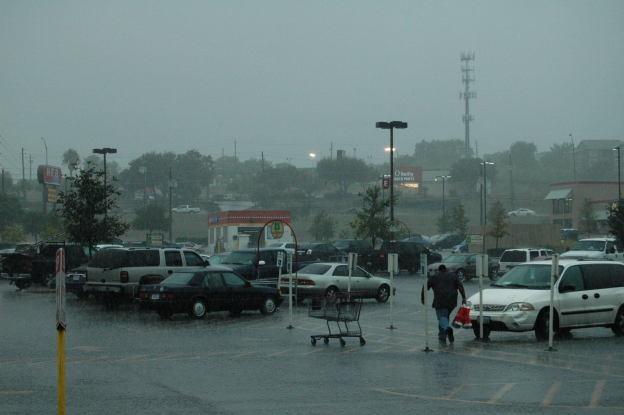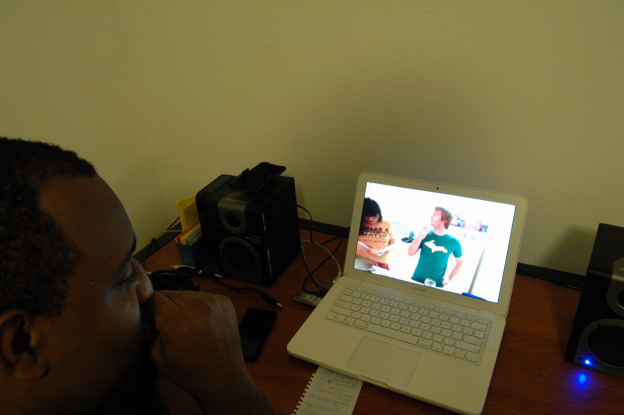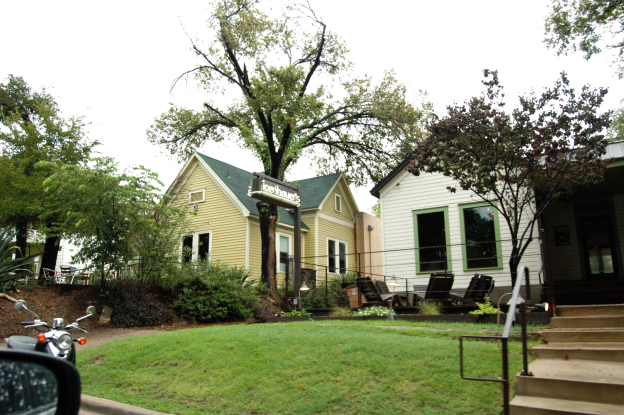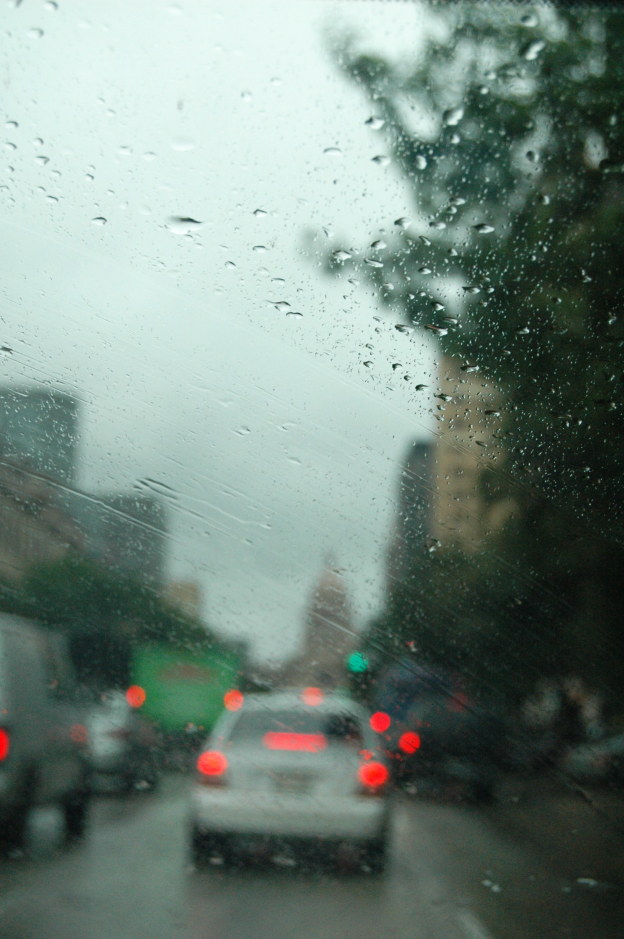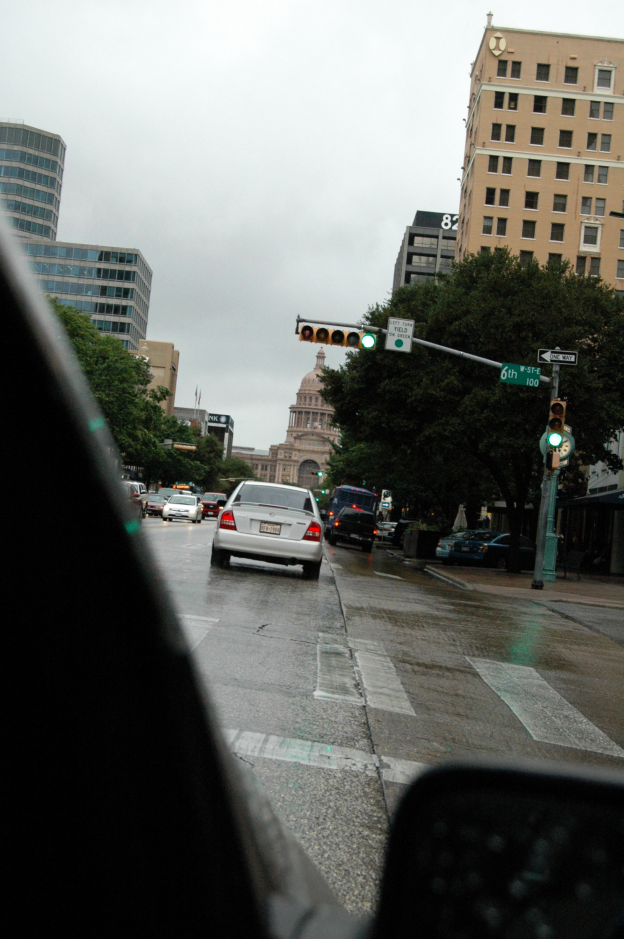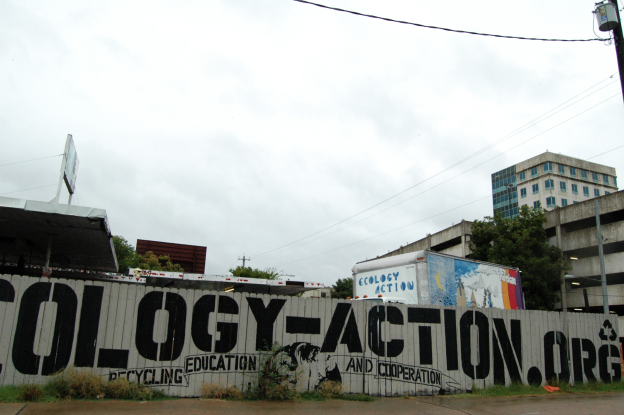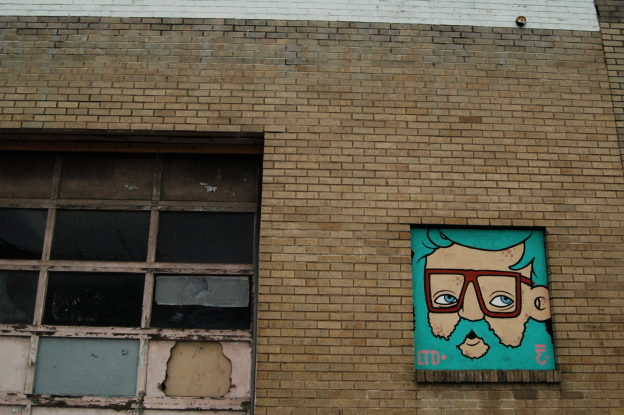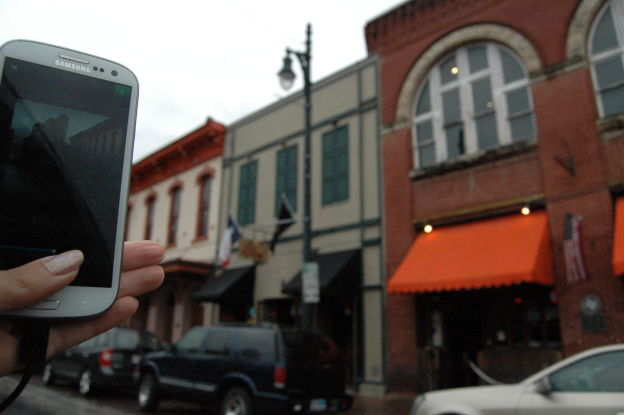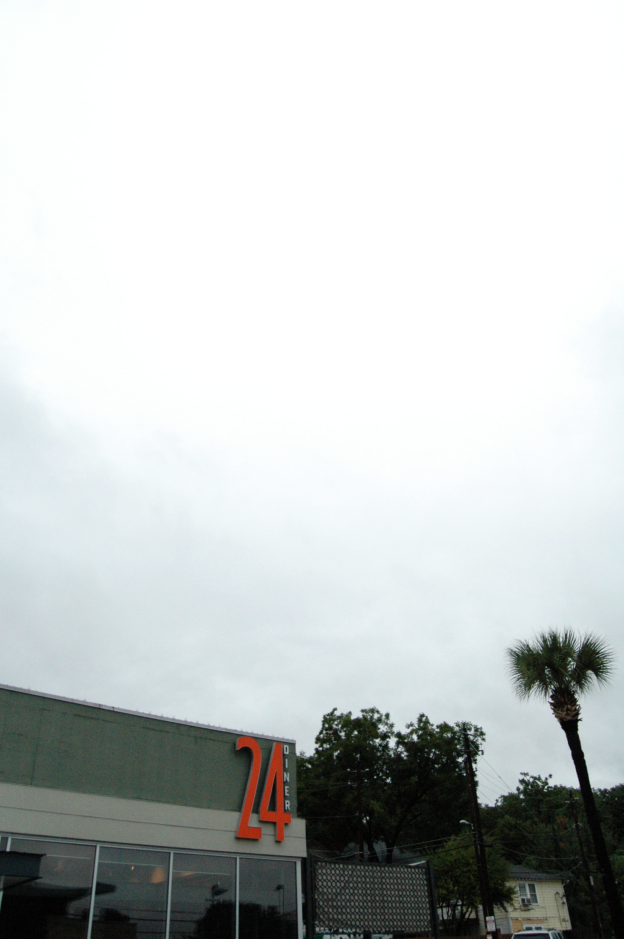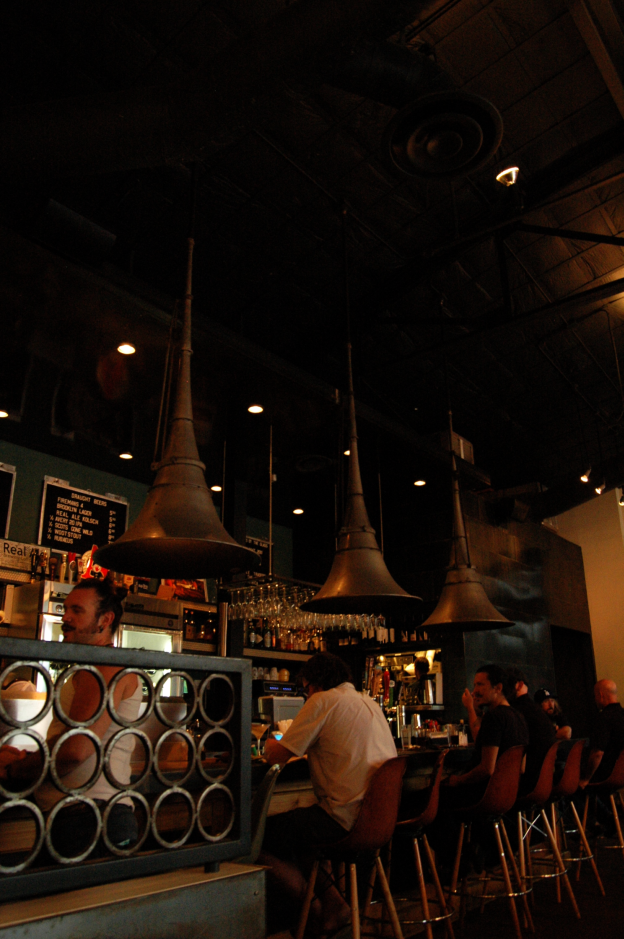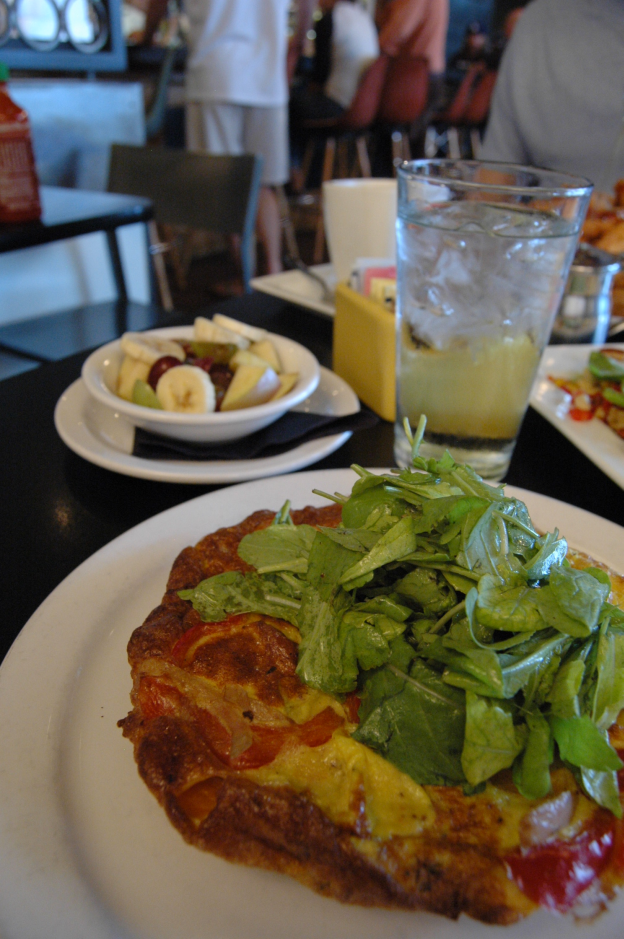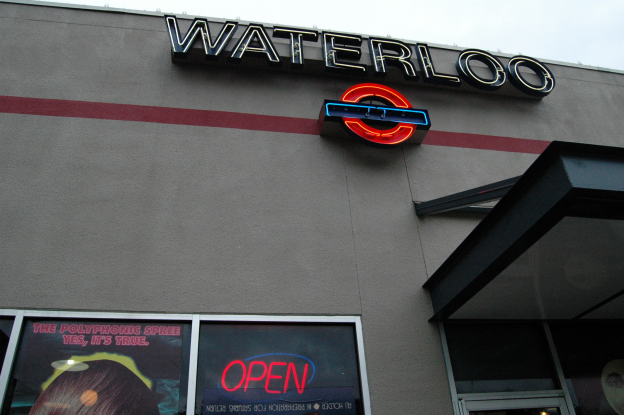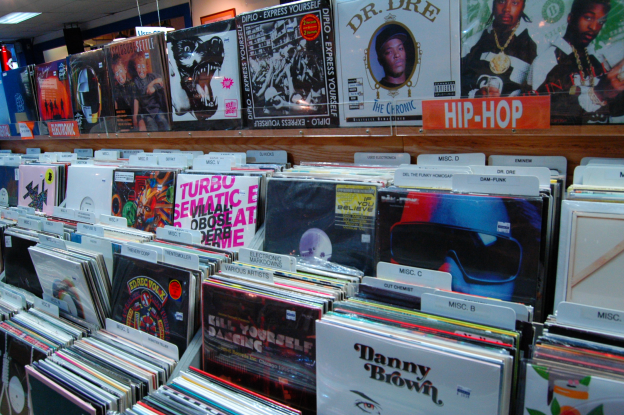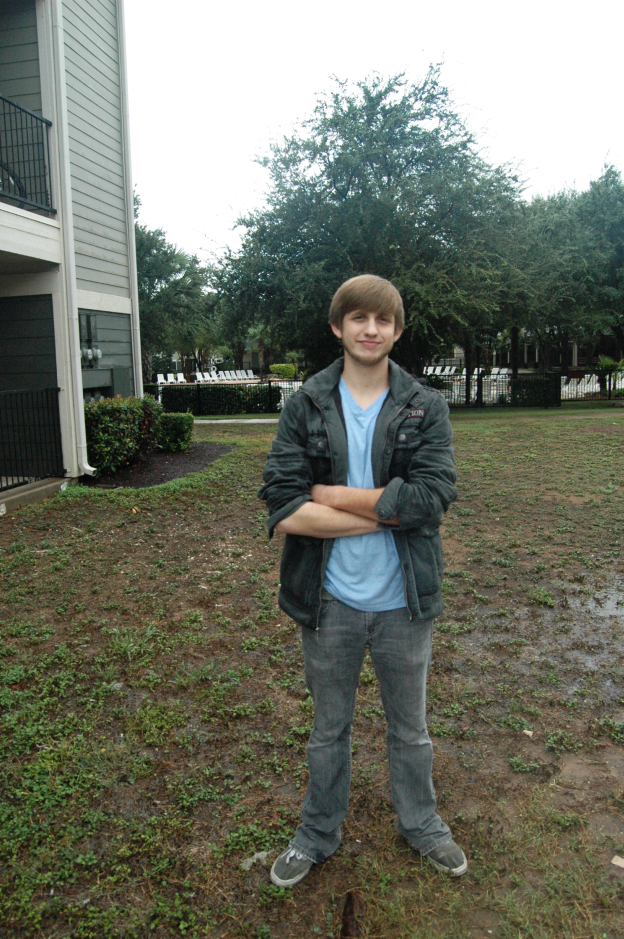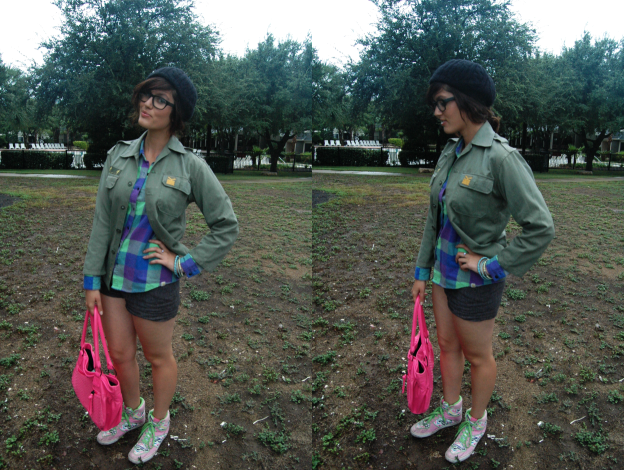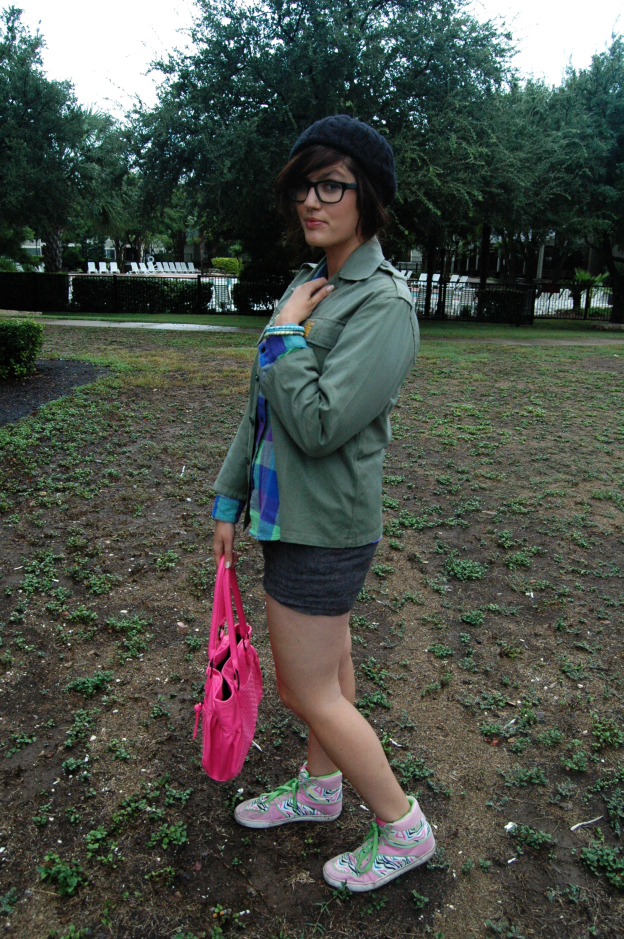 Outfit details:
Shirt - thrifted, Crossroads Trading Co (similar)
Jacket - Urban Outfitters, men's section
Shorts - thrifted, Rewind (similar)
Hat - Ann Taylor (similar)
Glasses - Warby Parker
Bangles - R.J. Graziano
Sneakers - Ross
Bag - Vans

Although Austin rarely rains, it was gloomy and wet when I arrived in September to visit
Chris
. We didn't mind, though; being from Detroit, we're used to chilly weather. As you saw in my
packing
post, I planned for a hot weekend, but fortunately I was able to layer up what I brought. I was pretty pleased with this outfit, so it all turned out for the best. If I do say so myself.
After picking me up from the airport, Chris and I stopped by the grocery store to pick up fruits, veggies and fish for the weekend. Like a gentleman, he ran through the pouring rain back to the car and picked me up at the front. We then headed to his apartment complex, which is pretty filled with college students, one of them being his roommate
Matt
. The cost of their rent kinda made me want to cry, because of course it's like half the cost of living in LA. Ha! We chatted it up a bit and Chris played a few of his new songs. He's amazingly talented and if you haven't yet checked out his first official
album
, you should. We also watched an old video from when we lived together the first time around; I don't remember this at all, but apparently my ex and I were trying to do the cracker challenge where you eat like 10 saltines in a minute. Hilarity.
Chris had to work for a few hours that night, so Matt took me on a driving tour of the city. We checked out
Rainey Street
(a row of houses renovated into bars) and
6th Street
(which gets blocked off on weekends and turns into a party resembling Vegas). It should be no surprise that I would instantly fell in love with such a quirky, creative, wild city. We headed to
24 Diner
for dinner, and I got an amazing veggie frittata from the breakfast menu. It's a good thing this place is always open, because I'm pretty sure it would be awesome for any meal. Everything was stylish, from the sleek modern decor to the food itself.
We popped next door to
Waterloo
before heading back to the apartment. It was such a cute little record store that had pretty much everything any music junkie would want. It kinda reminded me of Mary Poppins' carpet bag because of how much goodness could fit. I didn't get anything -- I'm the worst decision-maker when it comes to shopping -- but I had a great time slowly perusing through the shop.
Chris got home from work soon after Matt and I did, and we just chilled for the rest of the night. I was a little tired, anyway -- even though the time difference isn't too bad, travelling will do that to ya. But it's totally worth it. I'm such a restless, adventurous human being. I can't imagine having a life without boarding passes, plane rides, taxicabs and hotel rooms. It's in my blood.