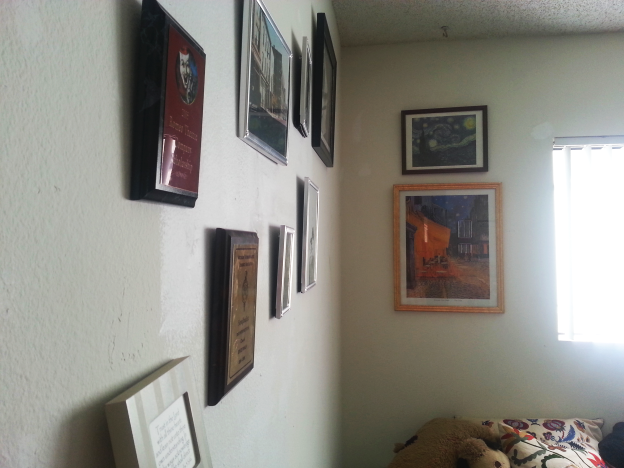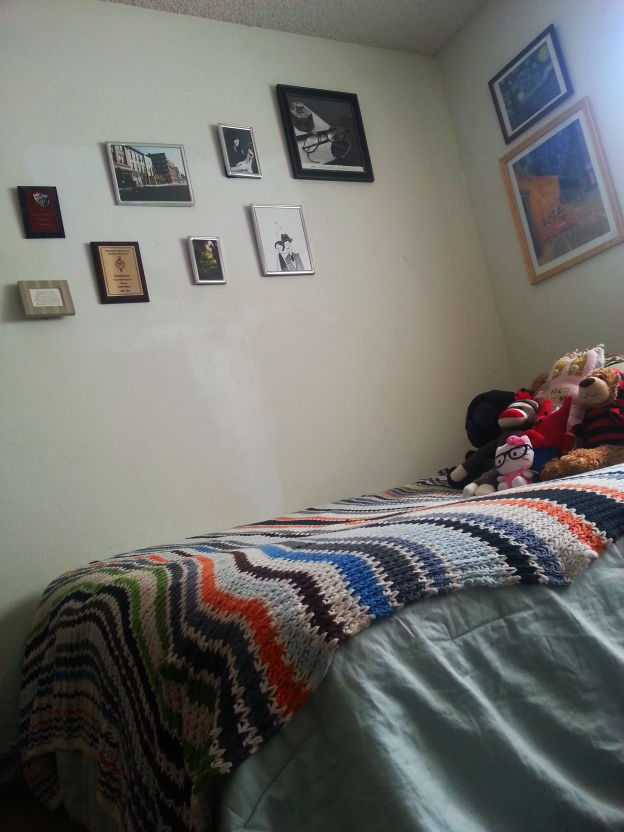 Lately, I've been itching for a change of scenery. And when I realized I'd moved from Sherman Oaks to Glendale over 9 months ago and still had 3 boxes to unpack, I decided it was the perfect time to accomplish some deep cleaning. My bedroom is a challenge to organize and decorate -- it's the smallest one I've ever had, and I'm a certified clutterbug. No matter how much I donate to Goodwill, I'm still left with clothes, books and decor that I don't need. However, today, I managed to lift most of my belongings up off my floor and into drawers and onto walls. My apartment is located in a wonderfully safe and gorgeous neighborhood; plus, my gym, two malls, and multiple coffee shops are a short walk away. My only complaint, besides the tight 8x8' space, is the bland combination of off-white paints that cover the walls. The bedroom I still have at my parents' house in Michigan is covered in a bright, beautiful pink/purple shade (you can see it in
this
post). I painted it myself as a young teen, and I don't regret it one bit.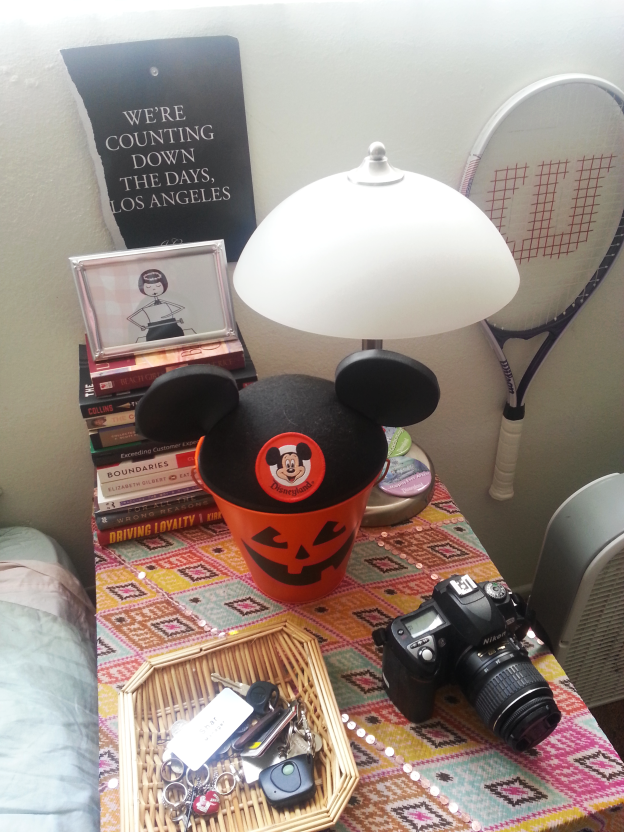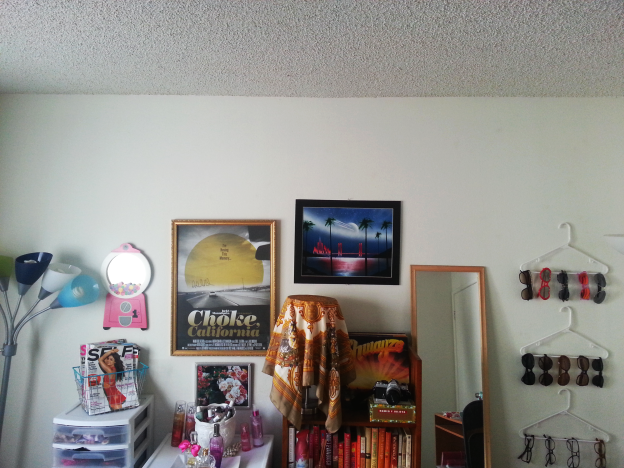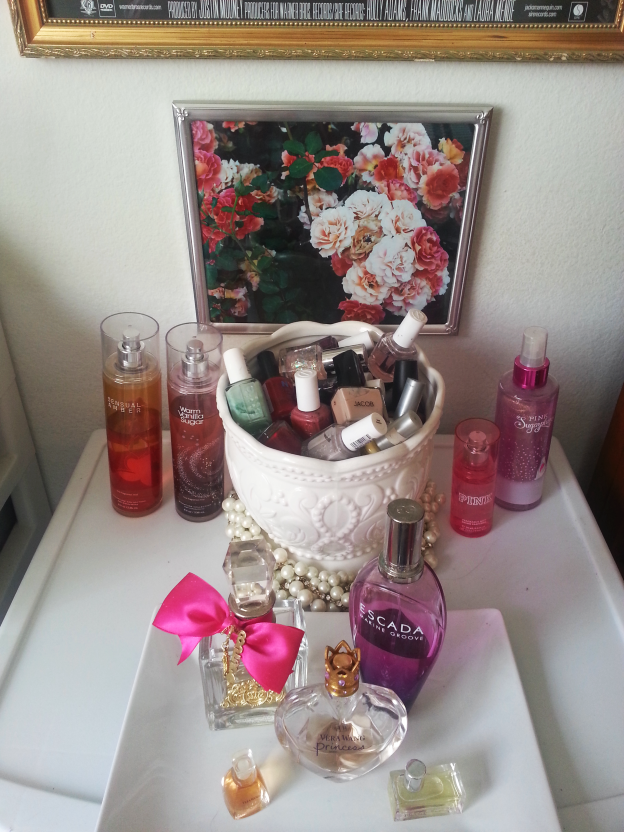 I moved my desk to the other side of the room so that I can see it from my bed. My blogging
calendar
hangs above it; these photos were taken before I added sticky notes. I rarely sit at my desk, so it's more for show and storage than anything else. I like to get comfy while blogging and sit in bed, propped up by pillows, or I'll plop on the couch in my living room. The apartment is a two-bedroom, two-bathroom and I share it with my friend Sergio (whom I commonly refer to as my older brother). He's lived here much longer than I, and it still looks like a bachelor pad, with football and beer memorabilia as the main decor. As much as I love Serg, I'm looking forward to getting my own place that I can do with as I please. I've never lived completely alone, and the notion excites me. I'm planning to do this once I get my
debt
paid off sometime next year.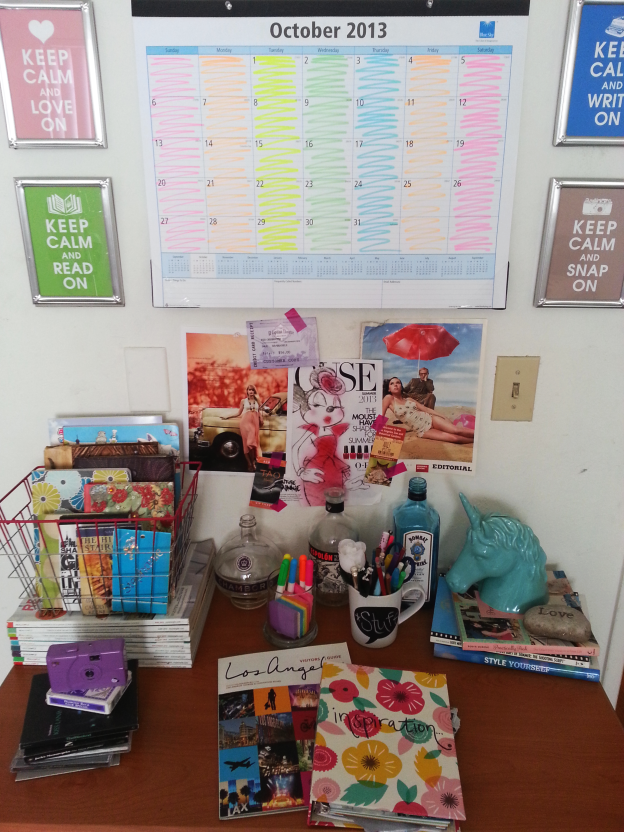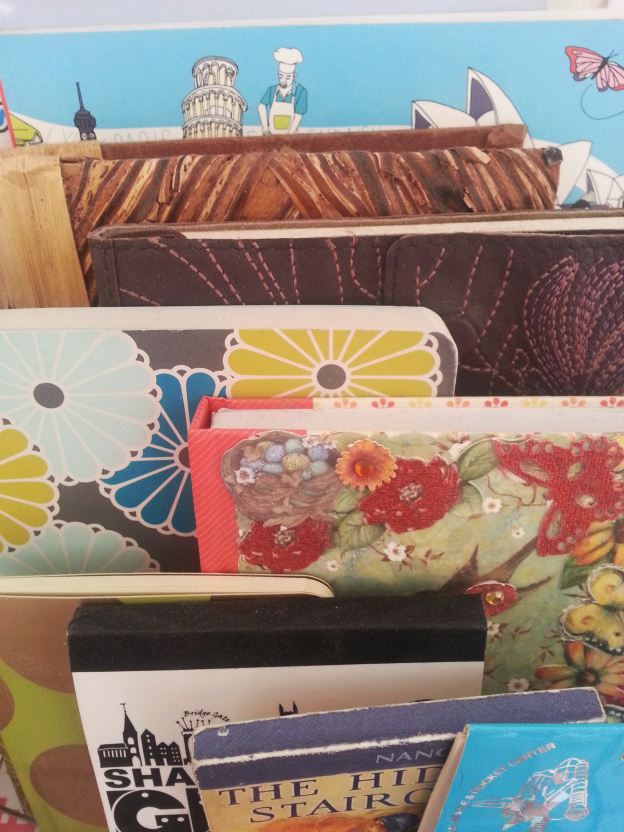 I think one's bedroom says a lot about her. Mine usually reflects how complicated and messy my life can be; I like to call the decorating style 'elegantly disheveled' (named after
this
song by Say Anything). I'd love for my next apartment to have an extra room that I can use as a
library
/
office
/
closet
combo! More ideas for my future pad...
white
furniture; colorful walls + decor (
pink
,
purple
+
mint
will be common themes); open
storage
in the kitchen; carts for ever-y-thing (
coffee
,
liquor
,
guests
); lots of natural light;
this
bathtub; and hopefully a washer/dryer and dishwasher. All of the furniture and decor I have now was free, cheap, thrifted or gifted -- a hodgepodge of things I've collected over the years. There wouldn't be anything wrong with that if I absolutely, 100% adored all of it, but my tastes have changed and I'm hoping to sell/donate most of it before I move so that I can start fresh with a new, cohesive theme. For now, however, I'm making the most of what I have. ♥ Thanks for letting me share! Feel free to
tweet
me your thoughts.