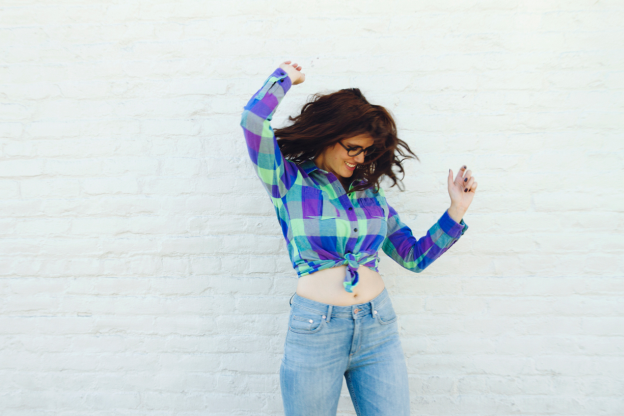 Perhaps you just got out of a relationship, or maybe you've been single for awhile now. Either way, being alone doesn't have to be lonely! On the contrary, it can actually be fun, exciting, and full of rich learning experiences. The years that I was single were some of the happiest of my life. But you might not know how to get started, and that's why I decided to share these tips with you.
ONE. Face your past, and then press on to the future.
If you feel lonely, sad or depressed while single, it may be because you haven't dealt with issues of your past. Maybe you were too dependent on your ex for happiness. Maybe you're still in love with him, or maybe you hate him and you're full of anger! Instead of pushing these feelings away, you must face them to truly get rid of them. Go to therapy, join a gym, start journaling, call a friend, write a song. There are plenty of healthy ways to let those feelings out. If you have any old memorabilia from or about your ex, get rid of it! Burn the letters, delete the photos, give that necklace to a friend. It's going to be tough, but it's worth it. Resist the urge to call or write your ex, even if you feel there were things left unsaid -- it doesn't change the fact that it's over, and he's not worth your time. He is your ex for a reason.
TWO. Start planning dates -- with yourself.
When I was single, I loved going out to eat or to the beach or shopping by myself. And honestly, I still do! Take a look at your planner (yes, right now) and decide which day this week you're going to have some 'me' time. Start it off in the morning with a mani/pedi, then grab a coffee and walk around the mall for a few hours, and finally finish it off with dinner and a movie. I promise you'll enjoy it. Pampering yourself is a wonderful way to mend a broken heart.
THREE. Find a new hobby or rekindle old passions.
Maybe you always wanted to paint, but didn't have the time. Now you do! Run over to your nearest craft store and pick up some supplies today. Or perhaps when you were little, before boys came into the picture, you spent hours reading. Find something that you love, or have been dying to try, and do it just for you. I enjoyed watching movies in bed with a glass of wine and homemade popcorn!
FOUR. Focus on your goals.
Do you have any health, career or personal goals that have fallen by the wayside? Maybe you thought you would marry your ex, and your future plans involved him. Now, you are free to do whatever you want -- whether that means moving to a new city, finding a different job, changing your eating habits or making more friends. Create a list of goals for the next week, month and year. Dream big, and then come up with small, realistic steps to take towards those dreams. Have fun with it! It's all about you, baby!
FIVE. Take your time.
Don't feel rushed to jump into another relationship right away. It's easy to date the next guy that comes along when you're hurting (I know from experience), but it's okay to live life solo for awhile. Do what feels natural and right for you -- everyone's journey is different. It doesn't matter what your age is, either. There is no 'deadline' for marriage, just a made-up one we all have in our heads. Besides, before you can truly love someone else, you must learn to the love the most important person in your life -- yourself.
*Photo by
Mary
Tap
. You can also read up on
how to talk to people you don't know
,
how to find the man of your dreams
, and
how to survive a long-distance relationship
.