Whoops, sorry for the Insta-overload this week, guys! I've been attempting to publish completely fresh content here so that you're not getting re-posts of everything that was already seen on IG, but unfortunately, my DSLR broke during my weekend extravaganza in Orlando. I had taken a couple hundred photos before I realized that they weren't saving. I'm hoping that it's just the card and not the camera, because the former is much cheaper to replace than the latter, but needless to say I'm done with Nikon. This is my third in less than three years. Yikes! Anyway, onto the details of my trip.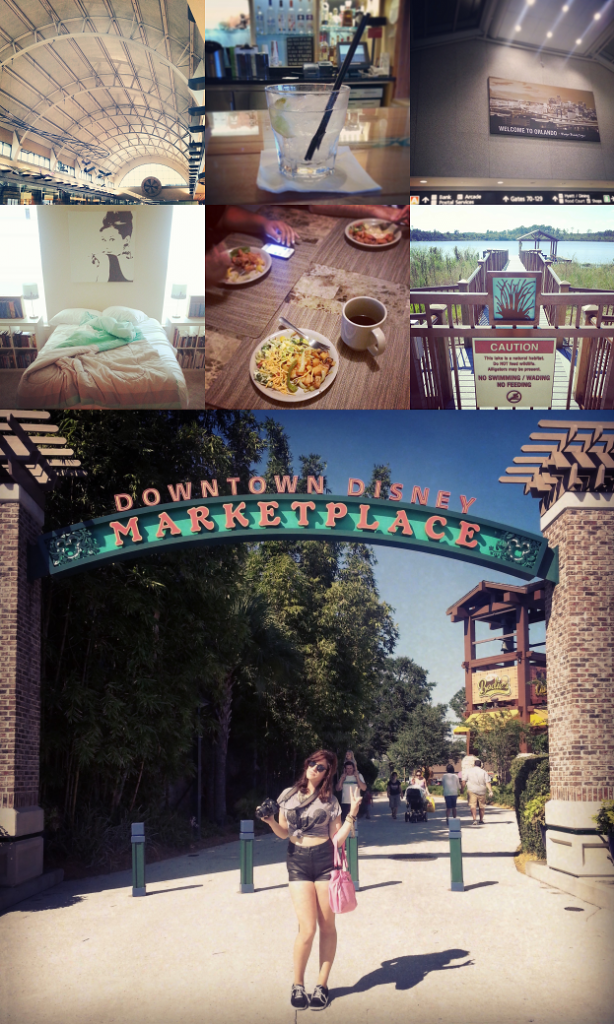 You may already know that Charisma and I have been blogging buddies for a couple years now. I'm not sure how we first 'met' but I'm so grateful we did! She is honestly one of the most talented and inspiring people I've ever met, not to mention the fact that she's super fun. I'm glad I decided to visit her even though we'd never hung out in person before. I did the same thing when I went to see
Jessica
down in San Diego last year and since then we've become the best of friends. I felt an instant connection with Charisma as well! Be sure to go say hi at her
photography
site and personal
blog
when you get the chance!
So, my entire Friday consisted of airports and planes -- first John Wayne in Orange County, then San Fran and finally Orlando. I hadn't been to Florida in years, but it was just as warm and beautiful as I'd remembered. Charisma and her hubby
John
picked me up around midnight, then we stayed up for a couple hours just chatting and planning. The next day we had an amazingly healthy and delicious breakfast at home. After that, Charisma and I locked ourselves in the guest room where I was staying and took tons of boudoir photos. I can't wait to show you, and see them myself too -- she's almost done editing!
The rest of Saturday was spent at Downtown Disney, and holy crap, it's at least twice the size of ours here in California. We slowly perused through every single shop (I got a special gift for
Brandon
, of course) and grabbed lunch at
Paradiso 37
(where I consumed entirely too much rum). That night we had plans to catch a comedy show in the city, but I ended up passing out for a few hours instead, so when I woke up we watched all three
High School Musical
movies. Worth it. So bad but so, so good.
Sunday was reserved for
Universal Studios
, which is funny because we have our own here in LA and I've never been. Either way, the parks in Orlando were amazing. I had the best time exploring the worlds of Curious George, Dr. Seuss, and Barney (ha!) plus all of the superhero stuff. I hated rollercoasters when I was little but now I can't get enough of them, so I was glad that John's brother came so I had someone to hop on the bigger rides with. We also got to see
The Wizarding World of Harry Potter
, which would be the highlight for many of my friends, but I was never a huge HP fan -- I've only seen a couple of the movies, and I haven't read the books. Nevertheless, the little town was created to look just like the movie sets, and getting to experience that was a blast. Plus, we got to try Butterbeer!
That night we went out to sushi, and then Monday we just chilled. I left Orlando feeling inspired and ready to create, my mind full of possibility. Travelling will do that to you. :)
On an entirely different note, I'm still looking for a few more responses to my reader
survey
. I'm trying to gather up as much feedback as possible so I can make my little corner of the internet even better for you. It's been interesting to see the common opinions and trends, and though I'm going to take them all into consideration, I'm going to continue curating posts about what I love. After all, this space is for all of us, including moi. All answers are anonymous, so click
here
to participate! Thanks loves, and happy November!