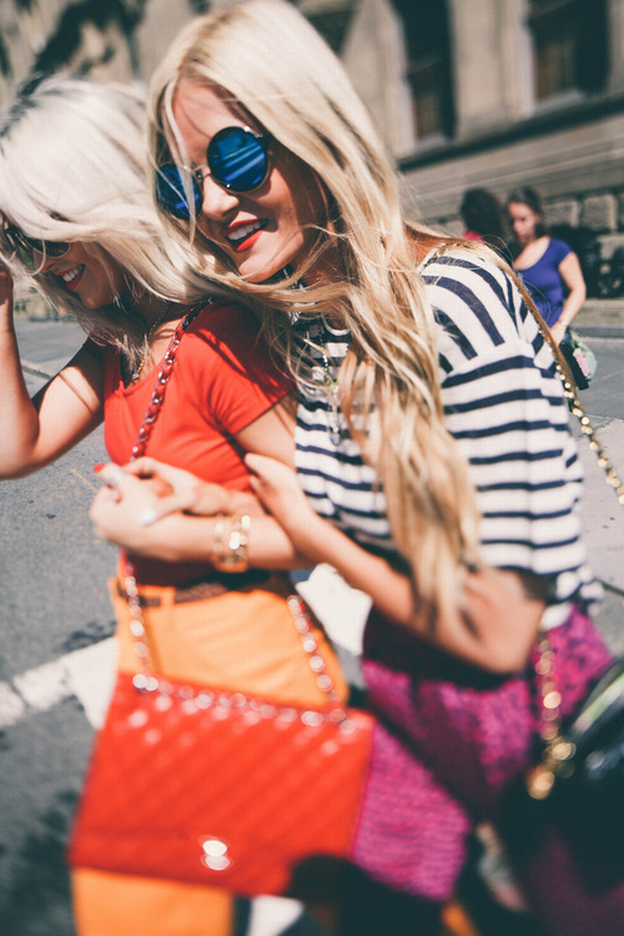 Sometimes, I feel like the world has become complacent about friendships. We're constantly reading articles about how to be a better mate or lover, and how to improve our romantic relationships -- but what about those between platonic, honest-to-goodness buds? Looking at my own girlfriends (and guys too) makes me realize how much more I could be doing that I'm not. Friends are just as important as anyone else in our lives, perhaps even moreso; after all, shouldn't your girlfriend or boyfriend, husband or wife, kids or parents also be your friends? I think so. Here are 10 little things you can do today to show you care.
ONE. Call a pal you haven't talked to in awhile.
When I first moved from Michigan to California, I was really good about the phone. Fast-forward over four years later, and I rarely even text my faraway friends. I've become incredibly reliant on
Instagram
, this blog, and the hopes that they'll still love me when I come visit. I could blame it on the three-hour time difference, but calling and hearing someone's voice is so important. I'm definitely going to make this a new year's resolution and seriously schedule in phone dates with friends. Texting, tweeting, and e-mailing is no comparison to a phone call. Skyping is even better, but again, with the time difference and busy schedules it's hard to plan for us both to be in front of our laptops.
TWO. Take someone on a friend date.
I'm absolutely filled with joy when a friend takes me to dinner, lunch, a movie or even just coffee! Getting taken out by your boyfriend is expected (at least I would hope so), but when a girlfriend takes you out, it's completely surprising and super special. Doing this with one of your guy friends might be awkward, but if it's someone you've known for awhile it shouldn't be. Just try it!
THREE. Send a card or write a letter.
It doesn't have to be a special occasion, either. I have always made it a habit to keep a box full of blank cards and pretty stationery handy. That way, no matter what the reason is, I have something cute to write on. I've also put together a lovely box of cards and letters I've received myself, and it's so fun to look through! I truly cherish these little mementos from throughout the years. Using the post office may be old-fashioned, but it's still fun and in this day and age, it's unique!
FOUR. Give a compliment.
They aren't just for
strangers you're trying to woo
. Each of my friends is completely different and wonderful in his or her own way, and I try to point that out whenever possible. Is she crazy funny, extremely sweet, refreshingly honest, incredibly creative? What do you absolutely adore about him or her? Everyone is in your life for a reason, and they will love being reminded of how important they are. Whether you've known them for five years or five days, don't assume that they already know how you feel. They will appreciate hearing it either way.
FIVE. Speak less, listen more.
We all have our flaws, and I'll admit a few of mine: stubborn, selfish, impatient. Perhaps it's because I'm an Aries, the oldest child, or Italian. Whatever the reason, these three things add up to me being a pretty shitty listener. Over the years, I've gotten much better at the following: not interrupting, staying calm during arguments, speaking lower and slower and less often. My happiness has skyrocketed, and I'm pretty certain it has helped my friends' and family's too. During your conversations today, make it a point to listen to more words than the amount that you say. I guarantee you will learn more, remember more, connect more, love more.
*Photo
source
. You can also read my take on
how to be happy
,
how to be single
and
how to find the one
.