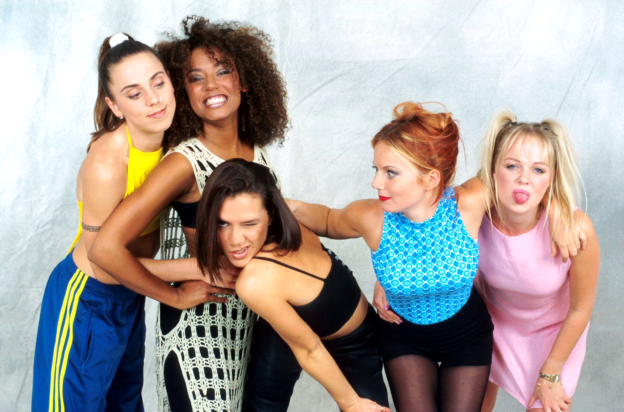 I remember it being so easy to make friends as a kid. 'You're in first grade? Me too. Let's play.' Nowadays, we've all grown into our own. We each have completely different personalities and interests. We might not all click on everything. But that's what makes life so great! Wouldn't it be boring if we were all the same?
It's okay if you don't have that one BFF that you do everything with -- sometimes, you need to choose the best candidate based on the event. Take advantage of the fact that your girlfriends are different. For example, my friend
Celeste
loves Disney, and if I want to drive down to Anaheim and hang with Mickey she's in. As for
Jacquelyn
, she hasn't seen an animated movie since 1992. But if I decide to head to Vegas on random weekend, she's the first one I call. And if I want to talk about hot black guys, that's
Angela
.
I think you get it. So, here are your 5 best girlfriends!
THE GYM BUDDY.
I don't know about you, but I always seem to accomplish more when there's someone around who inspires and motivates me. When you have a fit friend keeping you accountable, you'll probably be more willing to work out, and work out harder. If you'd rather not go with another person and prefer to exercise solo -- which is honestly myself most of the time -- be sure to keep in touch with at least one friend who likes the gym more than you do. Seeing
Christina
's photos on Instagram and having conversations about our separate sessions is just as powerful as lifting weights next to her.
THE DAREDEVIL.
We all need that one person who's willing to road trip on a whim, go skydiving or take seven shots of tequila in a row. Why? It brings out the dangerous side of us, and it's important to be daring once in awhile. If you're constantly living in fear, you'll never have fun. The next time you're bored, think of the one person in your life that would do something you normally wouldn't -- and call them. More than likely, they're out having fun and you're welcome to join. Problem solved.
THE CLASS ACT.
On the other hand, maybe you want to dress in black and watch old Audrey Hepburn movies while daintily sipping tea and nibbling pastries. If your life is normally spastic and all over the place, you'll want someone around who can calm you down and straighten you up for a night. Sometimes it's nice to sit back, relax and get lost in a simpler, quieter world for a change.
THE PASSIONATE PAL.
And if you need to spill your guts, vent out frustration or have a good cry, you need an emotionally open lady who will give you hugs and attentive ears. Not everyone wants to hear your life story. However, I guarantee you have at least one friend who does -- and they're just waiting to get closer to you. It may be hard to let your guard down and invite someone in to your dark world, but it's essential to have someone who can listen and understand. Humans weren't made to be alone, and it's okay to show your passionate side. In fact, it's healthy.
THE KID-AT-HEART.
Whether or not you still have stuffed animals, I recommend having a friend around who keeps you young -- whether that means making poop jokes, licking Ring Pops or jamming to boy bands. Life can get so draining and depressing and downright serious, but that doesn't mean we shouldn't stop to smell the roses (or flavored Lip Smackers). Why let the adult shit take over? Let loose, have fun, and forget about those damn responsibilities for awhile.
*Spice Girls photo
credit
. Post inspired by
The Art of Manliness
.