IN LIFE.
Let's face it, January had both ups and downs. But despite the physical and emotional health issues that occurred (some of which I touched on
here
) it was a great start to the year. I think January is always a hard month for me because I start thinking about all of the things I wanted to accomplish before but didn't, and I get overwhelmed by all of the things I still have yet to do. As aforementioned, I'm somewhat of an overachiever, though as I get older I continue to learn how to pace myself. Anyway, the first few hours of 2014 were spent throwing a crazy NYE party! / I finally got to catch up with my good friend
Dina
over lattes at
Coffee Fix
. The next week, she and
Celeste
and
Jess
and I went to dinner. I also got to go out with
Jacquelyn
and
Angela
for Mexican food one night. I definitely need more girlie times like those! / Here, Ang and I are posing in front of a huge mirror at
The Bazaar
in
SLS Hotel
after a
Make Moves Publicity
event. / I'm constantly trying not to let this cute but naughty creature, my roommate's cat Mojo, pee on my stuff. / Thanks to
Kerry
's encouragement, I mapped out my dream future, complete with color-coordinated pie charts. / I had a bunch of photoshoots this past month in cool places around the city -- Redondo Beach, Venice Beach, West LA and more! / I spent any spare moment I had at home, enjoying the warm breeze in our backyard. / B's 25th birthday was the 21st and our 10 month anniversary was the 27th, so we were due for a romantic
getaway
! / The baristas at Starbucks tried to spell "Shar" and this was the result. I got free coffee today though, so all is forgiven. / Said goodbye to
Christina
who is leaving the company I work for, but I know we'll keep in touch! The co-workers met up at
Dimples
for karaoke and no, I didn't sing. So lame, right? / Pretty much half of my diet consists of
Robeks
smoothies nowadays. Yummy, easy, healthy. / Grabbed lunch with
Mary
downtown after an awesome shoot in Little Tokyo.
ON THE BLOG.
Shared some of my all-time favorite outfit posts featuring my new
hair
,
two
leopard print
dresses
, this thrifted graphic
tee
, double
denim
, a nautical
tank
and the coziest winter
hat
. / I taught you
how to find your personal cheerleader
, what you need to know
before moving across the country
, and the five
friends every woman needs
. / I listed 10 favorite
comedies
, 10 favorite inspirational
books
, and 4 big
goals
for the year. So far, so good!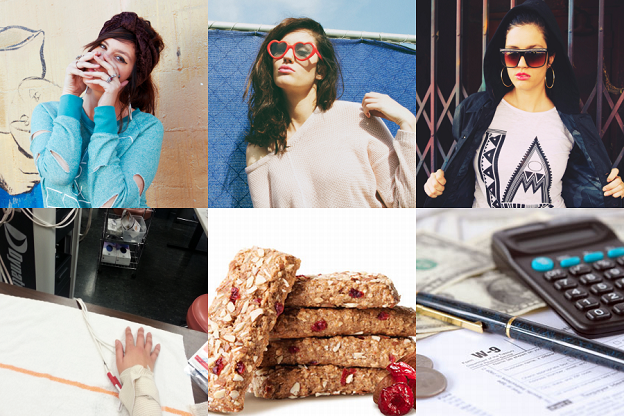 NEXT MONTH.
I can't wait to show you some fun new photoshoots that I absolutely adore! / I'll be seeing a hand specialist, and hopefully they'll be ruling out surgery -- wish me luck. / I'm excited to review some delicious snacks from
Van's Foods
! Even my carnivore boyfriend tried and loves 'em. / I'm actually looking forward to tax season. I mean, I usually get money back, so how can I complain? I'm going to force myself to deposit that check right into my savings! / I'll also be hosting a giveaway for you guys (finally), sharing my favorite websites and Android apps, posting
Project Life
updates and blog tips, listing my favorite (cheap) beauty products, putting together more music mixes and implementing some non-blog goals too. Whew! February is gonna be a great month! And let's not forget about Valentine's Day -- I wonder what my man has in mind...
*Series inspired by
Mini Penny
and
A Beautiful Mess
. Most photos by me and B; others by
Mary
Tap
and
Michael
Anthony
. Project Life photo via
Ali Edwards
, Van's photo via
Van's
, taxes photo via
The American
. You can also see reviews of
November
,
December
and
2013
!