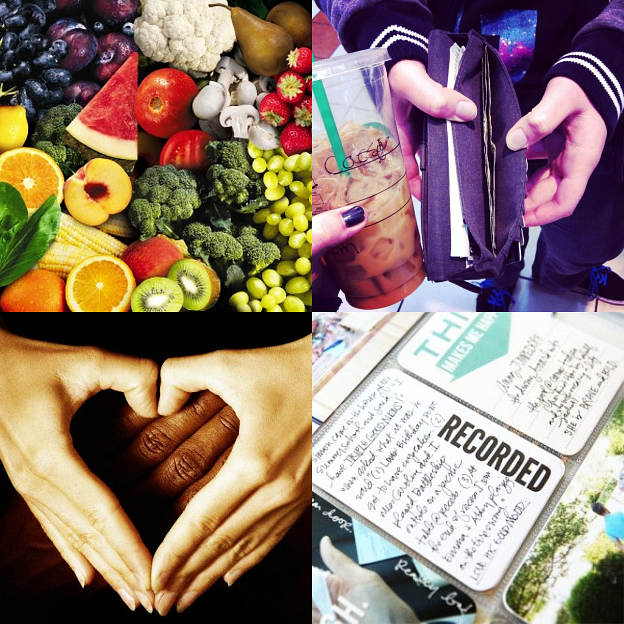 Creating goals, lists and plans is pretty much my favorite thing. The problem is, I usually get so excited that I make too many goals, lists and plans -- which makes life overwhelming and frustrating for a perfectionist like myself. I've always been an overachiever, aiming to get straight A's in high school (which would've happened if it weren't for chemistry) while also participating in choir, theatre, marching band, SADD (Students Against Drunk Driving), NHS (National Honors Society), track (for three weeks before I realized running makes my lungs collapse), and tennis (I was on the JV "B" team as a senior and trained with 5-year-olds). Needless to say, my workaholic tendencies continued to follow me throughout college and beyond.
What I'm trying to get at is, I've been cutting back on the amount of things that I attempt to cram into my daily life (more about that tomorrow) along with the amount of things I aim to accomplish in the near future. I'm not saying that I'm giving up; I'm simply spreading out my wishes, making baby steps, and pressing forward with patience. My plans are more concrete, and instead of rattling off lists of ideas, I've decided to choose four realistic resolutions per year that cover the main components of my life.
In
2013
my goals were to work out five days per week, make smarter choices about money, show the important people in my life how much I love them, and schedule time for creative activities. I did okay, but in order to really make my dreams come true this year, I'm getting more specific than ever. The following resolutions are also to be achieved on top of my
winter
goals and
26 before 27
list -- which, I'm pleasantly surprised to say, I'm almost finished with. I promise I'll try not to put too much pressure on myself.
If you're looking for more resolution inspiration and ideas, check out these posts at
ABM
,
The Jessica L Blog
, and
Mini Penny
. If you want a fresh start, hop over to
Yes and Yes
for cleaning and organization ideas. If you plan to focus on one word for the year like my life coach
Kerry
suggests, visit
Ali Edwards
or
SHE
. If you want to totally kick ass at your goals, head to
Thrift Core
or
Gala Darling
. And if you think resolutions are kinda dumb, you might agree with
Equally Yolked
. No one paid me to say this shit, I just wanted to share.
Now, back to me. Here are my four goals. And once you're done reading, feel free to
tell me yours
!
1) HEALTH. Limit grains, dairy, alcohol and added sugar to vacations and days off work.
Your health should always come first. Without it we would die, right? I'm nearly halfway through my second
Whole30
experience after getting a little crazy with the sweets and booze that comes with Christmastime. I wish I had the self-control to maintain a diet like this throughout the year, but I know that I'll break down at some point. Therefore, I've decided to give myself permission to cheat once the month is over -- which is totally not what the
program
's founders suggest, and totally not something that has worked for me in the past. Nevertheless, at least I can attempt to save my cravings for certain days instead of holding off and then going nuts for months afterward. If at first you don't succeed, try try again right? I'm really excited about this new system of fulfilling my paleo pescetarian fantasies while also giving myself a little leeway.
2) WEALTH. Transfer $330 per paycheck to my savings account.
Confession: I am really, really, REALLY bad at saving. Like, I'm surprised my bank hasn't called and asked why I even have a savings account. I've been living paycheck to paycheck since I moved to LA and became completely independent of my parents. The more I make, the more I spend. It's a constant battle. I've also been making bigger and bigger payments towards my debt. That's great, but I'm still not saving anything for the future. So, I recently opened up my budget spreadsheet in Excel and made some tweaks. I've decided that $330 is a realistic number. The
spending diet
is still happening too and I plan on updating y'all once a year is overwith!
3) RELATIONSHIPS. Have a monthly date night with the boyf.
Since moving into
Brandon
's house, I've totally become a homebody. I know, super weird. I'd much rather be on the couch, cuddling and watching a movie, than out and about. But I don't want to become one of 'those couples' and it's nice to have a real date once in awhile. Once a month is perfect for the time and money that we have right now. Dressing up fancy and experiencing a new restaurant has become such a rare treat that I'm so grateful for.
4) CREATIVITY. Complete a 2014 scrapbook, adding one page every two weeks.
Thanks to the
Project Life
trend, scrapbooking is easier than ever. It was one of my favorite hobbies growing up, but I haven't gone back to it in years. As you've probably gathered, I have a whole lot of interests and it's simply impossible to do all of them all of the time. I do wish I was able to invest in a printer, but I recently found out (thanks to
Celeste
) that I can order photo prints online via
Shutterfly
or
Snapfish
. I can even place orders on the
Walgreens
or
Target
website and pick them up in-store. And with so many crafty supplies available on
Amazon
, I'm set! Since I have a system in place for this project, I know I can accomplish it.
*Photo credits:
one
,
two
,
three
,
four
.